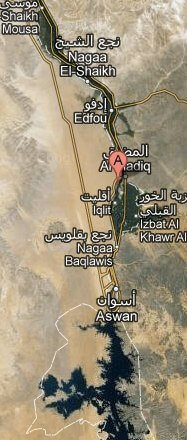 Residents of the village of Fares near Aswan have suffered from collapsing homes, a flooded school and ruined orchards, after mysterious waters started rising out of the ground. The puddles and ponds started to appear after oil company Dana Gas began conducting seismic testing in the mango groves next to Fares. For several years, the local community made complaints to both government officials and company staff, with no reaction or resolution to the crisis.
In February, enough was enough. Activists from Fares mobilised, and the villagers took over the Desert Road – the main road south from Cairo and Luxor towards the regional capital of Aswan.
For several hours, Fares residents blocked all traffic, with banners, stones and their bodies.
They then moved to the nearby drilling & extraction site of Dana Gas. The community members marched in through the gates and demanded to speak to company officials.
These photos were all taken by Fadl Aboelroos, a local photographer and activist in Fares.
Dana is an Emirates-based company that drills in Egypt and Iraq and received almost $1 billion in sukuk bond financing on the London Stock Exchange, arranged by Barclays and Citi.