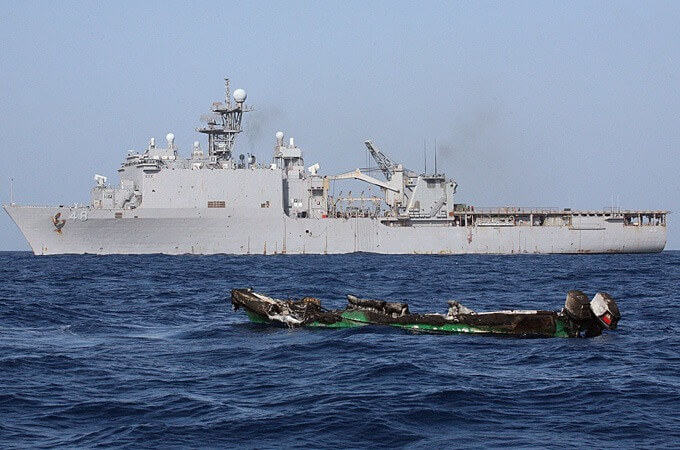 An article published on Maritime Executive's website last week claimed that "pirate attacks against commercial ships, especially by Somalia and Africa's east coast, are becoming increasingly violent and frequent". Quoting the International Maritime Organisation, the article stated that global piracy reached its peak in 2011. But NATO figures, published in January, paint a rather different picture. They show a drop in successful attacks with pirates capturing just four vessels off Somalia last year. This isn't the first time that international shipping has been keen to present itself as under attack. Jan Kopernicki, president of the British Chamber of Shipping has argued that there is a "gaping hole in the UK's defence strategy" and demanded that Cameron increase naval spending to bring forward the acquisition of a new generation of warships currently scheduled for 2020.
Kopernicki, who also happens to be Vice-President of Shell's shipping arm, claimed that militarising the seas was necessary for British 'energy security'. In November 2010 he said, "I don't want to be alarmist but I provide transport for essential oil and gas for this country and I want to be sure that the lights are on in Birmingham, my home city". Disruptions in the flow of crude will not affect the lights in Birmingham, as oil is not converted into electricity in Britain and liquified natural gas, which is also transported by sea, only makes up one percent of Britain's energy mix. The threat to 'secure energy supplies' is being talked up by the energy and shipping sectors to ensure increased public spending for corporate oil assets.
Military presence in the waters off Somalia has already significantly increased. Operation Atlanta the EU's first, and still their only, naval operation has seen on average 4 – 7 Surface Combat Vessels and 2 – 3 Maritime Patrol and Reconnaissance Aircraft patrolling the north-western Indian Ocean. Last month EU maritime aircraft attacked Handulle village in the Mudug region of Somalia, with the aim of damaging equipment used by pirates. This is the first time piracy has been given as the reason for an attack on Somalia.
Of course this isn't the first time western countries have taken a military interest in the horn of Africa. The region has long suffered increasing militarisation thanks to the US and others. Throughout the cold war both Somalia and Ethiopia were given billions of dollars worth of weapons and used as proxies by the Soviet Union and the US. In the 1980s the US signed an arms deal that allowed it access to Somali bases, supplying Somalian dictator Siad Barre with $680 million. Human Rights Watch found that 50,000 Somalian civilians were killed and half a million displaced under Barre's rule.
Now the 'war on terror' provides justification for further military intervention. In 2006 Ethiopia, with US backing, invaded Somalia forcing the de facto ruling group, the Somali Islamic Courts, to withdraw. The Islamic Courts had an extremely hard line on law and order (thieves had their limbs amputated and murderers were executed) but these Islamic preachers were still preferred to the warlords who repeatedly fought for control of Somalia. Yet when Ethiopia defeated the Islamic Courts it was these same warlords that formed the transitional federal government (TFG). They received international backing despite the lack of popular Somali support and the unsavoury characters involved. Out of the defeated Islamic Courts emerged the militant Al-Shabaab and they in turn gave the US another target in the 'war on terror'.
Last year Somalia hit the headlines as conflict and food shortages saw 2.5 million Somalians internally and externally displaced. What these articles didn't discuss is how Western interests contributed to this crisis by continually militarising and destabilising the country.
This February at a UN conference leaders pledged support for what the Secretary General Ban Ki-Moon called "an internationally coordinated approach to fight terrorism and piracy and to bring political stability to Somalia." The twin rhetorics of national and energy security are being used to justify further violence in Somalia. Given the West's appalling history of undemocratic intervention in the region, Kopernicki's demands for increased naval resources should be carefully scrutinised. As renowned activist Bill Fletcher Jr said: "(The US's) efforts to end terrorism in Somalia have succeeded in maximizing the terror threat." Further military intervention, under anti-pirate auspices, will only serve to maintain that threat.