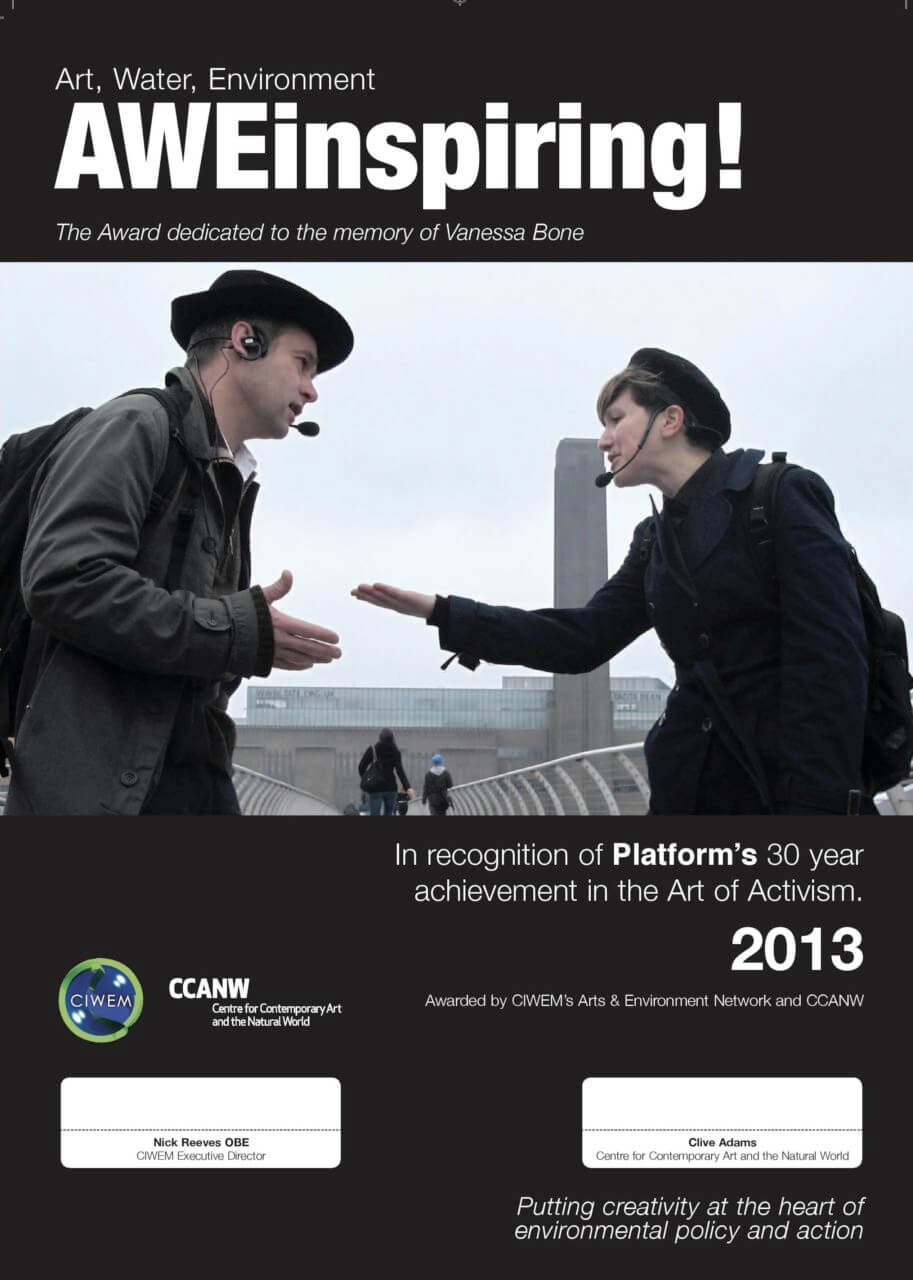 Last night saw Platform honoured with an art award from an unusual ally. The organisation making the award – CIWEM (The Chartered Institution of Water and Environmental Management) – is the professional body for those individuals and companies who work in water and environmental management. It has a national and international membership, signed up to advancing sustainability in the sector. CIWEM was innovative in establishing an Arts and Environment Network (AEN) in 2007 to 'lead and influence national policy dialogues on the subject, and building strong new alliances for an increasingly shared agenda'.
Among other things, this resulted in setting up the AWEInspiring Award in 2010, in association with the Centre for Contemporary Art and the Natural World (CCANW).
In their words, 'the AWEinspiring (Art, Water & Environment) Award celebrates an artwork, project or artist, recognising their contribution to CIWEM's vision of putting creativity into the heart of environmental policy and action.'
The first three recipients have been Newton and Helen Mayer Harrison, Cape Farewell, and Richard Long.
About our work, they said "Platform, a London-based, innovative arts collective, was selected for its long-standing commitment to using the arts to open up spaces for transformation, inspiration and change in ecological and social justice. Platform aims to achieve long-term shifts that make alternative futures possible. They engage, support, challenge, and apply their art tirelessly to the most pressing issues of the day, notably focusing on the social, economic, environmental and cultural impacts of the global oil industry. Formed in 1983, Platform have performed across the world, from the Tate to the Camp for Climate Action, from Glastonbury to Pittsburgh, and from Bristol to Nigeria. They hold exhibitions, write books, initiate research, and develop pioneering education programmes to promote radical new ideas that inspire change."
Dave Pritchard, Chair of CIWEM's Arts and Environment Network, said, "The AWEinspiring Award symbolises the growing significance of cross-disciplinary approaches in relating imaginatively to the world around us, and in responding to current and future environmental and social challenges.  I am absolutely delighted that we can honour Platform's pioneering example in this.'
CIWEM has also been outspoken in their ongoing critique of BP's sponsorship of the arts. Nick Reeves, CIWEM's Chief Executive has repeatedly called on the trustees and director of Tate to put a halt to 'the tyranny of oil patronage' and has publicly stated that CIWEM 'deplores the continuing acceptance of guilt monies and influence from the petro-carbon industries, as this sullies the arts, and undermines our cultural institutions'.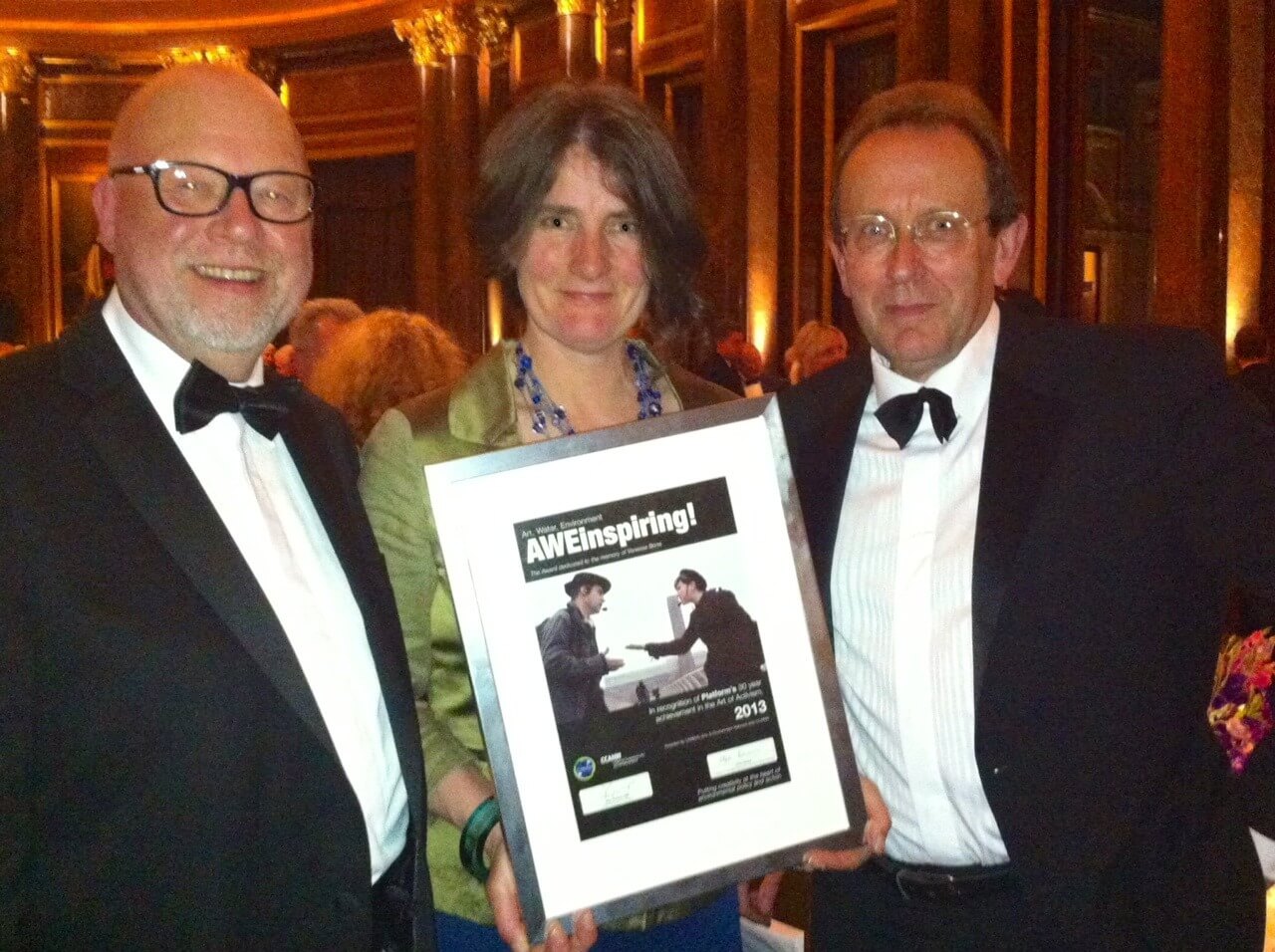 I went to the dinner at Draper's Hall behind the Bank of England to receive the Award on behalf of Platform. Grand buildings in the City aren't ones that Platform usually finds itself inside(!), but there were some really interesting people, and the speech from Right Rev'd Richard Chartres, Bishop of London was stirring. "Dominance has been substituted for interconnectedness" stayed with me as I looked at the row of 15 foot high portraits of monarchs of the past. Hmm.
Our thanks to CIWEM's Arts and Environment Network and CCANW for honouring us with this award.