David Cameron today is taking UK oil chiefs on his trade mission to Russia to promote business links following the failure of the BP/Rosneft Arctic deal. Meanwhile, Russia's first Arctic offshore oil drilling platform Prirazlomnaya has just been installed 60 miles off the coast of Novaya Zemlya, in the Pechora Sea. High-priority national project and top investment opportunity in Russia, Arctic drilling in practice is not only dangerous but suspicious business: here is the darker side of the story of Prirazlomnaya, as uncovered by our Russian colleagues.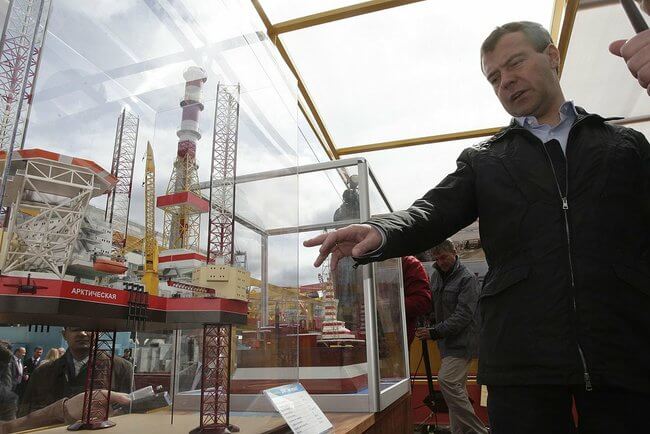 The new Russian blog "Money for the Environment" (tagline: "what corporations can and do") reports:
The platform which Gazprom Neft Shelf intends to use for extracting oil in Arctic icy conditions had been in construction for 15 years. For six of these, construction work was paused while the unfinished platform stood rusting in Severodvinsk. After construction was resumed, the company decided to give up on the original project and get the entire top part of the structure from a written off foreign rig. For this purpose they bought the platform Hutton, built in 1984 and in service for 18 years.
The plot thickens: Hutton appears to have been retired from the North Sea in 2002 by energy corporation Kerr-McGee, who sold it to a firm called Monitor TLP Ltd for $29 mln. Monitor then sold the platform for $67 mln (!) to Gazprom's subsidiary, and no-one has heard of this lucky Cayman Islands-registered company since.
Nord News agency quotes an anonymous industry source:
The thing is that from 2012 the exploitation of platforms like Prirazlomnaya will be forbidden, for technical reasons: a platform which took 15 years to build may simply have become outdated. Therefore Sevmash [construction company] needed to put Prirazlomnaya into exploitation before the end of the year, regardless of how ready it is. And that's what is happening: the unfinished platform is being transported to the Prirazlomnoye oil field where it will be "brought into order".
In short: at a time when the ability of even the cutting-edge oil extraction technology to cope with the risks of drilling among Arctic ice is still unproven, Gazprom installs a pioneer platform that is a) possibly not ready, b) outdated, and c) half made from a 1980s piece of equipment from the North Sea, acquired in rather suspicious circumstances.
Despite the enormous political weight that Gazprom and Rosneft carry in the country, Russian civil society is increasingly standing up against Arctic oil drilling. If you read Russian, you can sign the appeal to the Russian government for a review of Arctic offshore drilling policy by Greenpeace Russia, WWF Russia, Bellona and the Russian Association for the Protection of Birds here or here.