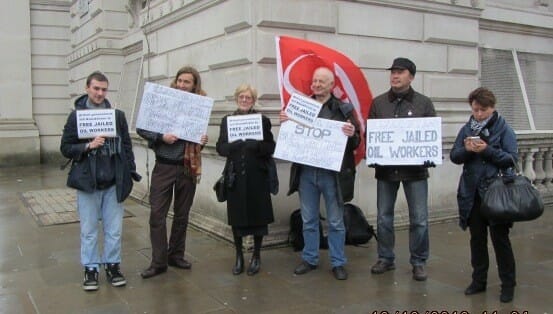 Oil industry trade unionists and other campaigners in London today demanded that UK foreign secretary William Hague put pressure on Kazakhstan to release workers jailed for their part in a seven-month strike in 2011.
Campaigners handed in a letter at the Foreign Office, and then demonstrated at the Kazakh embassy.
The protest marked the second anniversary of a massacre of strikers in the oil town of Zhanaozen on 16 December, 2011, by Kazakh security forces. Sixteen were killed and 60 wounded, according to official figures – but human rights groups say there may have been many more victims.
The killings put an end to the strike, held to demand better pay and conditions, and the right to form independent trade union organisations.
The letter to William Hague, from the Rail Maritime and Transport union/Oil Industry Liaison Committee Offshore Energy Branch – which represents thousands of British oil workers on the North Sea – urged him to act on "multiple human rights abuses and multiple breaches of international law" used by Kazakhstan to quell the oil workers' strike movement.
The letter urged the release of oil worker activist Roza Tuletaeva and others serving sentences of up to seven years imposed after the strike, mostly under a catch-all law on "inciting social discord".
It also urged the UK government to take action in the international court system over the torture of defendants and witnesses prior to the trial of oil workers in Zhanaozen in June 2012, and to tell Kazakhstan to allow independent observers into Zhanaozen to inquire into what happened on the day of the massacre.
Labour MPs Ian Lavery, Grahame Morris and David Anderson also signed the letter to Hague. So did Emma Hughes on behalf of Platform, academics and writers who follow the situation in Central Asia, and activists from unions including the GMB general union, Unison, the miners' union and Unite.
There were demonstrations in Russia, Ukraine, France and other European countries today to mark the anniversary of the Kazakh massacre. The campaign to free those jailed has also won international support: last week the International Trade Union Confederation, the largest such umbrella body for unions, wrote to Kazakh president Nursultan Nazarbayev about the jailed  workers.
The Justice for Kazakhstan Oil Workers group in the UK will continue its campaign next year. There's an open facebook group here.
And more details here.