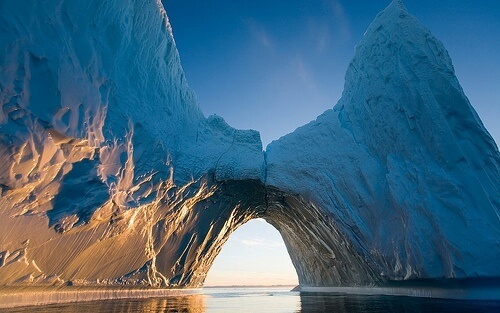 Last week ministers appeared in front of the Environmental Audit Committee to defend their position on Arctic oil extraction. The Foreign and Commonwealth Office's Polar Regions Unit states that while it is concerned with "the effects of climate change on the Arctic" they also recognise "the potential of the Arctic to strengthen energy security" – a euphemistic expression for oil drilling in melting Arctic waters. Of course it's the burning of oil that has melted the sea ice and enabled oil companies to talk up the possibility of extracting oil from the Arctic – an uncertain and dangerous practice. This irony wasn't lost on the Environmental Audit Committee, who spent Thursday afternoon cross examining two ministers, Henry Bellingham, Parliamentary Under-Secretary of State at the Foreign and Commonwealth Office and Chris Barton, Head of Energy Security at the Department of Energy and Climate Change, as well as Jane Rumble who is head of the Polar Regions Unit.
The discussion highlighted an alarming laissez faire approach to Arctic oil extraction. When asked whether they'd considered crucial issues like the environmental implications, the risks of Arctic offshore drilling or the impact on global temperatures of burning Arctic oil, the officials giving evidence repeatedly admitted that they hadn't. Despite providing high level government support for BP's arctic ambitions, the witnesses seemed remarkably relaxed about the impact this support would have on the arctic and the climate.
Bellingham reminded the committee that the UK was only an observer on the Arctic council and Barton stated that the most significant thing the UK could do to protect the Arctic was to take action on its own emissions, but neither addressed the critical issue of the Government's support for the UK companies fighting to get their hands on Arctic oil.
Luckily, Green MP Caroline Lucas wanted to know about more than the UK's unambitious carbon reduction policies. She asked whether the government should regulate UK registered companies BP, Shell and Cairn to ensure they operate to at least the same standards as in UK waters. When Barton said he didn't think it would be appropriate to regulate UK companies' in other countries, Lucas reminded the minister that with issues like child labour, UK companies are required to maintain certain standards. Why, she asked, should oil and gas companies be the exception?
When discussing Arctic resources, the government is keen to remind the world that the UK is the Arctic's 'closest neighbour' but when it comes to protecting this neighbouring environment, they prefer to focus on the role of Arctic Council members. Joan Walley, who chairs the committee, called for the government to show leadership in the Arctic Council by arguing for a sanctuary in the High Arctic, in addition they must take responsibility for the activities of the companies they support – a 'que sera sera' approach will not suffice.