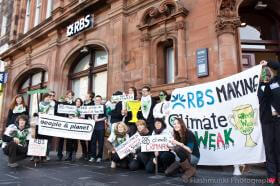 News has reached us that RBS isn't sponsoring the 2012 Climate Week, due to take place in March. RBS was a controversial sponsor of last year's event, which many saw as an opportunity for the bank to gain some ill-deserved environmental credentials in the face of public criticism over its appalling record of fossil fuel finance.
Working with allies like People & Planet, WDM Scotland, Friends of the Earth Scotland and UK Tar Sands Network, we published a report at the start of last year's Climate Week called Dirty Money – Corporate greenwash and RBS coal finance that highlighted the tension between RBS' coal finance and its attempts at climate credibility. The organisers of the event were embarrassed by headlines in the newspapers like Green groups boycott Climate Week over RBS and a number of high profile figures such as Alastair Mcgowan and Iain Banks signed a letter in the papers that flagged up RBS' record in providing coal and tar sands-related finance. We coordinated a letter that was sent to all the hundreds of different groups signed up to take part in the event, and people who turned up for the Climate Week awards in Central London had to get past a throng of climate change protesters.
It's a great result. Firstly, it prevents RBS from fending off mounting public pressure over its climate-trashing finance portfolio by saying, "how can we be the climate bad guys – we're sponsoring Climate Week?" Secondly, it sends out a broader message to the organisers of such events that you shouldn't undermine the efforts of campaigners and activists on particular corporations and issues by lining them up as sponsors for events that allow them to get PR credibility without addressing any of the more fundamental complaints against them. Is the sponsorship cash worth it when the coverage you get is more about the controversies than the event itself? Its interesting to speculate on just who dumped who in this particular relationship. Did Climate Week-head Kevin Steele (who used to be head of People & Planet – one of the organisations protesting against it) decide that they could do without the bad publicity, or did RBS realise that they weren't going to be able to get away with this sort of outrageous greenwash. Its important to note that although RBS are no longer involved, there are still some seriously iffy corporates involved, in particular EDF, who were recently convicted of carrying out industrial espionage on Greenpeace and are heavily involved in both coal and nuclear power.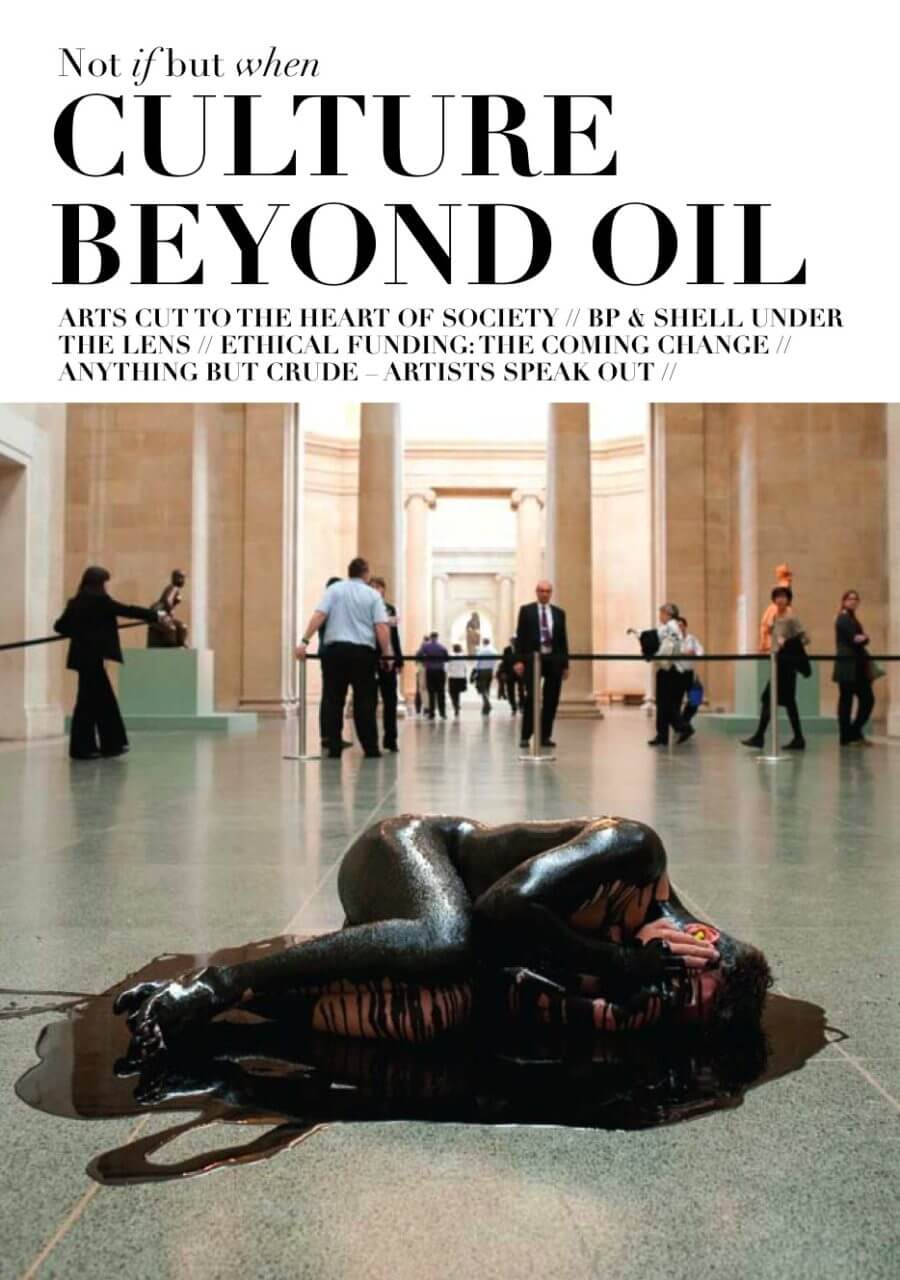 The point of the campaign, of course, isn't to prevent greenwash from taking place, its to divert the flow of investment away from dirty energy. But part of this is about trying to fight "the battle of the story" –  and its worth engaging with precisely because companies like RBS think its worth their time and money to construct their public image in this way. There are obvious parallels with another current stream of Platform work looking at the issue of oil sponsorship of the arts, in particular Tate's 20 year plus relationship with BP. Just next we are bringing out a new publication, Not if but when – Culture Beyond Oil that goes into the arguments in greater depth. Breaking the sponsorship link between Tate and BP will not alone prevent the devastating tar sands projects being inflicted across the Northern wildernesses of Canada. But by creating and informing a public debate that questions the legitimacy of these companies in being associated with respectable cultural institutions or environmental events, we can strengthen attempts to hold them accountable in other political and financial spheres.