Now available to read online – click on the Issuu link above, or you can download the publication as a pdf here.
For hard copies by post visit this page for a range of payment options or you can purchase it from the Live Art Development Agency online shop here.
December 2011: Art collective Liberate Tate, arts and research organisation Platform and activist group Art Not Oil release a new publication, 'Not if but when: Culture Beyond Oil', on oil sponsorship of the arts.
At a time of growing unease within and without the cultural sector about the involvement of oil companies with the nation's most high profile galleries, Culture Beyond Oil brings together responses of artists and activists to the debate in a unique collaboration between artists, activists, researchers, theorists and critics.
The full-colour publication has 100 pages of art and commentary including:
Platform profiles of Shell and BP and why these companies need to use public cultural institutions to gain social approval, calls for Tate to reveal the secret fee that BP pays it, and a timeline of how the ethics of arts and oil companies has moved centre-stage.
Liberate Tate respond to critiques that some cultural figures come up with to defend oil sponsorship when the art collective's debate-provoking performances at Tate hit the national headlines. The interventionists also underline that Tate can take a positive governance  decision to free art from oil and end its relationship with BP if their Board of Trustees act with leadership fit for the 21st century.
Stunning oil response artworks including pieces by Banksy, Ben Jones, Ahmed Bassiouny and Chris Jordan; video works and performance footage (via QR codes) by Liberate Tate and He He, as well as written contributions by artists and writers such as Conrad Atkinson, Matthew Herbert, Julian Stallabrass and Cecilia Wee.
The words of artist and Tate Trustee Bob and Roberta Smith on the Tate Board as "BP is becoming beyond the pale".
Voices from 'outside the gallery' in communities affected by BP operations.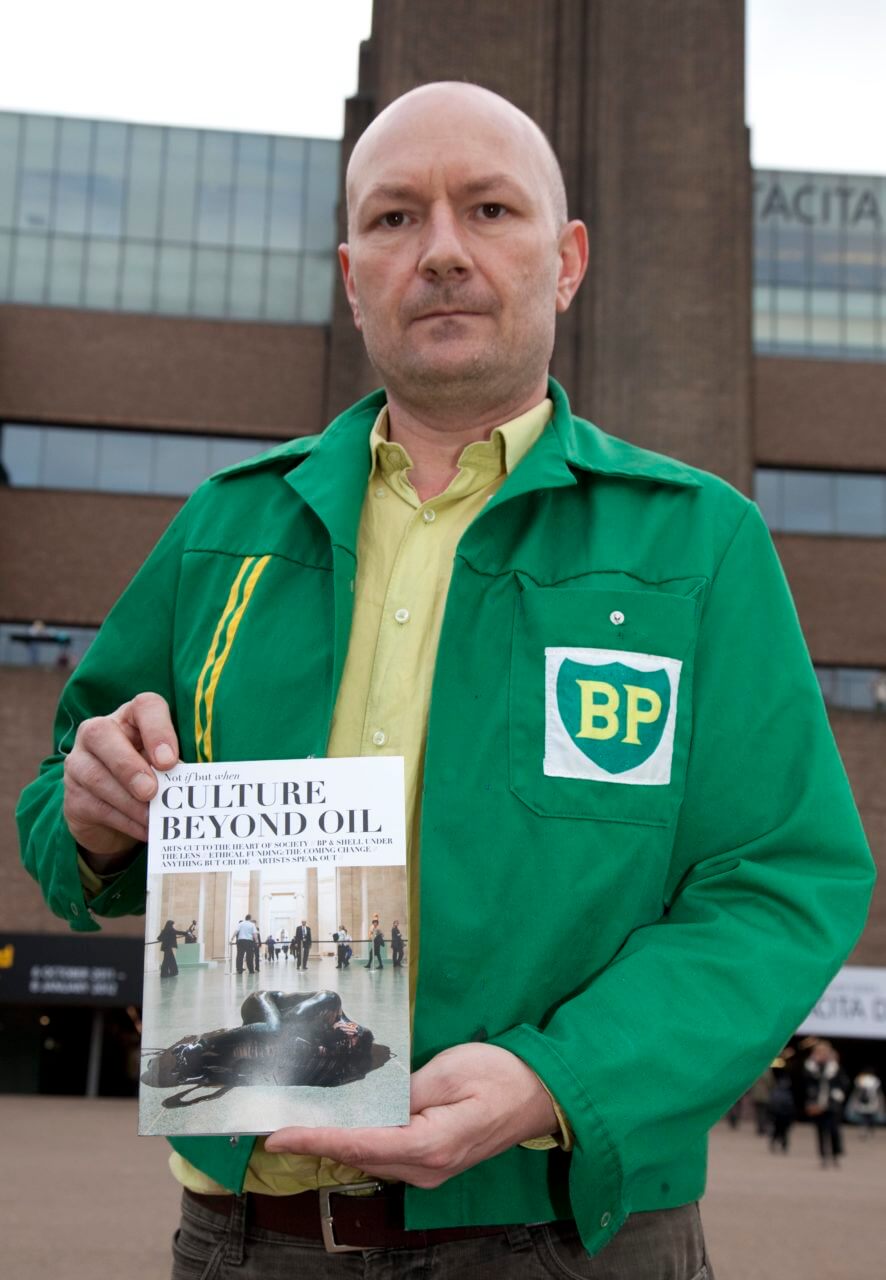 The publication asks not if but when will oil sponsorship of the arts will end as the deadly damage to societies and ecosystems through the industry becomes ever more widespread (much as the tobacco companies once supported by cultural institutions were realised to be wrong). It challenges us to have the collective courage to free our cultural institutions from oil companies and create culture beyond oil, where art is put back into the service of life.
Each limited edition copy features a unique artwork by Ruppe Koselleck made with crude oil collected from the Deepwater Horizon catastrophe. The artworks are being publicly created over the course of Tuesday 30 November at the Free Word Centre at 60, Farringdon Road, London, with a launch event taking place in the evening.