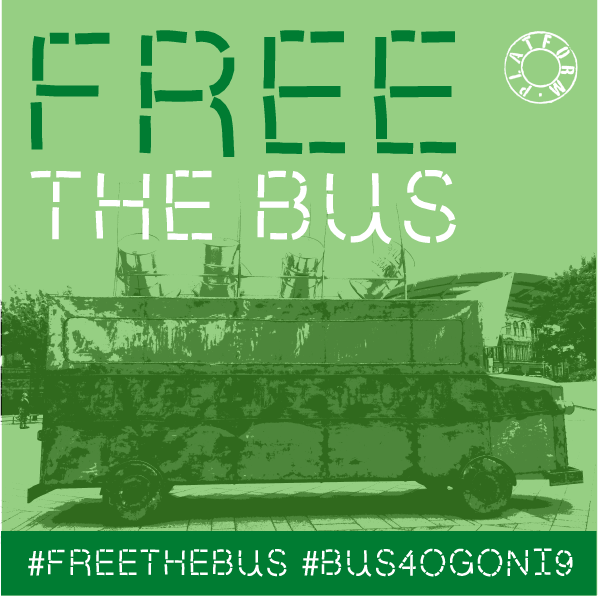 Twenty years ago, on 10th November 1995, the Nigerian writer and activist Ken Saro-Wiwa was executed, alongside eight colleagues, for crimes they did not commit. They were campaigning against Shell's exploitation and environmental destruction of Ogoniland in the Niger Delta of Nigeria. As a Living Memorial, The Battle Bus, a large-scale mobile interactive steel sculpture was created by Nigerian-British artist Sokari Douglas Camp in 2006. It was the winning proposal from an international competition held by Platform. The Ogoni people requested the Bus to commemorate the 20th anniversary since the executions, and in August 2015 the Bus was sent from London to Nigeria as a gift, to be held in trust by MOSOP (Movement for the Surivival of the Ogoni People) which Saro-Wiwa co-founded. On arrival the Bus was seized by Nigerian customs and has been held ever since because of its 'political value'. This suppression 20 years on is causing outrage &  outpourings of support.
Statements coming in daily from allies in the struggle for justice for the Ogoni: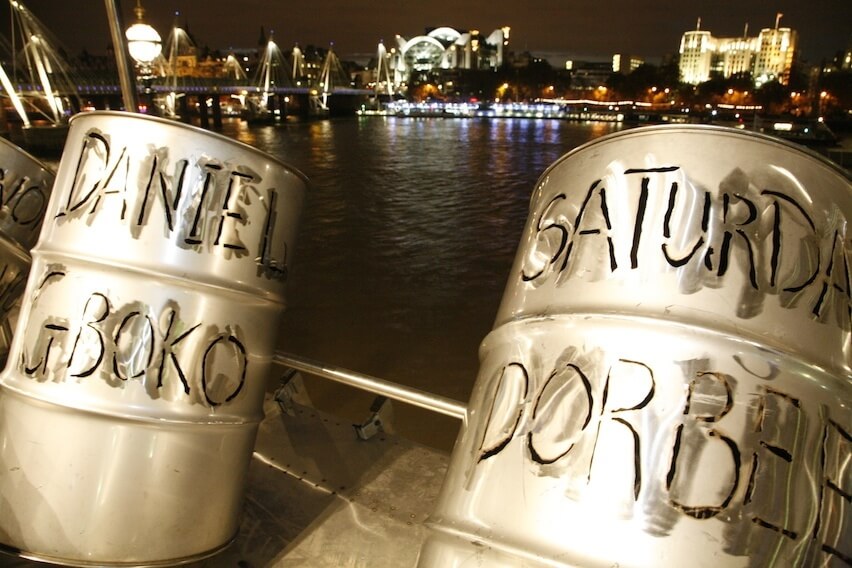 ENO USUA, Member of Co-oordinating Group of the SOUTHERN MINORITIES MOVEMENT: "This Bus is alive, this Bus moves, it sees, it speaks and it is bearing witness. This Bus is the mirror that reflects deep into Nigeria's soul and speaks to the world.
This Bus narrates our resistance, determination and hope. We expect the new Nigerian government with Dr. Kayode Fayemi as the Foreign Minister (he is in a pivotal position) to ensure the reversal of this obstructionist insanity of functionaries.  What are they afraid of ? Flush them out! Nigeria must not allow itself to plumb a new level in predictable depth of corrosive vindictiveness.
We hear you;
Felix Nuate, Paul Levera, Daniel Gbooko, Ken Saro-Wiwa, Nordu  Eawo, Baribor Bera, John Kpuine, Saturday Dobee, Barinem Kiobel. THE BUS IS IN NIGERIA !"
MICHAEL McMILLAN, writer, artist/curator: "'You can kill the man, but you can't kill an idea' (Medgar Evers, civil rights activist). The Battle Bus arrived in Peckham Square in June 2015 where I was commissioned to work with it by Peckham Platform gallery. The Bus triggered memories for many Nigerians and local people of Ken Saro-Wiwa as a symbol across the world and in Africa, a man struggling against oppression and fighting for freedom. Prior to its departure from Peckham Square on its journey to Nigeria The Battle Bus was used as site for a performance piece devised with young people from Theatre Peckham. It was also photographed and reproduced large-scale as wallpaper that line the gallery wall of an exhibition Doing Nothing is Not an Option, at Peckham Platform (til 22 November 2015).
The Battle Bus has now arrived in Lagos, Nigeria and as we await its fate, Ken Saro-Wiwa and the Ogoni 8's spirits live on, because an idea cannot be killed."
PEGGY SEEGER, musician: "We must honour Ken Saro-Wiwa who gave his life for his politics and carry on the fight for which he died."
SAI MURRAY, writer, spoken word artist, activist: [In June 2015, Platform commissioned Sai to write a new poem for the Bus. Read his almost clairvoyant tribute: 'Return' .]
HAYLEY NEWMAN, artist: "You can't imprison an idea. A big metal bus, a 'Living Memorial' to Ken Saro-Wiwa is currently singing through the cage of Nigerian customs, its story reaching the ears of millions of people despite government attempts to censor it. Art is a site of change, hope and transformation. Long live Ken Saro-Wiwa's Living Memorial."
DIANE WITTNER, artist-activist, CHESAPEAKE CITIZENS, USA: "I urge the Nigerian government to release the Ken Saro-Wiwa Memorial Bus immediately. The Bus is a treasured and hopeful gift of solidarity to the Ogoni people, who have suffered for too many decades with violence, pollution and ill health, including carginogen exposure, due to widespread oil leaks and burning. For too long, they have endured loss of farmland, livelihoods, healthy fishing and drinking water in the Niger Delta. The Niger Delta is a fragile ecosystem, like all deltas, like the Chesapeake. Environmental justice for the Ogoni people is long overdue. Shell must clean up the Niger Delta, including Ogoniland, and the Bus must be released to its rightful owners, the Ogoni people."
HELON HABILA, writer and novelist: "The arrival of this bus in Nigeria should be celebrated with pomp and pageantry–not by suppression. This artefact is a symbol for so many things, but most of all it is a memorial to those who died fighting for the environment and for justice."
ALFREDO JAAR, artist, Living Memorial Judging Panel 2005: "Ken Saro Wiwa was assassinated but not silenced. No one can make the Ogoni star in the Nigerian sky disappear. And no one can stop the bus of justice and joy in its journey home. We demand its immediate release and freedom. It will show the world that Nigeria is free."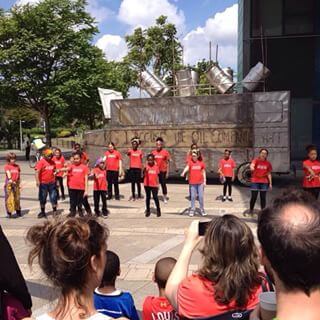 JACK PRYOR, drama youth worker: "I thoroughly enjoyed working with, in and on The Bus to develop a powerful piece of street Theatre with Theatre Peckham. The Bus is an exciting and inspiring sculpture and it was a true magnet in Peckham Square. It was great to see the way people would watch it, talk about it and interact with it – the sculpture really bought the community together. I was both happy and sad to see the Bus leave on its new adventure but to hear that it has been seized really shocks me. I know that in the true spirit of this Bus that it will find its way to Ogoniland. Free The Bus!"
STEPHEN KRETZMANN, Executive Director, OIL CHANGE INTERNATIONAL:
"The Ken Saro-Wiwa memorial bus is detained?  What a poignant and powerful reminder that 20 years after 9 heroes were hanged in the yard of Port Harcourt prison, speaking the truth about oil in Nigeria will still get you locked up, or worse."
SOKARI DOUGLAS CAMP, CBE, artist
"I made the Bus in good faith as an educational tool and to raise awareness of the plight of the Ogoni people. It's a deep shame that the Bus has been seized. I urge for the release of the 'Living Memorial' to Ken and the other Ogoni 8  so that this gift from allies in the UK can create a space to reimagine the future of Nigeria. This is a call for freedom of expression to both honour the people who have fought for justice in Ogoniland and the people struggling for justice today."
INTERNATIONAL PEN,  Salil Tripathi, Chair of PEN's Writers in Prison Committee. : 'Twenty years ago a Nigerian government executed Ken Saro Wiwa and eight Ogoni leaders in a trial that failed to meet international standards. Today, another Nigerian government has impounded a sculpture commemorating him, attempting to stifle his voice once again. His voice lives, resounding across not only the Niger Delta but throughout the world. Nigeria should undo its past and not repeat history; its government must not only return the sculpture but enter into a meaningful dialogue with the Nigerian people so that healing can begin." (More)
CELESTINE AKPOBARI, OGONI SOLIDARITY FORUM: "We have a right to mark the anniversary of the killing of Ken Saro Wiwa. We have a right to erect a remembrance for the many dead and for the suffering we have been forced to exist in. The Bus belongs to the Ogoni people and it is illegal for the Nigerian authorities to seize it for no reason. We have waited and asked them to do the right thing and release our property to us, all to no avail. Now we are forced to use the only option available to us. On the expiration of this ultimatum, we will mobilize Ogoni people and our friends to block the East West road and cripple every economic activity in that axis."
KADIJA SESAY, Literary Activist; poet; SABLELitMag publisher:  "My Motto – Art is the HeArt of the Nation – when Art is under Attack, the people are under Attack – Ken Saro-Wiwa has come back to bite Nigerian authorities in the A."
NICK DEARDEN, Director, GLOBAL JUSTICE NOW: "The Living Memorial to Ken Saro-Wiwa is an important piece of political art that commemorates one of the most important struggles for environmental justice of our time.  It reflects extremely badly on the government of Nigeria if twenty years after the execution of the Ogoni 9, it is now effectively censoring a peaceful act of remembering the stand they made against Shell's devastation of their homelands. The Bus must be freed, and Shell must act according to the UNEP report and start paying to clean up the decades of pollution and devastation it has inflicted on Ogoniland."
WILLIAM BOYD, writer: "The suppression of the Ken Saro-Wiwa Bus Memorial is an overt and political act of censorship. This is a gift to the Ogoni people, pure and simple, and moreover a work of art that celebrates a remarkable man and a remarkable Nigerian. By suppressing it the Nigerian government are showing the free world that they never learn. Nigeria used to be famous for its freedom of democratic expression — we do not want a return to the grim, paranoid days of the military juntas with their draconian edicts. It's very simple: release the bus; commemorate a great man; show that Nigeria has moved on from the past."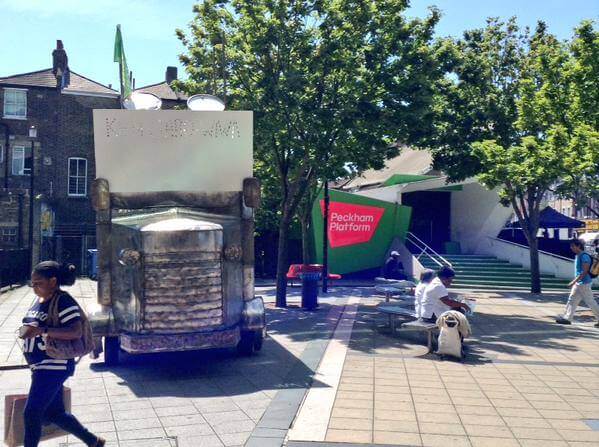 EMILY DRUIFF, Executive Director, PECKHAM PLATFORM: Our current exhibition 'Doing Nothing is not an Option' by Michael McMillan (ends 22nd Nov 2015), movingly articulates how the plight of Ken Saro-Wiwa and his colleagues is still so very relevant today, not only the Nigerian diaspora but also to the wider public as a human rights issue. The fact that Peckham Square in London was the last place that the Bus was seen – by thousands every day – is very powerful and we are proud to have been part of that journey.
DAVID A BAILEY, MBE, curator: "The Battle Bus sculpture is a remarkable modern kinetic piece of art fused with energy that resonates with the civil movements of the black global diaspora. For the Nigerian customs to seize such an entity is a global human rights crime. I urge them to release the bus immediately"
JON DANIEL, Independent Creative Director to Action Saro-Wiwa: "I am proud as a designer and an artist to be able to contribute to this project and bring my skills to bear to help highlight this crucially important human rights issue. I stand with the Ogoni people in condemnation of the unlawful actions of the military government and oil corporations who committed these atrocities.They destroyed their homelands, but they couldn't break their hearts. They executed their leaders, but they couldn't extinguish their spirit. They can hold the Bus, but they can't stop the movement. I urge all humanitarians to get on board and join the campaign to finally deliver true justice to the Ogoni people."
ALBERS FOUNDATION: "The Josef and Anni Albers Foundation, and American non-profit organization founded by two of the greatest and most acclaimed artists of the twentieth century, has been proud to support the Bus memorial to Ken Saro-Wiwa and the Ogoni 8, by Sokari Douglas Camp, an artist whom we consider immensely gifted. We consider the seizure and detention of the Bus in Lagos port to be a travesty. Anni and Josef Albers saw what happens when government officials try to suppress artistic creation. The kidnapping of this fine and symbolic art work is a loss to the people of Nigeria, and to everyone in the world who values artistic freedom. We urge an immediate resolution to this situation."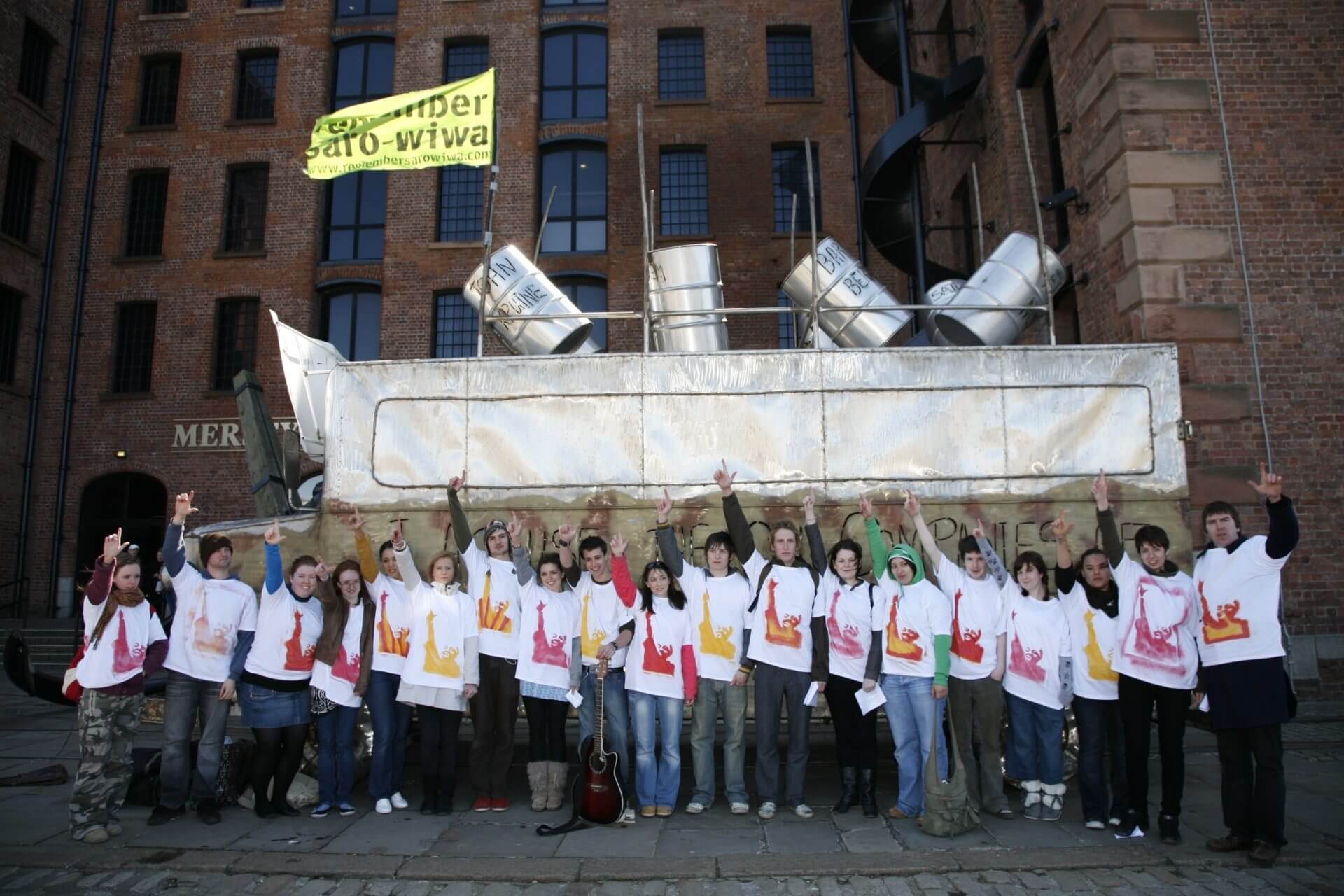 HOPE COLLECTIVE, Liverpool: "We are shocked and appalled at the seizure of this fantastic artwork that promotes justice and peace around the world. In 2008 we, the Hope Collective based at Liverpool Hope University, participated in a series of events organised by the European Capital of Culture Liverpool O8, that saw the Living Memorial to Ken Saro Wiwa and the Ogoni 9 a centre piece of the April programme. Thousands upon thousands of people flocked to see the bus and hear the stories of justice and struggle. The Liverpool Slavery Museum hosted the Lord Mayor of Liverpool alongside the now Private Secretary to the Leader of the Labour Party (Steve Rotheram MP) together with broadcasting legend Phil Redmond CBE who all joined together in singing the praises of this international symbol for justice and peace. The Hope Collective and the people of Liverpool are quite simply outraged that such an important piece of work has been seized and is currently being refused entry to Nigeria. The struggle continues and we, with Ken's powerful words and example, will prevail."
ANDY ROWELL, writer and co-author of The Next Gulf: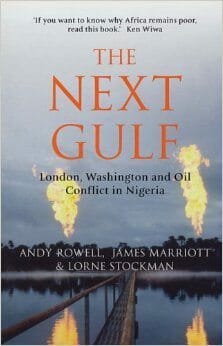 "Twenty years ago the Nigerians murdered Ken Saro-Wiwa and the other Ogoni in order to silence their campaign against the oil giant Shell which Saro-Wiwa had accused of environmental racism. And now the biggest democracy in Africa is scared of a piece of commemorative art.  It shows that the Nigerian elite, with all their power, are still terrified of Saro-Wiwa's legacy of environmental justice, human rights and fairer society for all. The longer they hold the bus, the greater should be their shame and our collective anger"
LUCY NEAL, theatre-maker and writer: 'Certain objects have transformative power to change the world; the way we understand and see truth; the way we gather and tell the stories of our world.
The Bus holds this power: it symbolises everything historically unjust about how the Ogoni people in Nigeria have suffered, along with devastated ecosytems, at the hands of oil extractors, whilst others have profited from that suffering.
The arrival of the Bus in Nigeria is a cause of great celebration. It has its own story and has survived much. It is right it reaches its destination with the people of Ogoniland as they mark the 20th anniversary of the execution of Ken Saro-Wiwa and the Ogoni 9. Saro-Wiwa was a truth teller, and the truth, stays in people's imaginations for ever – like big, silent objects. As Elvis Presley once said
'Truth is like the sun. You can shut it out for a time, but it ain't goin' away'
SUE DHALIWHAL, PLATFORM and UK TAR SANDS NETWORK "Mobilisations for environmental justice forced Shell to back off in the Arctic and the Tar Sands.  This is exactly what the international community is calling for in Nigeria. No longer can Shell stall on the essential work to clean up Ogoniland and the rest of the Niger Delta. We urge the Nigerian government to release the Bus today so that the people of Ogoniland can receive this gift of solidarity. The Ogoni 9 will not be silenced with the seizure of the bus. We will stand alongside the people of Ogoniland for the environmental justice that they lived and died for."