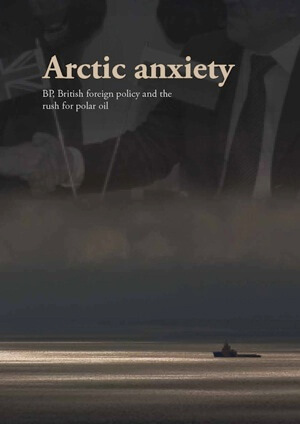 Friday 25 March 2011: In the wake of Thursday´s arbitration ruling that has delayed BP´s Arctic alliance with Rosneft, Foreign Office minutes sourced through FoIA and a new report published by PLATFORM and Greenpeace UK reveal ongoing high-level support for BP without a formulated policy position or any public or parliamentary debate. Campaign groups are calling on the British government to use the window of opportunity to reverse its support for BP´s Arctic frontier plans.
Download the report (pdf) or read online below.
James Marriott of oil industry watchdog PLATFORM said, "It's good that the arbitration ruling has delayed BP´s dangerous Arctic drilling. Despite the motivation for the injunction, the practical outcome is that it protects the Arctic from risky efforts to explore for oil for at least a few more months. The British government should now take the responsible position of promoting an Arctic moratorium as Norway has done, rather than providing ministers at BP's beck and call."
The FoIA documents obtained reveal 18 months of careful build-up and close interaction between BP and the UK Embassy in Moscow. In one instance in February 2010, a civil servant minuted the benefits that the "challenging" nature of "Arctic conditions" provides for BP.
The documents also reveal the hold BP feels it has over senior ministers' schedules. An ambassadorial email shows that BP first briefed Downing Street about its Rosneft deal on Tuesday 11 January, expecting that either Deputy Prime Minister Nick Clegg or Energy & Climate Change Minister Chris Huhne would then attend a signing ceremony only three days later. Chris Huhne put aside four hours of his time for the event.
PLATFORM´s report Arctic anxiety: BP, British foreign policy and the rush for polar oil, co-published with Greenpeace UK, warns that the oil plans pose enormous risks to the environment and local communities and echo current concerns around governmental support for oil companies in repressive states such as Libya.
Report author Anna Galkina of PLATFORM said, "Extracting oil in the Arctic is extremely risky. Existing spill containment methods are ineffective in icy waters, while darkness and storms make drilling sites inaccessible for months on end. Adequate safety infrastructure and oversight is non-existent. Lending high-level government support to Arctic drilling is unjustifiable, especially to the company whose poor safety management has just caused one of the worst environmental disasters in history."
BP's recent controversial deal with Rosneft sees the two companies create an offshore drilling area equivalent in size and reserves to the UK North Sea.
Ministers including Lord Howell (Foreign Office), Chris Huhne (Energy & Climate Change), Charles Hendry (Energy), as well as senior civil servants and dedicated FCO Energy Teams have all been enrolled in trying to break open the Arctic. Unlike the European Parliament, the House of Commons has had no discussion of Arctic issues. A poorly attended debate in the House of Lords centred around securing business opportunities for British companies. Energy Minister Hendry termed this support "purely commercial", stripping it of any responsibility for the impacts of oil development in the Arctic on natural environments, and concerns for the rights of the region's Indigenous population.
PLATFORM's original research indicates that Western companies involved in joint ventures in Russia tend to show only a formal presence in environmental negotiations and predominantly deny any responsibility in dealing with Indigenous Peoples' Organisations.
The report calls for open and public debate on the development of oil and gas in the Arctic by the UK oil industry.
You can see an online presentation of the report below: