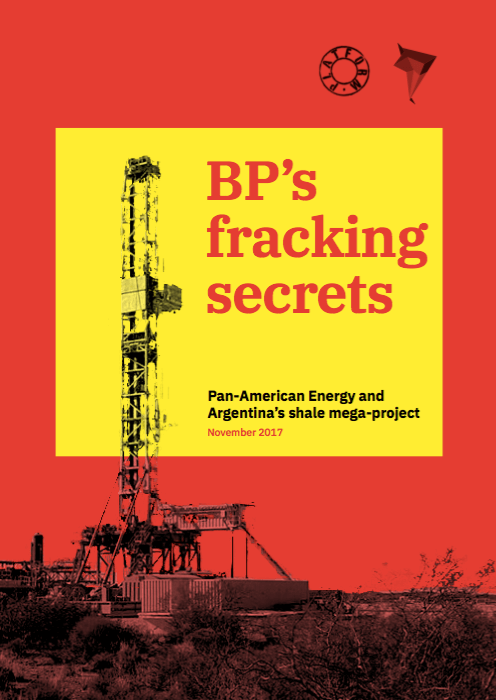 BP plays a leading role in advancing one of the world's biggest carbon bombs, the Vaca Muerta shale mega-project in Patagonia. BP does not carry out fracking in the UK because the practice would "attract the wrong kind of attention".
This report by Platform with Observatorio Petrolero Sur reveals BP's role in pushing forward fracking in Patagonia, as well as the company's history and worrying track record on safety and environmental impacts.
[Download report (pdf).]  [Read press release.]  [Versión castellana.] 
BP's unit Pan American Energy is billed as Argentina's biggest private oil company. It already runs Argentina's largest existing oilfield (Cerro Dragon) and is responsible for a quarter of the unconventional gas extraction in Neuquen province. Owned 60% by BP currently, PAE uses its Argentinian minority shareholders – the Bulgheroni family – as its figureheads in Argentina.
BP's Argentinian arm PAE plans to have fracked 37 new wells by the end of 2017 on its Patagonian concessions. Most of the wells require 60-80 stage fracking, and some up to 100 stages, meaning a much more complex operation than the standard 16-40 fracs in US shale wells.
BP's flagship concession Lindero Atravesado, where 23 wells are supposed to have been fracked in 2017, overlaps with a town (Vista Alegre) that has passed a resolution to ban fracking, as well as a lake that provides drinking water to the provincial capital Neuquén.
PAE's track record, reviewed by the report, includes an alleged $300 million bribe in 2007 and a series of refusals to admit to and clean up groundwater contamination.