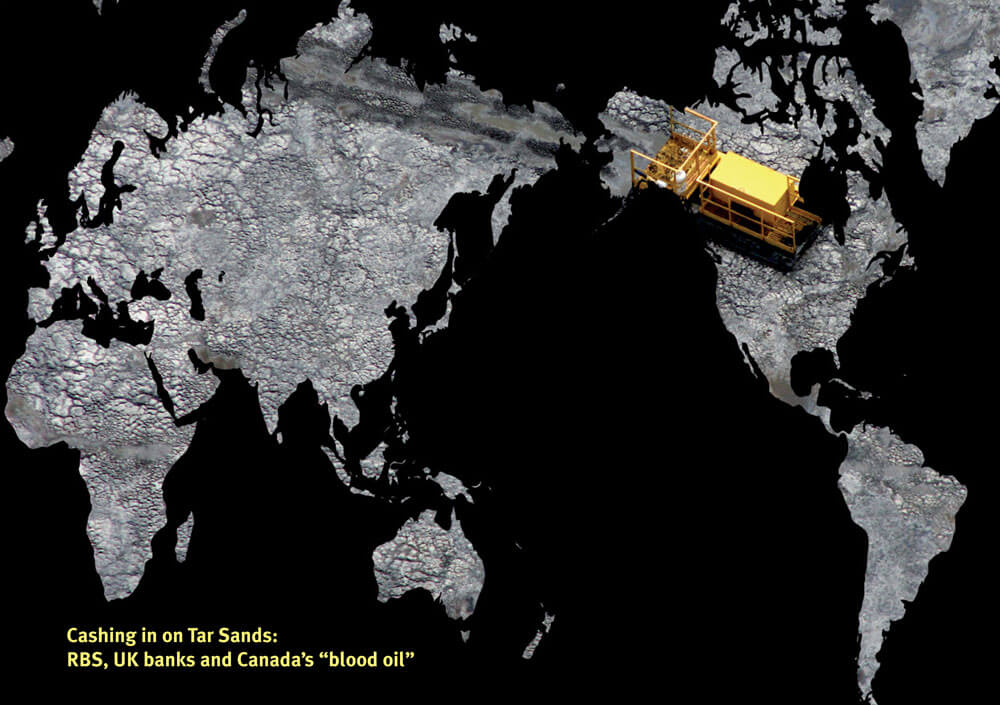 Tar sands extraction in Canada is devastating Indigenous communities, wildlife and vast areas of boreal forests, as well as being many times more carbon-intensive to produce than 'conventional' oil.
The higher oil prices in recent years have meant that it's become a more attractive prospect for oil companies to expand their operations in the costly process of obtaining and processing the thick bitumen into a usable form. It's estimated that the industry is looking for a capital investment of $120-$220 billion over the next 20 years to build the new pipelines, mines, refineries and upgraders that are necessary to sustain the boom.
This report looks at the role that UK banks are playing in providing the necessary capital, and how RBS, which is 84% owned by the UK public, has been the bank the most heavily involved in underwriting loans to companies engaging in tar sands extraction.
Download the report (pdf) or read online below.
"We are seeing a terrifyingly high rate of cancer in Fort Chipewyan where I live. We are convinced that these cancers are linked to the Tar Sands development on our doorstep. It is shortening our lives. That's why we no longer call it 'dirty oil' but 'bloody oil'. The blood of Fort Chipewyan people is on these companies' hands." – George Poitras, former chief of Mikisew Cree First Nation