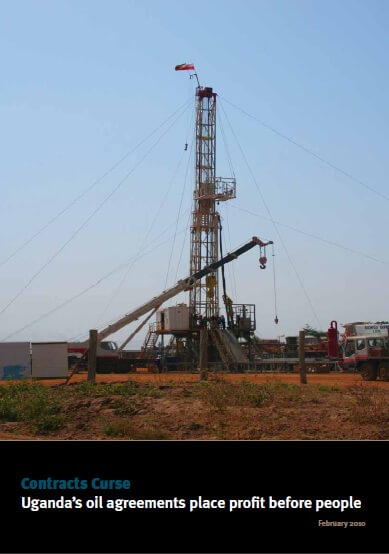 Held secret by the Ugandan government and oil companies Tullow and Heritage, Platform has revealed the terms of the contracts for oil operations by Lake Albert on the Uganda-Congo border, and their economic implications. For the first time, Uganda's Production Sharing Agreements are available to the public to read, after a leaked copy was placed online. A legal analysis published by Platform in partnership with the Civil Society Coalition for Oil in Uganda raises serious economic and environmental concerns about how oil will be extracted at Lake Albert.
Download the report (pdf) or read online below.
The terms of Uganda's Production Sharing Agreements (PSAs), which the oil companies and Ugandan government continue to refuse to release, are now available online. Two confidential audit reports carried out by Ernst &Young in 2009 have also been made publically available. These confirm a number of PSA clauses, raise concerns over environmental damage and warn of the companies inflating their costs.
The report investigates the contract terms relating to economics, sovereignty, human rights and the environment, examining clauses in relation to current oil company practice in Uganda and in comparison to terms in other countries.
The analysis works article-by-article through the Production Sharing Agreement, in particular, raising questions about:
How the structure of the deals guarantees huge profits for the companies while placing risks and responsibilities on the Ugandan government (p.6)
The lack of transparency over bonus payments to the Ugandan government (p.7)
The complete absence of penalties for environmental damage caused by the companies (p.22)
The legal rights granted to the companies to flare natural gas (p.19)
The 'stabilisation clause', whose breadth has been confirmed by access to a confidential Ernst&Young audit report, which will restrict Uganda's ability to improve its environmental protection and human rights standards in the future (p.27)
The report recommends that urgent changes should be made to the contracts, legislation and regulatory regime covering oil, to achieve some level of environmental  protection, to ensure accountability for military forces enforcing security, to protect a degree of Ugandan sovereignty, to minimize economic distortion through revenue flows, to capture a more appropriate share of the revenues and to re-apportion the economic risks."
Additional documents for download:
Heritage's Production Sharing Agreement for Block 3A signed in 2004: Part 1   Part 2
Ernst & Young Audit Report on Tullow / Hardman – April 2009
Ernst & Young Audit Report on Heritage Oil – April 2009
Dominion Block 4B PSA (pages different from Block3A PSA): Cover (Page 1)   Bonus Payments (Page 30)  State Participation (Page 32)    Cost Recovery (Page 34)    Production Sharing (Page 35)
Loose Minute – Ugandan government analysis of Block 3A PSA re-negotiation- signed by Permanent Secretary A Kabagambe-Kaliisa: Page 1   Page 2"A Bad Deal Made Worse – How the PSAs are ripping off Uganda" – PLATFORM's preliminary economic assessment of the contracts – published in November 2009