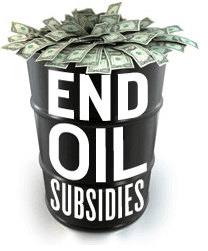 In April 2013, the Environmental Audit Committee launched an inquiry into Energy Subsidies in the UK. This inquiry was planning to "investigate what should constitute 'subsidy', the extent of energy subsidies in the UK for nuclear energy, fossil fuel energy and renewables, and what the Government should be doing to identify and eliminate those subsidies which are — using the UN's terminology — "harmful"."
This was the submission that Platform made, arguing for a broad definition of subsidies that included Export Credit, Diplomatic and Military subsidies, and we were subsequently  invited to give oral evidence on a session that was to be held on 23 October 2013.
You can also download our submission as a pdf.
SUMMARY
Any discussion of fossil fuel subsidies in the UK context should recognise that the majority of subsidies are off-budget – that is, transfers to energy producers and consumers that do not appear in national accounts as government expenditure.
The government should widen its definition of energy subsidies to fit with that given by the International Energy Agency, which describes subsidies as "any government action that concerns primarily the energy sector that lowers the cost of energy production, raises the price received by energy producers or lowers the price paid by consumers."
Platform has identified three main types of off-budget subsidy that need to be quantified and curtailed: Export Credit, Diplomatic and Military.
To effectively tackle our dependence on fossil fuels, it is crucial to bring to light and end the existing, wide-ranging government subsidies for fossil fuel companies, whether direct or off-budget.
BACKGROUND
Platform is a London-based research organisation that has monitored the social, economic, environmental and human rights impacts of the British oil and gas industry for over fifteen years. Our work is regularly published and cited by governments, academia, media and corporations. We are consulted for expertise by human rights defenders, parliamentarians and journalists. We have in-depth knowledge on British oil companies operating in Nigeria, Iraq, the Caspian and North Africa.
FACTUAL INFORMATION
This committee is interested in the scale of energy subsidies in the UK and whether the government has plans to reduce 'harmful' subsidies.
Currently the government is heavily supporting fossil fuels with energy subsidies and is increasing rather than decreasing this support. The IMF state that current energy subsidies "distort resource allocation by encouraging excessive energy consumption, artificially promoting capital-intensive industries, reducing incentives for investment in renewable energy, and accelerating the depletion of natural resources".[1]
The government is offering tax discounts for new fossil fuel exploration (from the North Sea and, further in the future, Shale Gas).
New research by Friends of the Earth revelled that the UK oil and gas industry received tax breaks worth £1.952 billion over five years during the financial year 2012 /13.[2]
In addition there are several types of 'off-budget' subsidy provided by the British state that provide significant support for fossil fuel companies.
DEFINING SUBSIDIES
This paper also discusses the first and second questions of the inquiry (1) whether the Government has identified the extent of energy subsidies, and measured them and (ii) how well any identification of subsidies by the Government matches up to best practice methodologies in how energy subsidies are defined and scoped.
The International Energy Agency (IEA) defines subsidies as "any government action that concerns primarily the energy sector that lowers the cost of energy production, raises the price received by energy producers or lowers the price paid by consumers."[3]
The OECD also offer a broad definition of a subsidy: "Governments support energy production in a number of ways, including by: intervening in markets in a way that affects costs or prices; transferring funds to recipients directly; assuming part of their risk; selectively reducing, rebating or removing the taxes they would otherwise have to pay; and undercharging for the use of government-supplied goods or assets…the scope of 'support' is deliberately…broader than some conceptions of subsidy"[4]
The IMF states that "although energy subsidies do not always appear on the budget, they must ultimately be paid b someone"[5]
 However, the UK government only identifies and measures direct energy subsidies rather than considering the other services provided for free by the UK state to British oil companies. The majority of fossil fuel subsidies are off-budget – that is, transfers to energy producers and consumers that do not appear in national accounts as government expenditure.
Platform has identified three main types of off-budget subsidy that need to be quantified and curtailed:
7.    Export credit. The UK government underwrites (takes on the financial risk of) overseas oil and gas projects through UK Export Finance. In June 2012, the UKEF submitted a proposal to the Azeri State Oil Company to underwrite a new oil & gas refining and petrochemicals complex.[6]
Diplomatic. The FCO maintained a consulate in Basra largely to support UK oil companies, with three diplomats on staff and a £6.5 million budget. High-profile UK political figures appear on request of oil companies for deal signing, such as Huhne attending the signing ceremony during BPs first attempt to broker a deal with Rosneft.
Military. The UK Government spent £12 million on military aid to Nigeria, at least in part due to Shell's lobbying effort.[7]
EXPORT CREDIT SUBSIDIES
UK Export Finance (UKEF), previously known as the Export Credits Guarantee Department (ECGD), offers billions of pounds of public money every year as credit lines and insurance for UK companies exporting overseas.
This subsidy has been provided to oil and gas companies, despite Coalition commitments to end "investment in dirty fossil-fuel energy production."
ECGD, and now UKEF's, decision-making has been controversial. Crucial information regarding dangerous impacts is repeatedly – and sometimes consciously – ignored.
Offers for credit lines for particular projects are often made first, with the various potential UK exporters only identified later.
UKEF has no climate change policy for its projects, nor does it have an emissions reduction target. To this day, UKEF continues to provide financial support to some of the most controversial fossil fuel projects.
Particularly problematic subsidies provided by the ECGD/UKEF include:
6.  KBR – Bonny LNG – Nigeria. UKEF decided to finance a UK subsidiary of Halliburton, despite specific allegations of the company's corruption in relation to the Bonny LNG project being common knowledge. After international investigations started into the bribery, minutes of meetings between UKEF and Halliburton show UKEF failing to ask Halliburton for crucial details of the allegations, telling the company that it did not wish to 'delve into the finer details' of the consortium's arrangements. The Halliburton subsidiary eventually plead guilty in both the USA and UK[8].
7. Shell – Sakhalin II – Russia. Shell's drilling, pipelines and LNG plant in Arctic conditions on the Sakhalin Island in Russia threatened indigenous populations and highly endangered populations of whales. Nonetheless, UKEF gave a secret but legally-binding commitment to support the project in March 2004 worth £1 billion, before an adequate EIA had been completed and before UKEF's own assessments were complete.[9] The application to UKEF was only withdrawn because of a judicial review over its illegality.
8. BP – Baku-Tbilisi-Ceyhan Pipeline – Azerbaijan / Georgia / TurkeyUKEF chose to support this project to the tune of at least £81.7 million, despite a multitude of reported and documented infringements on citizens' rights. There were over a hundred violations of World Bank standards[10], emergency powers were invoked to acquire land in Turkey, and the UK government itself ruled that BP had violated international rules by failing to investigate complaints of intimidation by state security forces in Turkey.[11]
9. Petrobras – ultra-deep drilling – Atlantic Ocean In 2011-12, UKEF agreed a $1 billion credit line to support Brazil's state-owned oil company Petrobras conduct ultra-deep drilling in the pre-salt oil deposits in the Atlantic Ocean.[12] This drilling is more complicated and dangerous than the deep Gulf of Mexico waters where BP's Deepwater Horizon disaster took place.
10. Other fossil fuel subsidies provided by the UKEF in the last two years include: £65 million for a petrochemical plant in Saudi Arabia, £22 million to a Norwegian offshore oil contractor,  £6m for a petrochemical plant in Azerbaijan and £6m for a gas plant in Nigeria.[13]
11. Lisa Nandy MP, chair of a parliamentary inquiry into UKEF said: "It is a cause of real concern that, despite the coalition commitment to end all export finance for dirty fossil fuels, particularly the risky Atlantic oil drilling, UKEF still funds so many fossil-fuel-related projects and has so far failed to support a single green energy project."
DIPLOMATIC SUBSIDIES
The British government supports the interests of oil companies operating overseas through various departments including the Department for International Development, the Foreign and Commonwealth Office (FCO), the Department for Business, Innovation & Skills and UK Trade & Investment (UKTI).
It is David Cameron's stated policy that diplomats should prioritise promoting "UK-based" business interests[14] and, alongside arms companies, fossil fuels receive the largest share of this support.
Day-to-day phone calls and intelligence gathering on behalf of BP and Shell are a key activity of UK embassies abroad, involving commercial attachés, secretaries for energy and ambassadors.
These costs add up – until October 2012, the FCO was maintaining a consulate with three diplomats in Basra largely to meet the needs and demands of BP and Shell. At over £2 million per diplomat per year, the £6.5 million annual budget was significant.[15]
Ongoing lobbying is backed up by high-profile ministerial handshakes and official trade missions.
Close state backing for oil companies is exerted especially when oil companies are forcing their way into new countries – whether that is Tony Blair's support for BP and Shell in breaking into Libya in the 2000s, the heavy lobbying on behalf of Western oil interests in occupied Iraq after the invasion, or during the same companies entry into newly independent states of the Former Soviet Union in the 1990s
Other examples of diplomatic support include:
A meeting in February 2013 between the UK Prime Minister, David Cameron and Nigeria's President Goodluck Jonathan. In this meeting they discussed "how to ensure the Nigerian Petroleum Bill encouraged maximum investment from other countries in Nigeria's energy sector."[16]
Eighteen months of meetings between Anne Pringle, British ambassador in Moscow, and BP as the company was making its first attempt to broker a deal with Russian oil company Rosneft. This culminated in Chris Huhne, Energy Secretary, attending the signing ceremony which was later ruled to breach a shareholder agreement.[17]
Foreign Secretary William Hague lobbying "strongly" on behalf of Tullow oil over a dispute over the company's £175 million unpaid tax bill.[18]
These are just some examples but they point to a system of continuous, systematic diplomatic support for a handful of fossil fuel companies.
MILITARY SUBSIDIES
The UK Government provides fossil fuel companies with military subsidies to secure key overseas oil and gas infrastructure and transport routes.
For example, figures released under the Freedom of Information Act show that the UK spent close to £12 million in military aid in Nigeria since it revived ties with the regime in 2001. Spending has risen consistently over the last decade.[19]
The UK has established a permanent naval facility in Lagos to train the Nigerian military to secure the Delta's oil fields in British loaned boats.[20]
Such subsidies are often brought about as a result of corporate lobbying. For example, UK Government documents from 2006 reveal that Shell lobbied the UK and US Governments to increase military aid to secure their oil fields in the Niger Delta.[21] Military aid was subsequently increased over the next 4 years.[22]
Similarly, the provision of UK frigates to the NATO and EU flotillas patrolling the waters off Somalia enforces the passage of tankers through the Gulf of Aden. In 2010, Jan Kopernicki, President of the British Chamber of Shipping and also Vice-President of Shell's shipping arm, was lobbying hard for the UK to increase Navy spending and bring forward the acquisition of a new generation of warships, to support the private oil tankers moving through this 'vital strategic artery.'[23]

The UK government does not appear to have made any demands for accountability in the Nigerian armed forces in return for military aid.[24] Instead the UK has frequently turned a blind eye to Nigeria's excessive use of force.
For example, on 1 December 2010, Government forces reportedly attacked a town in Delta State called Ayakoromo because there may have been a militant camp near or in the town. The number of dead is still disputed. One report claims that 100 were killed, mostly children, the elderly and women. The Red Cross says that it was barred from entering after the raids. There has been no official inquiry into the tragedy.[25]
Though Nigerian troops have failed to resolve the Delta conflict, the UK اactively supported the militarisation of the area and the wider Gulf of Guinea.
RECOMMENDATIONS:
When measuring the extent of fossil fuel subsidies it is critical that the government include and address off-budget subsidies rather than only looking at direct subsidies like tax breaks.
In particular export credit, diplomatic, military support should be included in definitions of fossil fuel subsidies. It is only by including these areas that a meaningful assessment of fossil fuel subsides can be made.
The government should offer a quantitative and qualitative assessment of these subsides and the results of this analysis should be publicly available.
Having established the level of fossil fuel subsidies, measures should be taken to rapidly reduce them.
The money saved from curtailing fossil fuel subsidies should instead be used to support the development of sustainable, renewable and safe energy technologies.
---