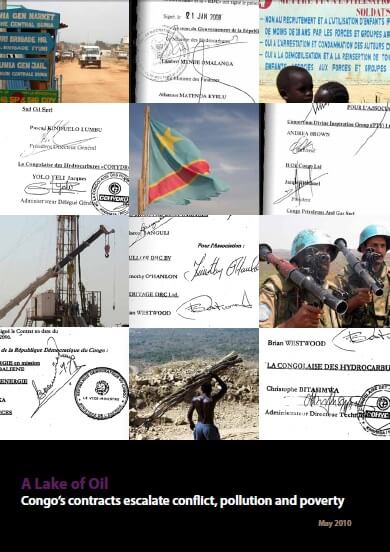 A Lake of Oil analyses confidential oil contracts held by UK companies Tullow and Heritage in the Democratic Republic of Congo that were leaked by Platform, revealing the danger of economic rip-off and rights abuses in one of Africa's most unstable countries.
Download the report here. (pdf)
As the dispute between Tullow/Heritage and the South African-led Divine Inspiration consortium over lucrative oil licences on Lake Albert comes to a head, the contract terms have been released for the first time. PLATFORM's analysis, published in partnership with the African Institute for Energy Governance (Afiego), compares revenues delivered by two competing contracts, revealing that:
Both Tullow/Heritage & Divine/H Oil's contracts guarantee excessive profits, at the expense of Congo's poor
Tullow's contract terms reduce the Congolese take by around 15%, compared to Divine's.
If recognised, Tullow's contract will cut Congolese government revenues by over $10 billion – a figure equivalent to the country's entire national debt. Tullow and the British Embassy in Kinshasa have been lobbying hard for these contract terms. This represents a significant transfer of wealth from some of Africa's poorest to British and Irish investors.
''A Lake of Oil" also raises concerns about:
Co-operation between oil companies and military groups and the likelihood of escalating resource-driven war in eastern Congo. (p26 & 33)
The legal rights granted to flare natural gas (p.24)
The complete absence of penalties for environmental damage (p.21),
The 'stabilisation clause', which will restrict DRC's ability to improve its environmental protection and human rights standards in the future (p.27)
Additional downloads
"Pétrole au Lac Albert: Révélation des contrats congolais contestés" – the report in French.
Tullow/Heritage's PSA contract for Blocks 1 & 2 signed in 2006 (in French)
Divine Inspiration Consortium's PSA contract for Block 1 signed in 2008 – in English and in French
[old site!] Platform Press Release in French
Issuu read online version