No Condition is Permanent features writing and poetry specially selected and written for PLATFORM's season C Words: Carbon, Climate, Capital, Culture, which took place at Arnolfini, Bristol, October and November 2009. It takes its title from the packed night of performance and music which took place on November 7th in Arnolfini's main gallery.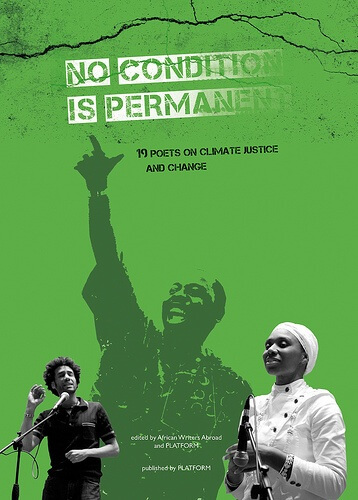 C Words was a hubbub of over 70 events including talks, film screenings, discussions, workshops and courses with contributions from campaigners, artists, researchers, educators, NGOs and activists. It presented 7 new major art commissions from artist and activist groups, including African Writers Abroad. A year after the failure of the Conference of the Parties on Climate Change (COP15, December 2009) to deliver a concerted programme for addressing climate change and resource justice, and on the 15th anniversary of the death of Nigerian writer and campaiger Ken Saro-Wiwa, this volume crackles with incisive calls to justice and irrefutable observations written with aching and acute words. Words which through their beauty, hope, humour, and anger we are compelled to embrace and act upon.
The collection features the new C Words commissions from acclaimed performance-poets Dorothea Smartt and Simon Murray, of African Writers Abroad (PEN). It also republishes selected poetry from the anthology Dance The Guns to Silence: 100 Poems for Ken Saro Wiwa (AWA, 2005). These poems by Helon Habila, Susan Richardson, David Eggleton, Tolu Ogunlesi, Carmen Borja, Zena Edwards featured throughout the C Words season. We also present work performed at C Words by established Bristol writers Edson Burton and Ros Martin, and fresh exciting pieces from participants of the sell-out Full Circle writing workshops, run at C Words by Dorothea and Simon. Poets from these workshops also performed their work alongside a stella line-up as part of the 7th November event.
Buy No Condition is Permanent – £4
ISBN: 978-0-9567365-0-5
Read online