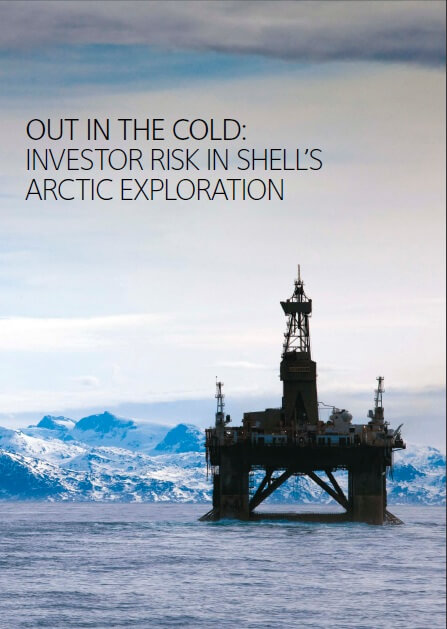 Royal Dutch Shell's plans for Arctic exploration are exposing investors to a 'spectrum of risks', this new report by Platform, Fairpensions, and Greenpeace warns.
Download the report (pdf) and investor briefing or read online below.
The report highlights Shell's failure to address key concerns for investors and environmentalists:
• Spill response plans are inadequate – the efficacy of standard spill response technologies in Arctic conditions is questionable. Shell has not yet tested the well capping system to be used in Arctic conditions – and has stated to a UK parliamentary committee that it has no plans to do so
• Shell admitted to the same committee that it has not calculated how much a large spill would cost to clean up, despite the serious financial repercussions a large-scale spill is likely to have
• Shell is building a far-reaching partnership with Russian majority state-owned company Gazprom, exposing Shell to risks associated with Gazprom's extremely poor safety and transparency track record.
The analysis also alerts investors that 'oil spill risks, high extraction costs, doubts over the amount of commercially recoverable reserves, and a precedent of cost overruns and delay combine to raise questions about the commercial viability' of planned drilling operations in the Arctic.
The Anglo-Dutch oil group is planning to drill five wells in the Chukchi and Beaufort Seas this summer, and is the first major international oil company to make exploitation of the Arctic a key corporate focus.
The report is accompanied by an investor briefing. The briefing outlines the risks that investors may face and provides them suggested questions to ask Shell.