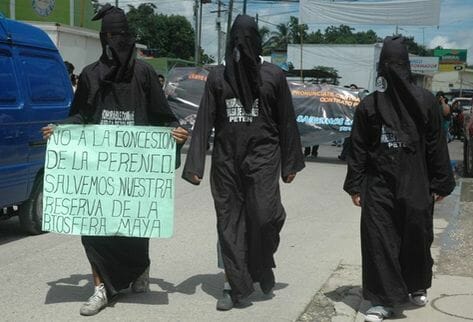 Download the report or browse online below.
Who are Perenco? Perenco are an independent Anglo-French oil and gas company. Its headquarters are located in London but it also has offices in Paris and the Bahamas. Founded by Hubert Perrodo (1944-2006), the company is now run by CEO, Jean-Michel Jacoulot, and still partly belongs to his eldest son, François Perrodo, the 173rd richest man in France. Perenco operates in 16 countries, Central Africa (Cameroon, Gabon, Congo – Brazzaville, Democratic Republic of Congo), Latin America (Guatemala, Belize, Colombia, Peru, Venezuela, Brazil) in the Mediterranean (Tunisia, Egypt, Turkey), the North Sea, Australia and even in Iraq. Perenco maintains a low profile, is virtually absent from the media and is relatively unknown to the general public. Without being a "major player" in the exploration and production of hydrocarbons, it is nevertheless significant in its sector, producing around 250,000 barrels per day and employing more than 4000 people across the world. Its strategy has been to buy and operate concessions, deemed non-profitable by other companies, with a particular focus on countries plagued by human rights abuses and environmental issues.
Why the report? This report considers the impact of Perenco's presence in Guatemala through its subsidiary Perenco Guatemala Limited (Perenco GL). It highlights the legal shortcomings of its current operating contract and the human rights violations linked to the presence of the company. The current status of international law offers neither the United States nor the international community the means to regulate the actions of multinational corporations who operate in several countries. The autonomy of this corporate body, as well as its limited sense of responsibility, prevents us from holding the company to account for the environmental and human rights violations committed by its subsidiaries. With this current legal structure, victims have no choice other than to apply to the court of the country where the subsidiary operates. Given the strong ties between foreign businesses and host states and their weak legal system, they receive only too little compensation for the harm they have encountered. This report endeavors to illustrate the lack of access to justice for the people in Guatemala. It also supports the EU campaign that promotes access to justice for victims of human rights violations in countries where multinational companies are located.