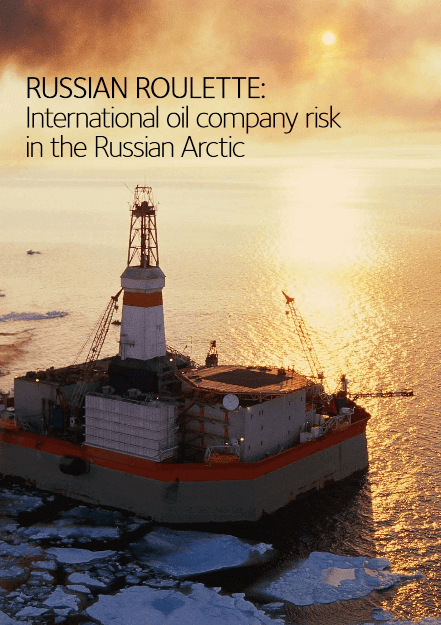 International Oil Companies (IOCs) face pressure from investors to achieve
a positive reserves replacement ratio
. With governments around the world increasingly asserting control over natural resources in their territory, as well as conventional oil reserves dwindling, the Arctic is one of the frontier areas targeted by IOCs. In Russia, IOCs have entered a number of joint ventures (JVs) with Russian national oil and gas companies Rosneft (Eni, Exxon, Statoil) and Gazprom (Shell). BP has additionally become Rosneft's largest independent shareholder. Published on the eve of Shell's 2013 AGM, this report by Platform,
Greenpeace UK
and
ShareAction
challenges the Western companies' investors to ask questions of their Russian Arctic plans.
Shell's
multiple operational setbacks
in the Alaskan Arctic in 2012 and the company's failure to meet US regulatory requirements on time serve as a warning that even the most 'advanced' of IOCs are not prepared for the challenging Arctic waters. Shell's experience in the Alaskan Arctic has had a knock on effect on the exploration plans of ConocoPhillips and Statoil. Total
put out a statement
saying it refused to drill for Arctic oil.
From an investor perspective, the Russian Arctic exploration alliances expose IOCs and their shareholders to risks including poor environmental and safety performance, questionable corporate governance, an unpredictable political, regulatory and fiscal regime and a lack of corporate transparency.
This report
provides an overview of the Arctic exploration deals that have been made between an IOC and either Rosneft or Gazprom since 2011;
examines Rosneft and Gazprom's environmental and safety performance records, along with their experience of offshore drilling at an executive and senior management level;
provides information on the complex and shifting political landscape in Russia, which will have a direct impact on the future of the Russian oil and gas industry and its western participants;
proposes questions that shareholders in IOCs should ask of those companies to clarify how such risks are being mitigated and managed.