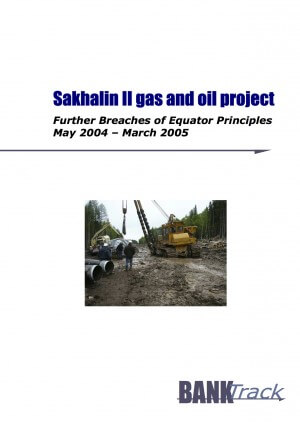 In May 2004, 39 civil society groups, from 15 countries, warned commercial banks of extensive and systemic violations of the Equator Principles by the Shell-led Sakhalin II project – violations which should preclude financing of the project by banks that have adopted the Equator Principles.
This update from 2005 finds that, far from resolving those violations, events over the past ten months show a deteriorating situation, constituting further violations of the Equator Principles, and even more compelling reasons for Equator banks not to finance the project.
Download the update (pdf).
About the project
The Sakhalin II gas and oil project is located on Sakhalin Island in Russia's Far East, and is being developed by a consortium led by Shell. It will consist of three offshore platforms, offshore and onshore pipelines, an onshore processing facility, a liquefied natural gas (LNG) facility and oil and gas export terminal.
It will have severe environmental and social impacts, including threatening the critically endangered Western Gray Whale with extinction, undermining the livelihoods of indigenous peoples, damaging habitats of endangered bird and fish species, and polluting important fisheries. Experts have reported that the project design falls way short of industry best practice, and that its risk assessments are inadequate. As a result, the project risks causing a catastrophic oil spill, as well as major routine impacts.
Local and international environmental organisations have demanded substantial design changes, and Russian groups have initiated lawsuits against the project.