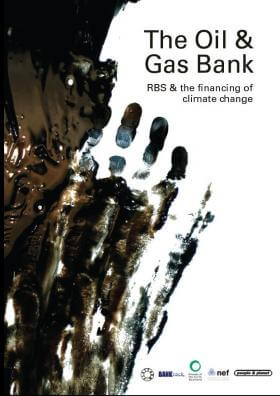 The Royal Bank of Scotland is covering up involvement in carbon emissions greater than those of the whole country of Scotland. PLATFORM's report "The Oil & Gas Bank"reveals the extent to which RBS-NatWest is providing the financial fuel driving climate change.
RBS is more "oil" than "royal", as the bank financing oil & gas extraction. Using customers' cash as financial fuel to drive oil rig and pipeline construction, RBS is accelerating climate chaos and fossil fuel addiction. With global assets of over $1120bn, including NatWest, RBS is determining our energy future.
Calling itself "the oil & gas bank", RBS is helping force open the carbon frontier, financing controversial projects in Nigeria, the Caucasus and Wales. Its involvement in Angolan and Nigerian oil fields encourages corruption and conflict, while gas projects from the Arabian Gulf to the Gulf of Mexico threaten environmental destruction. Claims to corporate responsibility are full of greenwash.
Pulling RBS out of oil and stemming the flow of cash into new oil development is vital to putting the brakes on runaway climate change.
It's time to tell RBS to stop gambling with the atmosphere – the stakes are too high.
Students are a particularly important constituency for RBS – university is when many people open accounts that they keep for life.

Students across the country

are pressuring RBS to get out of oil & gas and into solar and wind instead.