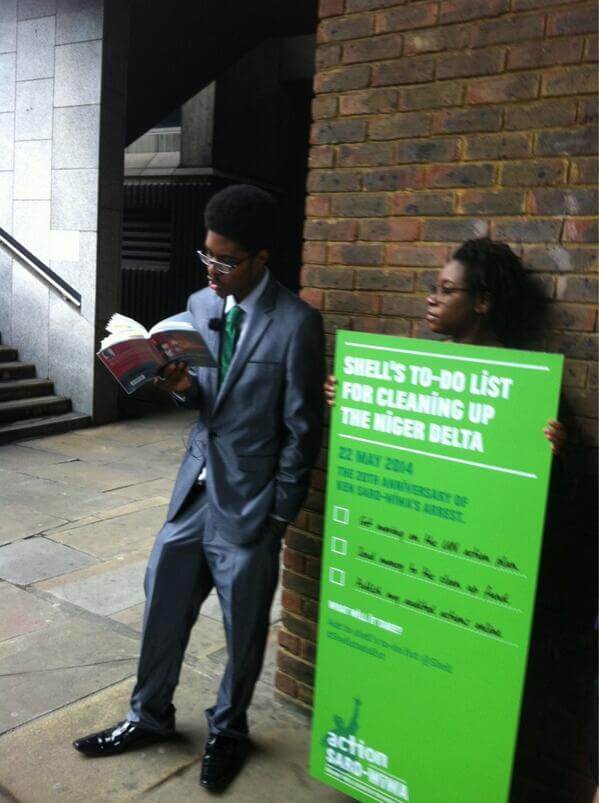 Activists from oil-industry watch dog Platform this morning delivered an out-sized 'to do list' to Shell's new CEO Ben van Beurden at its shareholder meeting in London, while young people read out Ken Saro-Wiwa's final poems.
The four-foot-high 'to do list' sets out what Shell needs to do to address its legacy of five decades of oil pollution in Nigeria. Ken Saro-Wiwa's final arrest took place on the 22nd of May 1994, before his execution the following year by the military government in Nigeria. Ken had orchestrated campaigns against Shell's environmental and human rights crimes in the region – 20 years later and communities in the Niger Delta are angry that the situation has not improved.
Last night, activists stenciled messages on the walkways into the shareholder meeting saying: "What will it take to clean up the Niger Delta?" asking people to tweet @shell using #Shellstodolist. Two days ago at Shell's AGM in The Hague, James Marriott from Platform asked CEO Ben van Beurden why Shell had failed to take action and if they would have ignored pollution on this scale if it was in Europe?
More oil has been spilled in the Niger Delta than in the Gulf of Mexico oil spill. (1) Despite a 2011 UN report (2) slamming the company for its failure to address the environmental devastation it has caused, communities attest that Shell has not cleaned up its oil pollution, causing poverty, death, illness, homelessness and hunger for local residents. The UNEP report concluded that a succession of oil spills by Shell in Ogoniland – one area of the Niger Delta – over half a century will require $1bn start-up finance and take 35 years to clean up. One of the report's findings was that communities' drinking water was contaminated with dangerous concentrations of benzene a cancer causing chemical.
Celestine AkpoBari from Social Action in Ogoniland said:
I'd like to ask Shell what it has been doing. It's been nearly three years since the UN report established their responsibility for the devastating pollution in my homeland. We see no evidence of Shell starting the clean up. The only evidence that we see is the oil in our water, the smoke in our air, the crops that die and our livelihoods and culture that are destroyed. All the things that Ken Saro-Wiwa was fighting for, we are still fighting for them.
Orla Price from Dublin said:
I was 3 years old when Ken Saro-Wiwa was arrested and I can't believe that 20 years later Shell still hasn't cleaned up its terrible mess. I have been reading poetry outside's Shell's shareholder meeting today to send the company a message that we won't forget or give up until we see environmental justice in the Niger Delta. The UN says that it will take 30 years to clean up Ogoniland. I will be 53 years old when it's done so there's no time to lose if young people like me in the Niger Delta are to have a future.
Sarah Shoraka from Platform said:
Ben van Beurden has a huge opportunity to set a fresh direction for Shell. As the new CEO he has to ask himself whether he wants to be defined by Shell's environmental devastation of the past five decades or whether he wants to try to improve the situation in the Niger Delta. Nearly three years ago the UN set out an action plan for Shell. We are here to tell him to act on it right now and provide the necessary funding. We need to be sure that Shell is taking the necessary steps and being accountable about their progress.
For more information, comment or for an interview, contact Sarah Shoraka – [email protected]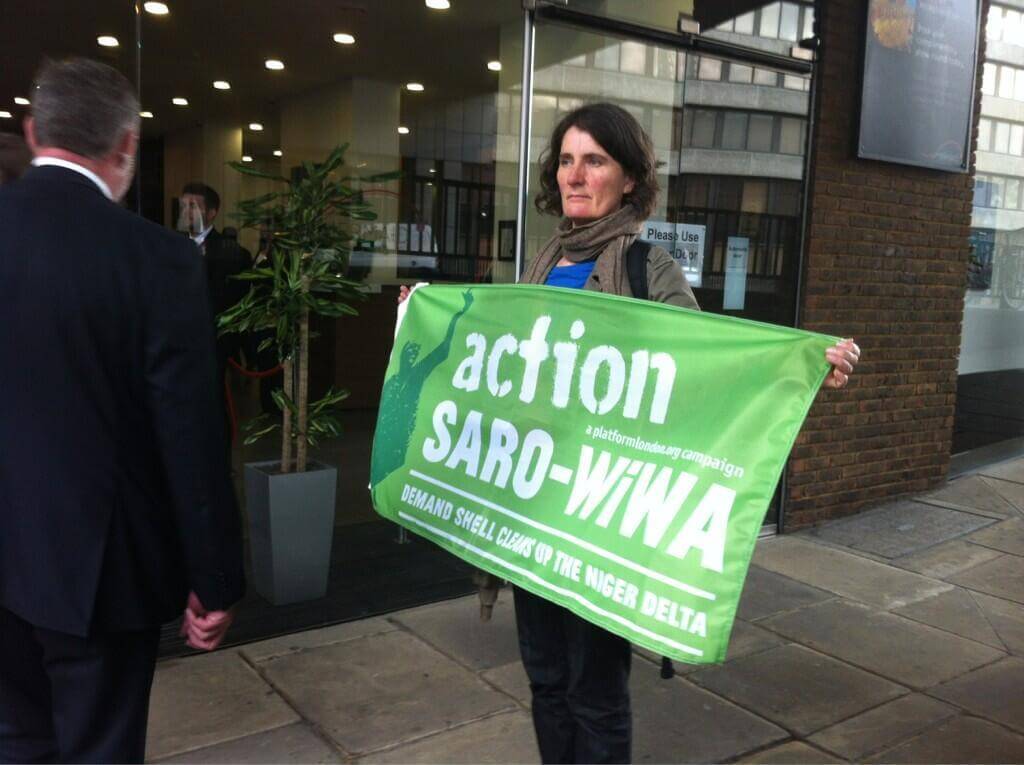 Print quality photos and film footage are available on request
*** ENDS ***
Platform is a charity that works on campaigning, education, research and arts projects with a special focus on the oil and gas industry. Platform works in partnership with Social Action a Nigerian organisation promoting increased citizens' participation in policy and practices in energy and mining, trade and investments that affect human rights, democracy and livelihoods.
www.platformlondon.org
Twitter: @platformlondon
Notes
(1) https://www.amnesty.ch/de/themen/wirtschaft- menschenrechte/shell-nigeria/dok/2011/clean- up-niger-delta/bericht-petroleum-pollution-and- poverty-in-the-niger-delta p. 16 estimates based on industry data from 2006 put the figure at 9-13 million barrels of oil over 50 years in the Niger Delta. The Gulf of Mexico spill was 4.9 million barrels of oil according to relevant US agencies https://www.uscg.mil/foia/ docs/dwh/fosc_dwh_report.pdf
(2)UNEP: Environmental Assessment of Ogoniland report