Seven years, $7 billion, and hundreds of protests was what it took. Shell is leaving the Alaskan Arctic. This morning we were outside Shell's HQ on London's South Bank to celebrate.  I ended up sharing the stage with Aurora – Greenpeace's spectacular bus-sized polar bear puppet – and Emma Thompson.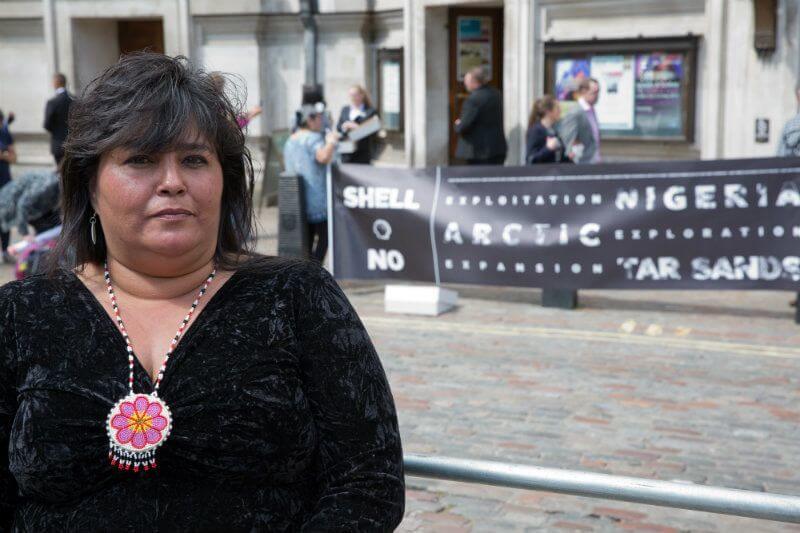 But I really wish I was also able to share it with folks from Point Hope, the Native Alaskan village who fought back against Shell. Before the big wave of support for #SaveTheArctic, the village of Point Hope alongside 17 other Native and environmental groups took the US government to court for selling Shell the rights to drill. The court ruled in favour of the plaintiffs. The two years' pause in drilling brought about by the court victory gave the global movement to stop Arctic drilling time to get its act together.
Here are some words for today from Faith Gemmill of REDOIL (Resisting Environmental Destruction on Indigenous Lands):
This is an amazing result of the fight to defend the Arctic.  Insane energy policy plans such as Shell's risky Arctic Drilling endeavors which promote more extraction of fossil fuels at a time of climate crisis gave birth to a peoples movement to stand up for the Earth and her finite resources.  Today I honor to all that took on this fight, and stood with us.  The fight to protect the Arctic is far from over, but this is definitely a victory for the people, especially the Inupiat who have been on the forefront of protecting the Arctic ecosystem, which sustains their ancestral whaling way of life.   We hope that the company realizes Arctic Drilling should be totally scrapped since the risks outweigh the benefits.
Watch Faith alongside May Hank and UK campaigners protesting Shell's Arctic drilling in London in May.
Thousands of us protested, took courtcases, kayaked, played musical instruments, and challenged Shell's shareholders. Today's for all of us to celebrate the good work, especially that of indigenous communities on the front line of climate change and oil drilling.
And tomorrow we go on. Shell won't stop trying to extract the tar sands of Alberta, to carry out fracking, to access Brazil's deepwater oil. They won't stop lobbying against climate legislation, they won't stop trying to convince us that carbon capture and storage solves climate change, and they won't stop buying legitimacy by sponsoring and influencing cultural spaces like London's Southbank Centre and Science Museum. They won't unless we stop them.