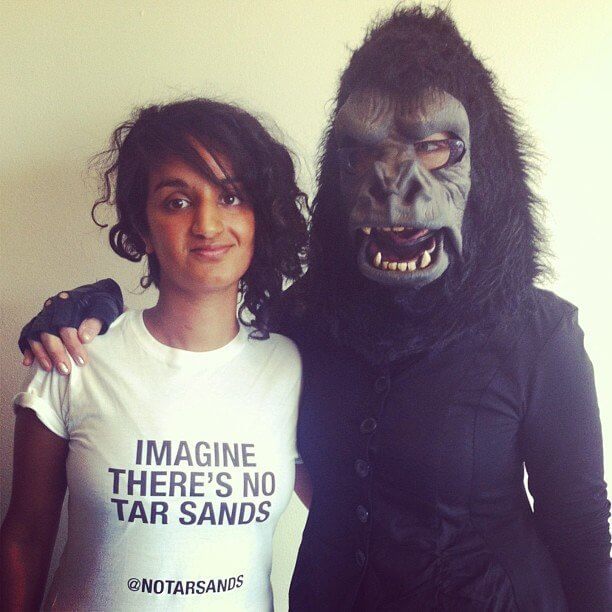 The first weekend of Yoko Ono's Meltdown festival saw the issue of Shell's sponsorship cropping up again and again. On Friday, we revealed in our new briefing Shell: Global Mega-Frackers that the Southbank sponsor was fracking or planning to frack in every continent, with operations happening in Canada, the USA, Argentina, Algeria, Tunisia, Egypt, the Ukraine, Russia, South Africa, China and Australia.
Yoko Ono has been a vocal critic of the fracking industry. Ono formed pressure group 'Artists Against Fracking', who put pressure on New York governor Governor Andrew Cuomo to maintain a state-wide moratorium on fracking, and created a music video called
Don't Frack My Mother
. So many people used her weekly "Ask Yoko" session on twitter to ask about Shell's connection with the Meltdown festival via the Southbank Centre.
I <3 @southbankcentre, but I don't <3 #fracking and Shell's sponsorship of the arts. #yokoQandA do you feel the same? https://t.co/l7Rm8DV8xn

— Emma Biermann (@emma_biermann) June 14, 2013
#yokoQandA #meltdown looks amazing. cld I ask how u feel about Shell's global #fracking & sponsorship of @southbankcentre @meltdownfest?

— Rahul Verma (@rahooligan) June 14, 2013
The weekend, which posed the question "What is activism and are we all responsible for making the world a better place?" kicked off with the awesome Guerrilla Girls who have been creatively exposing sexism, racism and corruption in politics, art, film and pop culture for many years. In gorilla outfits. In response to a question from the floor about climate change and the relationship between oil and art in the UK, the Guerrilla Girls quoted Bill McKibben in saying that we need to "demonise" oil companies in the same way that we demonised tobacco companies, and that they were very much behind attempts to prevent oil companies laundering themselves through art. You can see their whole talk below, with the oil sponsorship bit coming in at 47 mins 20 secs.
This wasn't the only panel where the subject was brought up. Charlie Kronick from Greenpeace talked about the problem of providing oil companies providing social licence and the favours that many cultural institutions – including the Southbank Centre – are doing for Shell/BP and why they're cheap at the price.
Later in the afternoon there was a panel on art and activism that included Tate Trustee Bob and Roberta Smith, Shami Chakrabarti of Liberty who also sits on the Tate Members Council and Heather Ackroyd, of artist partnership Ackroyd & Harvey. In responding to a question from the floor on the Tate and BP relationship, Shami Chakrabarti didn't refer to the letters she had received from Tate Members to the Council complaining that they felt they were being marginalised over the BP issue, to instead talk about the LSE controversy over Gaddafi money some years back, before concluding that although there were no hard and fast rules, the important issue was the transparency so that the decisions could be made.
Heather Ackroyd immediately raised the fact that Tate was being wholly opaque about the issue of BP money and refusing to disclose how much money they were receiving through sponsorship despite numerous FOI requests being made of them as a public body, and denounced the "lazy intellectualism" of the "all money is dirty" argument, before Tate Trustee Bob and Roberta Smith immediately followed on with a variation of the "all money is dirty" argument, albeit while denouncing BP's operations. You can see Heather Ackroyd's response from 33 mins 09 secs in the clip below.
Finally, in the ongoing spirit of never being invited to the party but showing up to take a turn anyway, art-interventionists Liberate Tate put up some posters and seized a space towards the end of the day to hold their own unsolicited workshop on oil sponsorship of the arts.
There's still a whole week of the Meltdown to go, with some amazing acts and a whole other weekend of workshops and discussion. We still live in hope of Yoko Ono using her amazing platform to say something about Shell sponsorship and fracking.