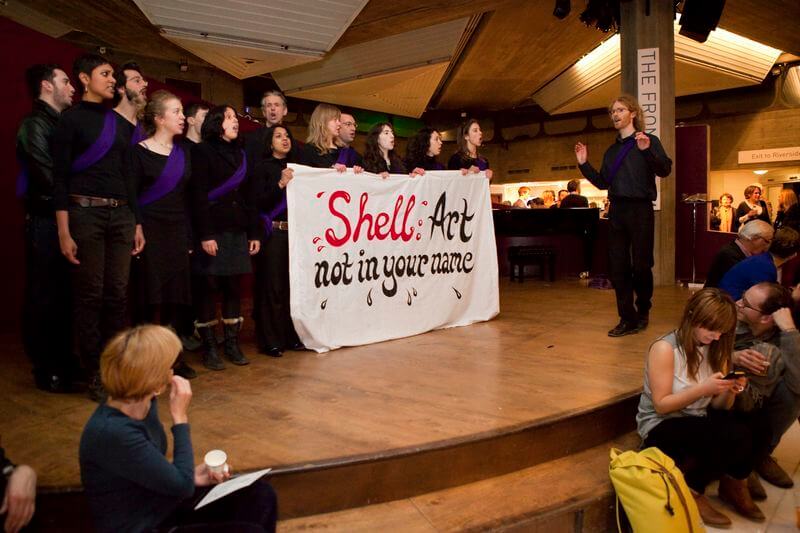 It was an embarrassing week for all of those involved in Shell's sponsorship of London's cultural institutions. On the evening of Friday 1st March 2013, a group of singers and musicians called Shell Out Sounds made an unexpected musical intervention at the Southbank Centre, during the interval of a Shell-sponsored performance by members of the Berliner Philharmoniker and guests. The 16-strong 'flashmob choir' sang a sombre version of 'Down to the River to Pray', the lyrics rewritten to reflect the impacts of Shell's operations around the world, and the intervention was covered by the Guardian.
Emily Coats, who sang in the Shell Out Sounds performance said:
Arts and culture inspire, critique, and illuminate, and should be enjoyed by everyone. The arts need to be supported and nurtured for their own sake, not used as pawns by oil companies to boost the image of their operations in some of the world's most destructive projects. If oil companies received fewer subsidies and contributed their fair share of taxes, the government would have more than enough to adequately fund the arts
The following Wednesday, Shell were hosting their annual wine and dine reception at the National Gallery while outside Greenpeace erected an exhibition of their own, Annus Horribilis: New works in oil. They hung two giant oil paintings of the beached Kulluk outside the entrance and projected messages onto the front of the building. Outside, their smartly dressed activists greeted the guests, apologising on Shell's behalf.
Sean and Yoko Ono also recently herded a bunch of artists together to record a music video (below) calling for New York state to ban hydraulic fracturing. It's going to be interesting to see the resurgence of focus on Shell's cultural sponsorship converge with Yoko Ono's increasingly high-profile stance on fracking at the Meltdown Festival at the Southbank Centre in June. Given that Shell is so heavily involved in fracking around the world, we've been wondering if Yoko Ono might be able to creatively disrupt the cosiness of the Shell/Southbank Centre relationship in some way through her engagement with the festival.