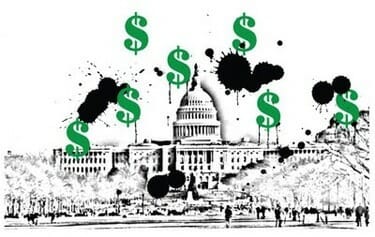 Last Wednesday oil and gas lobbyists had a very bad day in the office when new US laws were introduced requiring the extractives sector to publish the payments they make to host governments. Industry groups had been aggressively lobbying to water down the regulations and succeeded in delaying their introduction by 16 months. But last week the industry lost a significant battle as the US Securities and Exchange Commission (SEC) passed rules 1502 and 1504 of the Dodd Frank financial regulation bill.
The requirement on companies to disclose all payments over $100,000 and not to aggregate payments by country marks a significant step towards increasing transparency within the oil and gas sector which is keen to hide many of the payments they make. Lobbyists were fighting to get a reporting exemption known as the 'tyrants' veto' included. They argued that where a host government prohibits payment disclosure a company should not be required to report on it. The SEC disagreed and ruled that all payments must be disclosed – whoever they are made to.
Lobbyists for the oil industry, including for Shell, Exxon and Chevron, have been fighting to strip the bill of any effective rules. They argued against disclosure by emphasising concerns about 'energy security' – they claimed that Chinese and Russian state companies would gain commercial advantage by knowing the payments made by American companies and therefore threaten US energy supply. Yet others in the sector claimed such arguments were disingenuous. Even John Browne, the former Chief Executive of BP, wrote in the Financial Times that the existing Extractive Industry Transparency Initiative was inadequate, as its voluntary nature means it cannot force companies to increase transparency.
Platforms' own work has shown the importance of increasing the obligation on the extractives industry to be transparent about who they are paying. Last week we released leaked data showing that Shell spent at least $383 million on security in Nigeria between 2007 and 2009. As our Counting the Cost report shows, Shell's routine payments to armed militant groups in Nigeria has exacerbated specific cases of human rights abuse. It's payments like these that Shell desperately tries to keep hidden.
In 2010 we exposed the murky dealings of oil companies in Uganda.  A United States diplomatic cable published by Wikileaks revealed that America believed allegations that Italian oil major Eni was trying to bribe its way into Uganda's oil fields in late 2009 by making payments through the security minister Amama Mbabazi. No concrete evidence for such payments ever emerged and, as the diplomatic cable was leaked, the US embassy would not discuss the evidence that lead them to believe Eni made such a bribe.
It is hoped the new laws will enable citizens to hold oil companies to account and better understand how the extractives industry use payments to buy support for projects. But there have already been concerns raised about the effectiveness of the law. Although rule 1504 requires 'project by project' disclosure it does not attempt to define what a 'project' is. Such imprecision could be exploited by companies eager to keep certain payments secret.
It is not only in the US that there is a push to establish greater transparency in the extractives industry – the EU is also debating new laws. In September the European Commission will decide whether EU-listed and large unlisted extractive and timber companies should publicly disclose their revenue payments to governments. In the draft proposal, the European Commission caved to lobbying pressure and included an exemption on reporting where a host country legislation prohibits it – the 'tyrants' veto'. In addition certain countries are trying to dissuade the Commission from implementing this legislation. It has been reported that the German government is lobbying on behalf of their mineral extractive industry to get the new regulations dropped. 
If the EU also implements disclosure rules, 90% of the world's "extractive" companies will be obliged to report on payments. Global reporting standards are already scheduled for discussion at the next G20 meeting and, as MEP Arlene Mcarthy (vice chairwoman of the European Parliament's committee on economic and monetary affairs) argues, with so much of the extractives industry already covered "global rules are not only possible but entirely feasible."
Platform's recent exposure of the scale of Shell's payments to security forces shows the importance of understanding how the oil and gas sector finance their operations. These new financial rules, if properly applied, could be a useful tool in aiding that but they do not, by themselves, change how the oil industry operates. A transparent oil company is still likely to be an inequitable and unsustainable institution. The new laws give citizens another tool with which to challenge these companies.