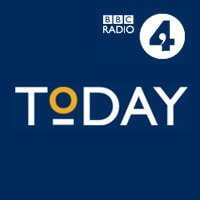 BBC Radio 4's The Today Programme hosted a five minute discussion on corporate sponsorship this morning (at 0854). I promise I'm not just bitter that they never called me in, but I think it was fairly poor journalism to pick a handful of one-sided voices for the so-called debate.
The panel included Rita Clifton, who was once named 'The doyenne of branding' by Campaign magazine. Clifton worked for BP on the branding of BP's alarmingly ambitious carbon offset attempt 'targetneutral'. I think it's safe to assume she'd be a supportive voice on BP sponsorship of the arts, perhaps even a hired one. On the programme she slipped in the quip:
'It is, absolutely, galleries and museums would

just collapse if they didn't have    

corporate sponsorship.'
Erm, sorry, what now? This is patently untrue. Corporate sponsorship and events amount for barely 5% of Tate's annual spending – and Tate receives less in government grants than many of London's biggest galleries (still 45% of spending). Most museums receive the bulk of their budget from government grants, the National Lottery, the Heritage Fund, Arts Council England, memberships and charitable trusts. To say that without corporate sponsorship they would collapse is grossly misleading. Tobacco sponsorship was made illegal, but no major sports or cultural events collapsed because of it.
Tate is refusing to disclose the precise figure it receives from BP. From BP disclosure, we can approximate it to be £500,000 a year. In gallery budget terms, its peanuts. By withholding this information, Tate is able to rest its ethics on comments such as Clifton's which skew public perception of the issue.
Today Programme host James Naughtie followed up with the assertion that
'Corporate sponsorship of the arts, big and small

in this country, is an absolutely essential

part of the whole system…'
Again, this is contentious, if slightly more complicated. Of course the more sources of funding an organisation has, the less at risk it is if one of those funders falls flat. However, public institutions must and do make choices to draw clear ethical lines about who they take money from, and what impact this will have on public engagement with the gallery. The National Gallery recently ended an arms sponsorship after protests. The Royal Shakespeare Company has ended sponsorship with BP, at least for now.
The debate around corporate sponsorship generally, and the ethics of accepting sponsorship from BP specifically will continue given the recent cuts to the arts. This is precisely the time when ethics count. And that's why misleading information is so unhelpful. At Tate, memberships alone account for 150% of corporate events and sponsorship income. At the recent Tate Members Annual General Meeting, tens of members challenged the board on the BP issue. That valid challenge from gallery-goers should not be undermined by people whose business is to protect the companies' "most valuable asset"* – its brand.
*https://ritaclifton.com/