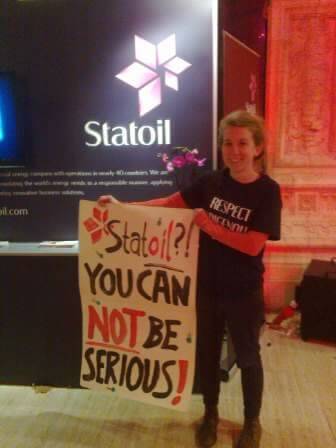 Sunniva Taylor and Christopher Garrard report back from the Statoil-sponsored Tennis Masters that took place in London recently.
Statoil, the 66% Norwegian government owned oil and gas company, were the big name corporate sponsors of this year's Tennis Masters at the Royal Albert Hall, for the second year running. The event lasted five days and was attended by celebrities, with many matches broadcast live on ITV2. Statoil's presence on the UK sponsorship scene is relatively new though. A few of us, concerned that this new sponsorship deal is simply another strategy for Statoil to develop their 'social license to operate', went along to find out more.
Their sponsorship is far from subtle: the Hall was lit up in their corporate hot-pink, Statoil-branded chocolates and card wallets were given away and everywhere on display boards you were reminded that this was the Statoil Tennis Masters. In addition, Statoil are also sponsoring the young tennis star and British No. 1, Heather Watson, as one of their brand ambassadors. She will represent Statoil around the world, adorned with their logo during future tournaments and events.
Statoil may be a relatively new player in the UK corporate sponsorship game, but in their home country, Norway, they sponsor much of the country's arts and culture, as has been previously discussed on the Platform blog. But opposition has been growing, with a volunteer at the Bergen International Festival withdrawing because of Statoil sponsorship earlier this year, and writers and artists expressing their opposition ever more vocally.
So, why would Statoil be attempting to step up their presence in the UK? They are pretty clear in their PR communications about the reasons why. According to John Knight, Statoil's Executive Vice President, Global Strategy and Business Development:
Our sponsorship of the Statoil Masters Tennis and other tennis properties gives an opportunity for people in the UK to get to know us better and for us to make a broader contribution to UK society.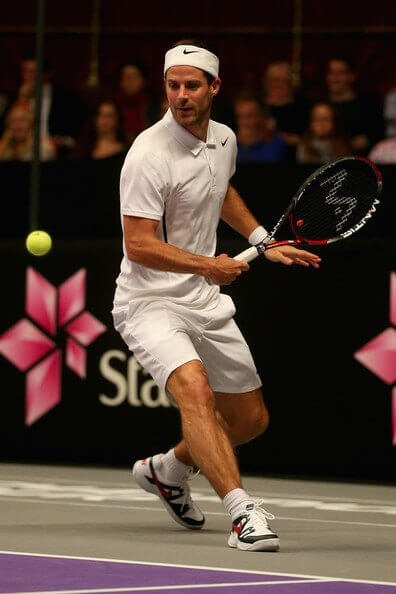 They are deliberately positioning themselves in order to appear like generous and responsible philanthropists making a positive contribution to society. As well as being a brand ambassador, Heather Watson is also the face of their 'Heroes of Tomorrow' programme, with the stated aim of supporting talented young people in sports, culture and education. But the programme also conveniently links their brand to socially useful endeavour. Statoil are eager to talk about how they support these individuals for the sake of the future, 'not just for our company but for society as a whole.'
In reality, Statoil produce oil and gas, which we cannot continue to exploit if we are to avoid catastrophic climate change. They are involved in Canadian tar sands oil extraction, the most carbon intensive industrial project, and proudly talk about their exploration plans in the fragile Arctic North. They have also just struck a deal with the Russian company, Rosneft, to assess the feasibility of commercial production of shale oil. Their business plan is thus far from sporting.
Our mini-protest coincided with John McEnroe's appearance at the event earlier in the month, so we took our cue from Mr. McEnroe's protest in the past. Our banner and 'subvertised' flier read, 'Statoil?! You can not be serious!' To those informed about Statoil and how oil corporations function, they are clearly a poor choice of sponsor. Statoil is serious about increasing its visibility in the UK though. But we are just as serious about serving up the other side of the Statoil story to the tennis fans, making sure people know that Statoil might not have 'everyone's benefit and joy' in mind, as their promotional material proudly declares.