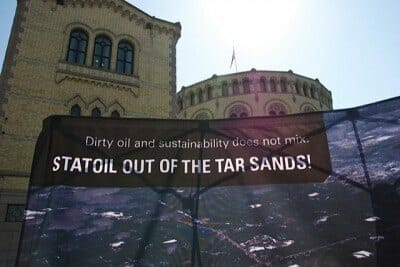 A few months ago we published a blog post from someone who felt that they could no longer engage with the Bergen International Festival because of Statoil sponsorship. It's now turned into a more sustained debate in Norway about the role that the oil company plays in the cultural sector. Here's some more info from the Stopp oljesponsing av norsk kulturliv campaign, ahead of Statoil's AGM on Tuesday.
It's time to say enough is enough: oil sponsorship of the arts, sports, culture and education in Norway has to end. Today, extraction-hungry oil and gas companies use sponsorship to purchase a central position at the core of social development and cultural growth, to enhance their reputation and cover up their dirty practices elsewhere. The cultural sector has been mostly been compliant, but this has to change.
Norwegian and international oil and gas companies work closely with the cultural sector in Norway, and economically support an ever-greater part of professional and amateur culture. These companies have massive amounts of money at their disposal, and the "generous" amounts they offer the cultural sector through sponsorships are mere trifles as far as their own accounts are concerned. For the cultural sector, on the other hand, these amounts are enormous, and we see an enormous amount of hesitation of speaking out for fear of losing the economic support.
Sponsorship thereby becomes more than just a cheap marketing strategy; not only do they greenwash the unethical practices of these companies, they also place a significant proportion of our creative and resourceful young people in a position of gratitude and servility to the oil companies, purchasing a place at the heart of our culture, education and sports.
Yet the silence from the Norwegian Cultural Sector is not necessarily a sign of acceptance, and more and more people are starting to speak up against the fossil fuel industry. The Church of Norway has taken a clear stance against the tar sands in Canada, and recently 274 Norwegian writers and novelists signed a statement against Statoils involvement there. A new group calling themselves Concerned Artists Norway was recently founded in Oslo. The days of quiet acceptance are over, and we hope this only marks the beginning of a sustained and growing opposition.
Many people in Norway think that Statoil's money is practically the same as public money, since the Norwegian government owns the majority of the shares. Although it is true that the Norwegian government owns 66% of the shares in Statoil, it is not a public company. It is a private company, run by a board of directors that are independent of the government and its shareholders. The government rarely uses its shareholder power to influence the direction of the company's policies. Statoil cannot, and must not, be seen as equivalent to public money. Statoil is an energy company whose purpose is energy production and resource extraction. It is not their responsibility to fulfill the policies of the government. Arts funding is a public responsibility, and Statoil's generosity is nothing but a strategy they use to gain credibility and a good reputation, thereby greenwashing their harmful and dubious practices in Norway and abroad.
Statoil's investment in the young generation, particularly their programme Morgendagens Helter ("Tomorrow's Heroes"), is a case in point. The programme selects young artists, sports practitioners and scientists for sponsorships, with an expectation of reciprocity through giving Statoil a good name. Often, they tour internationally as mascots and figureheads of Norway's – and thereby Statoil's – supremacy. These sponsorships defuse the potential of resourceful individuals, and buy their implicit agreement with the oil giant's practices and ethics. Statoil also supports many of the most important music festivals for young people, including UKA and by:Larm, as well as sports teams that foster young people's futures as arenas where they can grow, develop and play. How long shall we silently accept that a private oil company holds the power to decide who should be the role models of the young generation?
A more recent and hotly debated partnership is the Swedish petroleum giant Lundin and the newly opened Astrup Fearnley museum in Oslo. The Bergen International Festival has also been under criticism recently, as has Statoil's partnership with by:Larm, where many musicians have rejected or heavily criticized the over £ 100,000 sponsorship grant they offer to the winners of the competition at the festival. But the opposition has to grow if it is to make a difference. Oil sponsorship is totally unethical when the companies offering support for the future generation simultaneously are involved in oil and gas exploration and extraction in Canada, invest in corrupt regimes worldwide, and are driving forces behind more resource extraction on the Norwegian continental shelf. Their practices do not "support" the growing generation, but directly threaten their future – and this has to stop.
We have had enough. Oil companies should no longer have a role in sponsoring Norwegian culture. Our arts and culture can do without their dirty money. We are launching an online space where people who are directly or indirectly affected by oil sponsorship of the arts can come together and voice their disapproval, which is currently in the form of a Facebook page. It is both a petition and place to gather for people who share our views. We also want to provide a source for information about the unethical practices of these oil companies, and be a place where those involved in the arts easily can access information about which festivals and arts institutions get their funding from which investors.
We wish to encourage and inspire all actors on the cultural scene to think thoroughly about ethics and sustainability, and to reject sources of finance that clash with these values. The music festival Øya-festivalen has made serious commitments to sustainable practices, and is an excellent example that there are alternatives when there is will to make changes. Another example is the Church of Norway, which has withdrawn its shares in Statoil because of the tar sands. Individuals have also shown that it is possible to make demands on employers who are sponsored by oil, and to clearly mark their position against these relationships – even when they accept single commissions from festivals who are sponsored by these oil and gas companies. Demands can be made by us all! We encourage individual actions and protests, but acknowledge that the greatest responsibility to take action lies with the leaders of the cultural sector.
There is an old, Norwegian proverb that says it is never too late to turn around and choose a different route. We hope many more will join us in turning the tide and refuse to be a buoyancy aid for these companies.
You can also follow @Nokoljesponsing on twiiter