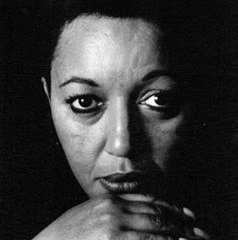 In November I participated in a seminar* on arts policy and heard writer, performance poet, and Freelance Cultural Director of National Black Arts Alliance, SuAndi give an arresting paper to an almost totally white audience of arts practitioners, funders, and policymakers. She generously agreed to it being published here.
"I have told this before
Many times
Too many times
But you must understand that even my amazing artistic skills cannot turn fact into fiction
I was born coloured
I grew up half-caste and then with wisdom I matured Black
And that is how I remained until I became an artist
Suddenly I discovered I was a 4% (or maybe it was 14% either way it was too mean for me to remember)
Then I became multicultural and for a time I was even an AEMS (Arts Education in a Multicultural Society)
Just as I was getting almost comfortable in this weird pigeon hole
I was upgraded – I think it was an upgrade
To Cultural Diversity
This was an odd location in a residence that seemed to place me further away from the non-diverse
The normal – You.
But I rested here on my underfunded laurels when one day without any warning I became a BME and then I was elevated to a BAME.
By the way, this "I" I am using is a bit like how the queen speaks when she speaks for the country. I am speaking for the "community", the grass roots where it seems no matter how we try it is the' hood' we occupy.
As an artist I have been creatively hungry and I have been fed. Not a consistent diet just enough to keep me from starving (and of course I am not being literal here, my figure is proof of that). Indeed I have sat at the top table on many occasion but I have always been left wondering why I hadn't been served the dessert and after dinner liqueurs.
I have learnt the game, played the game and when the goal posts were moved in the night I have studied hard to understand the new rulings. I have never been in the championship and therefore have unfortunately scored many a home goal. (This has nothing to do with me coming from Manchester you understand)
It is true that for all my efforts I have been gonged. When I got my OBE my friend Scottie who is English said it was an 'Outstanding Black Example'. Whereas Parvinder who is Asian said it was 'Other Buggers Efforts' and indeed she was right; no one artist achieves success entirely on their own. That is why I have represented, sat on Boards of Directors, steering groups, assisted with consultancies and been the consultant. As an artist with all these other hats packed into my suitcase, I have travelled not just the North to South of England, but across the water to Europe, North America and beyond. I have been international.
I should mention here that often speaking at conferences in the UK where I have been invited as the token Black representative I have often had to explain that my name is SuAndi. It is not SuAndi Obe.
When Brazil held the first Global Forum on Arts and Culture I was the only UK speaker. On my return I wrote a report and shared it widely. When I returned to Sao Paulo the UK had many delegates, a number of whom laughed as they asked me, how did you manage to be here?
I have considered our profiling and agreed National Black Arts Alliance was never perfect. It has gleamed with successes, fallen short of objectives and expectations and occasionally failed. But isn't that an artist's right, I hear you say. I believe it is, but when one of mine fails, we are all suspected of not being able to meet the mark. So, I have requested, submitted, disagreed, raged and shouted and come home to the coop to weep.
When the drip feed of funding for NBAA was turned off there was no warning. OK we had never been on the first team but nor had we been disqualified and what is more, our fans were really culturally diverse. We had partners from right across the sector. Those we could turn to for advice for co-production, those who gave their support and many who we supported. NBAA was the UK's largest network of Black artists. Since its beginnings in 1985 until we were revenue funded fourteen years later and up to 2009 when axed, the organisation never had a deficit. We have worked across all the art forms with a wide range of artists including international ones such as Ntozake Shange, the great August Wilson and James Early who is the USA equivalent of the late Stuart Hall. (NBAA had to return a £80,000 grant because it no longer had ACE core funding). We never considered funding to be a charity in itself, but we quickly discovered that charity does indeed begin at home and the reality is no matter how long we have been here this is still not regarded as our home.
Therein lays the question. How long have we been here? For many the time line begins at 1945 and the Windrush which is quite frankly ridiculous. Prior, during and after slavery Africans have contributed to this small island. For you for example Morrison is a supermarket. For me it is a modern adaption of the name Moorson – the son of a Blackamoor. (Although I am not making any heritage claims to their stocks and shares.)
I believe it is this long timeline that positions Africans, Caribbean's and South Asians OK, OK, the BAMEs' differently from the economic power of the African America as a collective historical timeline presence. It is also this timeline that pits Black artists against each other; one time favouring Caribbean over Asian or Asian over African. The desire for the "authentic" and "exotic" preferences our cousins from other lands that via our heritage we still long for as our home. I mean, do I really have to wear the clothes of a Nigeria Ijaw woman in order to seem sufficiently exotic enough to get a grant?
On this island, Black people (I am now using Black in the correct political sense of cultural unity) have played at royal court and I do not mean as jesters. We have been musicians, dancers, philosophers' actors; Ira Aldridge was a famed Shakespearian actor. We have led hugely popular circuses and orchestras. Yet despite all of this we are the footnote to all Arts Council initiatives. The funding of Cultural Diversity has not fallen off their agenda. Those Black organisations that have survived may "deservedly" consider themselves as champions. But it is a lonely security if indeed they really are secure because the real spending power has largely been removed from our hands; Black hands to hands already overflowing with financial support and sponsorship where no Black person is making major decisions.
We have never wanted a separate sector but to be acknowledged as mature enough to handle our own budgets, to sit at the head table, not merely serve the after dinner coffee. We are not refugees, there is no country called Refugee-land. Even at our very lowest those of us who have survived wars and famine we are still cultural ambassadors extending our arms to share with you.
This landscape so green, this homeland which has benefited from its colonial past of conquer and plunder has never looked back and thought maybe it is over-time for recompense. Our cultural influences are visible for those of you with your eyes wide open in architecture, language, indeed at every level of arts, culture and society.
At a poetry reading last week I met a man who recognised me, though I had no idea who he was. Within ten minutes he had made numerous snide remarks one of which was "I knew you were always waving the Black flag, SuAndi, and now the disabled one. Are you a lesbian too?" This is my reality because there is the shove, push, and slap in my face. Aside from the fact no woman has found me attractive I am all of those labels, although I prefer identities.
I am Black, a woman with a disability. I am Nigerian and from my mother Liverpool Irish. I am strong, stroppy, argumentative and reliable as a friend and colleague. I have never wanted to write poetry as a hobby, performing it in front of my bedroom mirror. I have always wanted to be an artist. I am an artist who is frequently inspired by you. And how sad it will be for you, as there are less and less opportunities for you to be inspired by all that we have to give to culture; as the vein of our creative juices is only occasionally bled to get you that additional grant increment labelled 'cultural diversity'."
 *****
Our next course for young people aged 16 – 25 'Shake! Young voices in arts, media, race & power' runs during half-term 16th – 20th February 2015. The course is free. If you know anyone who'd like to take part in this and help change the landscape that SuAndi so powerfully critiques, more details on how to sign up here. Shake! also offers youth-led trainings for workers in arts, media, campaigning. Shake is funded by Arts Council England, Esmee Fairbairn Foundation and EU.
*presented at "REDIAL – Rethinking Art and the Policy Sphere", Friday 28th November, Royal College of Art, London, convened by Littoral with Mel Jordan, RCA.