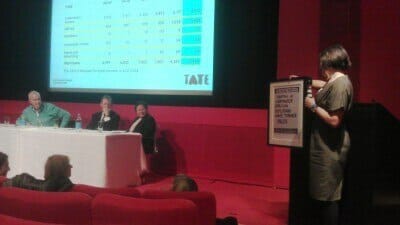 This is a guest post by Tate Member Oliver Grant. Oliver came to Tate Members' AGM last week and asked Tate Director Nick Serota to respond to Archbishop Desmond Tutu's call for "people of conscience to break their ties with corporations financing the injustice of climate change." Oliver reflects on Serota's response.
---
The AGM was a strange affair. It began with Jon Snow praising the members for their invaluable contribution.
You the Members are the Tate family.
We give Tate over £8 million a year, Mr Snow knows of no other cultural institution in Europe with such a strong member base, and they would like to bring the members closer in to the institution. The Treasurer, Suwin Lee, then detailed how good a year it had been for Tate and that they were in a surplus.
However, when questions about BP started coming in, Nicolas Serota (who up to this point had remained silent) said that actually it hadn't been that good a year for Tate and that they were still struggling financially following apparently £10 million of government funding cuts. And then,
It is for the Trustees to run Tate, not the members
– he said, seemingly contradicting, or at least tempering, Jon Snow's comments.
Ultimately, according to the Council, the decision over whether or not to renew BP sponsorship (which will be made by the end of 2016) is up to the Trustees and the Ethics Committee. All the Council can do for now is report our concerns. If power lies in the hands of the Trustees, including Lord Browne (former CEO of BP) and Elisabeth Murdoch (daughter of Rupert), then at first glance the prospects for divestment may not seem particularly bright!
However, I did speak to Mr Serota afterwards, who engaged with me very graciously and conceded that it was difficult to argue against someone like Desmond Tutu. My hope is that the Trustees, amongst whom there are also artists and open-minded entrepreneurs, will agree.
As I said, the AGM felt strange. The (dare I say it) more conservative contingent of the audience were already pretty fed up with the whole BP issue by the time we started asking about it, so it was not the friendliest atmosphere. And being told to hurry up with your question by the Channel 4 anchor didn't make it any easier either! But with human rights and business powerhouses across the world joining the divestment movement, I left feeling confident that the ethical and economic arguments for changing sponsor grow undoubtedly stronger every day.
---
PS You can sign the petition to Tate, National Portrait Gallery, British Museum, and Royal Opera House to drop BP at dropbp.org