Nearly three years after we first set out to find out how much BP gave Tate, the galleries  have finally revealed BP's contribution between 1990-2006. The figures range between £150,000-£330,000 a year – even less than we expected. When I tried to lay the numbers out on a graph for comparison, it was hard to even get BP's contribution to be visible to the naked eye: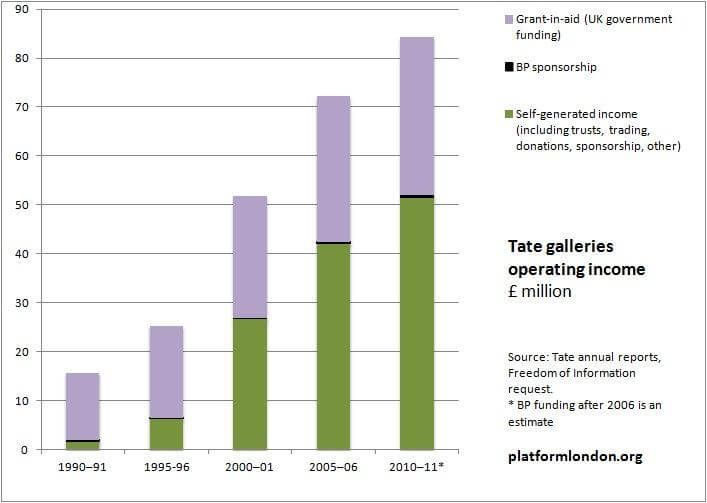 Why is this important? 
The figures surprised many:
Wow. In grand scheme of things BP donation to Tate derisory https://t.co/NNIrmByBRY Any art-loving monied clean tech types keen to match it?

— James Murray (@James_BG) January 26, 2015
In 2012-13 Tate grant-in-aid was £31.5m + £56.4m income https://t.co/MW75iAQCzd – making BP's £150-300k very cheap for all that visibility.

— Rachel Coldicutt (@rachelcoldicutt) January 26, 2015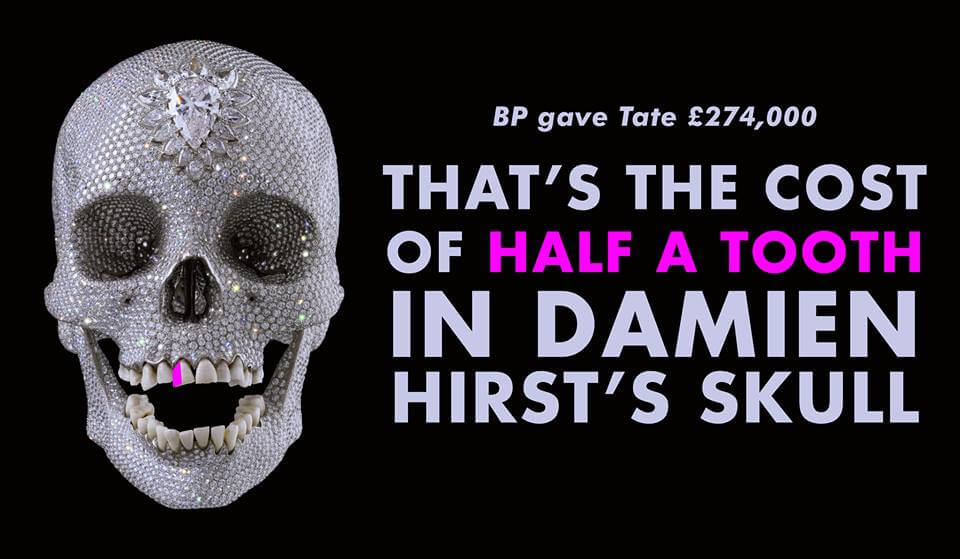 With the prominence of BP's logos on Tate publicity, and with Tate so keen to keep the cash amounts secret, one might assume Tate actually can't do without BP. But confirmed at around 0.5% of Tate's annual budget, BP's cash looks a lot easier to replace.
What surprised me even more is that Tate has actually become less not more reliant on BP over the years. In its first year BP's sponsorship accounted for 17,6% of Tate's self-generated income (i.e. sales, trusts, and sponsors). This proportion quickly dropped to 5,7% in 1991, and has stayed below 1% since 2000. (You can find the comparative data in full here).
For these tiny amounts, BP gains "social licence to operate". That is, cultural sponsorship makes sure that 'special publics' – influential people – associate BP with the cutting edge in art, not the devastation of  the Gulf Coast, not First Nations communities breathing toxic air of the tar sands, not climate crisis.
What was Tate thinking?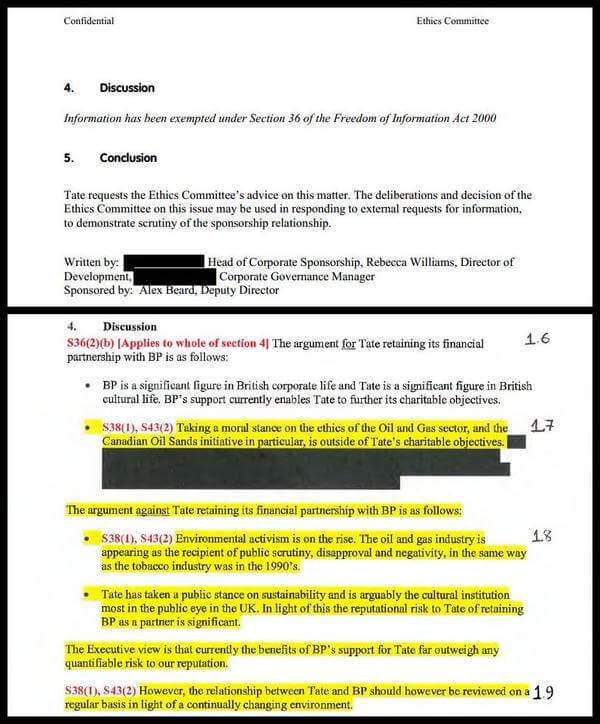 Alongside the figures, Tate released minutes of its Ethics Committee which scrutinised BP's sponsorship in 2010. Having fairly carefully reviewed protests over BP sponsorship to date, as well as BP's tar sands projects and Gulf of Mexico spill liabilities, the minutes concluded that
The reputational risk to Tate of retaining BP as a partner is significant
And yet, the Ethics Committee decided (emphasis mine)
Taking a moral stance on the ethics of the Oil and Gas sector … is outside of Tate's charitable objectives
Similarly, when reviewing BP's responsibility for the Deepwater Horizon disaster, the committee appeared to be content with the absence of criminal charges against the company. BP's responsibility for devastating the livelihoods of Gulf Coast residents seemed to not be at issue as much as the absence of a criminal case. (You can read the rest of the released documents here.)
What does it mean for arts?
At heart, Tate claiming commercial secrecy over details of sponsorship is about the corporatisation of art. Arts Council England had to make 30% cuts to its budget between 2011-2015, alongside prioritising funding that promoted private philanthropy and corporate sponsorship of the arts. The shift is not just financial – it's a paradigm shift. Artists are put under pressure to think and act as entrepreneurs. If the credibility of art is to be sold to the highest bidder, sponsors acquire power over the recipient. Does this mean we as arts practitioners have to give up control over what our art does in the world? How and where do we draw our lines? As cutbacks to state funding of arts continue, these questions grow more urgent.
What now?
We hope that the arts as a sector can take collective responsibility for the future that our art (and its funding) shapes. We can work together to protect state funding – and we can join the growing movement that's refusing oil companies the credibility they depend on. How does your organisation or project navigate tricky funding choices? Let's talk about it.
In 2016 Tate's Trustees will be deciding whether to renew BP sponsorship. The Ethics Committee once again will review the sponsorship deal. Can they rubber-stamp Tate's support for the world's 3rd worst contributor to climate crisis, again? Can they ignore the growing call for respected institutions to cut ties with the fossil fuel industry? Let's make sure they can't.
Sign the petition to Tate, National Portrait Gallery, British Museum and Royal Opera House to #dropBP
On Thursday 29 January, Artsadmin, Live Art Development Agency, and Home Live Art in collaboration with Platform present Take The Money And Run? – an event on arts, ethics and funding. Join the conversation on Twitter using the hashtag #TakeTheMoneyAndRun
Huge thanks to Request Initiative, Leigh Day, and Monckton Chambers for making the Tate & BP revelations possible.