BP's environmen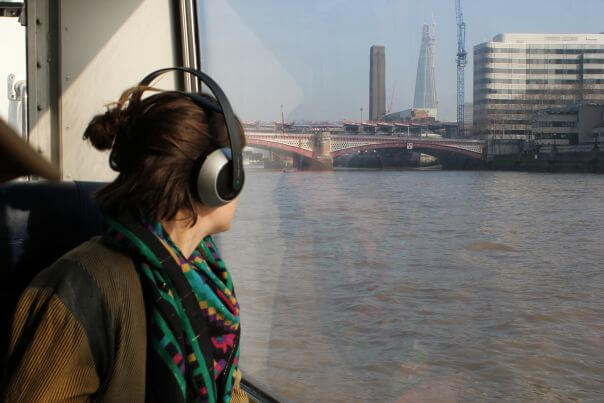 tal record is appalling yet many people are prepared to turn a blind eye to the fact that Tate is in bed with BP, one of the "ten worst corporations'' based on its environmental and human rights record.
A new series of artworks questioning Tate's relationship with BP has been commissioned by three activist organisations Platform, Art Not Oil and Liberate Tate. The launch is on Friday the 23rd of March 2012 in London UK at 6.30pm at the Calder Bookshop Theatre, SE1 8LF within walking distance of Tate Modern.
This new and permanent installation inside Tate galleries is created through your participation. Cheekily entitled The Tate à Tate Audio Tour the exciting sound works use Tate real estate as their backdrop and will be available for anybody to download onto their smart phones and MP3 players from Thursday 22nd of March at 5.00PM.
Mel Evans of Platform says : "Artists and audiences don't want to be forced into a position whereby they are endorsing one of the biggest polluters on the planet merely by visiting the Tate or exhibiting at the Tate."
By continuing its relationship with BP, knowing the damage this company continues to do to the environment, Tate leadership places its audiences in a very difficult position.
The new works by renowned artists are designed to be listened to inside Tate Modern, Tate Britain and on Tate Boat, (the riverboat crossing between the two buildings).  Like the 2010 Turner Prize winning work by sound artist Susan Philipsz these works draw on the immersive properties of sound to create powerful sculptural experiences.
The release of the Tate à Tate Audio Tour comes at a time when the question of corporate sponsorship within the arts is at its most pertinent (see recent Whitney Biennial Hoax).  Poet Alice Oswald withdrew from the TS Eliot Prize because she felt "uncomfortable" with it being sponsored by an investment company. Artists never imagined that their work would be hijacked by the oil industry and many are asking 'How do we protect ourselves from becoming tarnished by association with these companies who seek to 'greenwash' their brands?'
Raoul Martinez who has twice been shortlisted (and exhibited) for the BP Portrait Award said: "I don't think any artist wants their work to be used as a fig leaf for the oil industry."  (More of Raoul's thinking on this can be read here)
Terri Gosnell of Liberate Tate says: "Tate leadership is out of step with a public that wants it to break off the gallery's links with an oil company. People want Tate to break its links to oil money. Everybody has heard the term 'money laundering', this is 'image laundering' carried out by Tate for BP."
Sam Chase of Art Not Oil says: "The nightmare scenario for Tate is for its intimate relationship with BP to damage its much-loved brand. All the more extraordinary then for it to invite ex-BP boss Lord Browne to extend his tenure as Chair of Tate Trustees."
Liberate Tate's performances in the last two years have made headlines across the world, and growing numbers of people in the art world, including members of Tate's own Trustees have expressed unease at Tate's relationship with BP.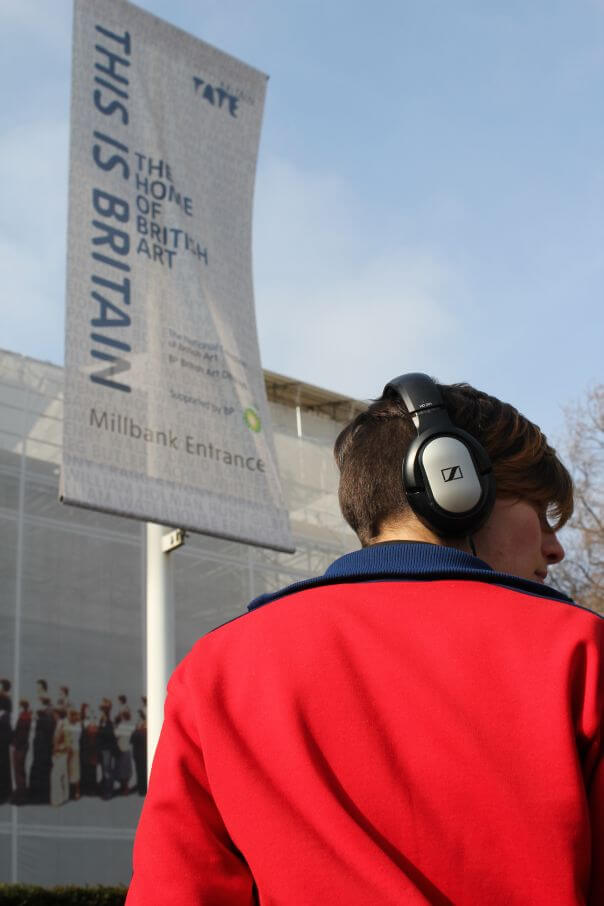 The three newly commissioned Tate à Tate Audio Tour artworks are:
The Panaudicon by Ansuman Biswas  (Tate Britain)
Tate Britain is built on the site of a prison. The original design for the prison took the form of a panopticon, a type of institutional building designed by English philosopher and social theorist Jeremy Bentham in the late eighteenth century. The design concept was to allow an observer to monitor all inmates of an institution without them being able to tell whether or not they were being watched.  Ansuman Biswas neatly turns the tables on this idea. Tate gallery staff will have no idea what visitors are listening to on their mobiles. Placing the gallery itself under scrutiny, Ansuman Biswas's 'Panaudicon' takes the idea of surveillance and uses sound to transport the listener beyond the walls of Tate Britain to locations around the world where BP is drilling for oil.  This guerrilla audio tour refocuses our attention on Tate's continued reliance upon oil money for sponsorship.
'This is not an Oil Tanker' by Isa Suarez, Mae Martin and Mark McGowan. (Tate Boat)
Specially created to be listened to whilst travelling on the Thames by Tate Boat between Tate Britain and Tate Modern. 'This is not an Oil Tanker' has a distinctly aquatic theme. The sound work combines music, lyrics and surrealism to explore the experiences of various communities impacted by the exploits of oil companies.
Drilling the Dirt ('A Temporary Difficulty') by Phil England and Jim Welton.  (Tate Modern)
Phil England and Jim Welton have produced their own Tate Modern Audio Tour thereby subverting the widely used exhibition technology that facilitates communication of information about an artwork to museum visitors. The title is a reference to Sir Nicholas Serota's comment about BP when he said "We all recognise they have a difficulty at the moment but you don't abandon your friends because they have what we consider to be a temporary difficulty."
The beauty of this interactive piece is that it navigates the listener through the museum but changes the context in which the exhibits are viewed. Starting at Tate Modern's Turbine Hall you are guided to specific art works in Tate's collection that are now bathed in a completely new light.  The paratexts in this alternative audio guide are designed to open up the very debate that Tate would rather not have about its relationship to BP.
Tour start points:
You can choose from any one of three different locations in order to start the tour. For Tate Britain, position yourself in the lobby just beside the stand where they are selling audio guides, for the Tate Modern you need to stand at the entrance to the Tate Turbine Hall at the top of the ramp leading down into the hall, and for the boat journey you can simply press play once you have boarded the boat and sat down.
Download instructions:
All the soundfiles for the Tate à Tate Audio Tour will be available to download at 5pm on Thursday from the www.tateatate.org website.
They are there as three tracks in their entirety. The Tate Modern one is also available to download as ten separate tracks.
More images are available from Platform.
NB: *** Please scroll for artist biogs and more info about the pieces ***
'Not if but when: Culture Beyond Oil' is a publication that sets out to discuss oil sponsorship of the arts. A pdf of the publication is downloadable from here or if you prefer there is also an issuu link here 
About the artists and the commissioned works:
Panaudicon – Location: Tate Britain
Instructions: Go to the Millbank entrance of Tate Britain. Walk up the steps and into the foyer. Then put on your headphones and press play.
Artist: Ansuman Biswas
Ansuman Biswas has a wide-ranging international practice encompassing music, film, live art, installation, writing and theatre. He is interested in hybridity and interdisciplinarity, often working between science, art and industry, for instance, or between music, dance and visual art. His expertise is in fostering relationships, synthesising, comparing, facilitating, and standing outside particular viewpoints.
This is not an Oil Tanker – Location: Tate Boat
Instructions: The Tate Boat travels along the Thames between Tate Britain and Tate Modern, in either direction. Follow directions from either gallery to the accessible jetty located close by. Once seated comfortably on board the boat, press play.
Artists: Isa Suarez with Mae Martin and Mark McGowan
Isa Suarez is a composer, songwriter, performer and sound-artist. She uses sound as a way of addressing social and political issues, or suggesting feelings and atmospheres. Often involving other groups, organisations and international communities, Suarez traverses the histories of transmission and freedom of expression within diverse methods. Music forms a crucial part of her work. www.isasuarez.com
Mae Martin is a Canadian stand-up comedian. Mae's work is a unique blend of songs and stand up comedy that mines her neurotic visions of the impending apocalypse, her extremely strong feelings about certain celebrities, and her adventures in androgyny. NOW Magazine recently praised her "smart, deadpan observations", and Xtra Magazine called her "witty and wickedly funny".www.maemartin.com  Mark McGowan aka The Artist Taxi Driver Mark McGowan is a British artist working in the expanding field of art. He has been described by Will Self as "the pre-eminent performance artist working in Britain today." https://markmcgowan.org /
Drilling the Dirt ('A Temporary Difficulty') – Location: Tate Modern
Instructions: Familiarise yourself with the pause button on your phone or MP3 player using another piece of audio before you start the tour. Switch on the guide as you go through the doors of the Tate Modern on the side-entrance that slopes downwards into the Turbine Hall.
Artists: Phil England and Jim Welton
Phil England co-founded the arts radio station Resonance FM in 1998. Between 2003-2009 he produced over 50 hours of radio about climate change for Resonance FM and numerous other community radio stations around the globe (www.climateradio.org). As an environmental and human rights journalist he has written for The Independent, Variant, New Internationalist and The Ecologist. Jim Welton is the subject of a documentary by Luke Fowler entitled, "The Way Out". He has been commissioned by Austrian national radio ORF's Kunstradio and Dutch National Radio and he was artist in residence at the Deep Wireless Festival in Toronto in 2007. The Burns Museum and the Science Museum have engaged him as a sound designer and for a five-year period he produced a weekly half hour show for Resonance FM entitled The Harmon E Phraisyar Show