New report exposes RBS involvement in Canada's "blood oil"
Bank executives meet in Toronto and discuss concerns about public backlash over involvement in tar sands
Environmental and development groups announce a week of protest around the RBS AGM in April over the bank's tar sands investments
It's been revealed that RBS have been involved in providing loans worth $7.5 billion in the last three years to companies carrying out highly controversial 'tar sands' mining [1] in Canada.
A coalition of NGOs including PLATFORM, the World Development Movement, People & Planet and Friends of the Earth [2] are tomorrow releasing a report, 'Cashing in on Tar Sands – RBS, UK Banks and Canada's 'Blood Oil' which shows that outside of North America, RBS is involved in the highest quantity of loans to tar sands-related companies, equivalent to 8 per cent of the global total.
Exploitation of tar sands have been the subject of international criticism for its negative impact on climate change, Canadian ecosystems and the Indigenous communities that live in the region. On the 1st of February, executives of European and North American banks, including RBS, met in Toronto to discuss concerns over a public backlash over the banking sector's involvement in the increasingly controversial projects. [3]
The report is being released on Monday, the day three of the groups are in court challenging the Treasury over RBS' use of public money to provide finance for companies that exacerbate climate change and disregard human rights, including tar sands, coal, oil and gas and other forms of mining, for examples Vedanta's bauxite mines in India.
Mel Evans from PLATFORM, one of the authors of the report said: "RBS has been involved in providing more money in loans to destructive tar sands companies than any other UK bank. When RBS executives get their bonuses, they are being rewarded for enabling oil companies to devastate traditional ways of life for Indigenous communities in Canada, while making the problems of climate change much, much worse."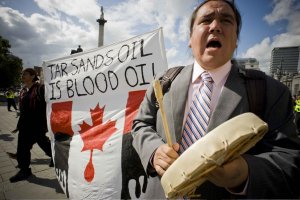 Clayton Thomas-Muller, an Indigenous activist from Canada said: ""RBS must publicly commit to not providing finance to Canada's Tar sands. Failure to do so would be morally bankrupt given that the developments entail massive ecological destruction and human rights abuses particularly in First Nations Lands. Now that RBS is owned by the public, the bank should be transformed into a leader in the emerging green energy economy in the UK rather than causing so much destruction to the lands of Indigenous Peoples in Canada."
The World Development Movement and People & Planet are today announcing a week of protests to be held simultaneously with the RBS AGM on Wednesday 28 April. This will involve protests outside the AGM centre and branches across the UK calling for a moratorium on RBS investments in tar sands because of their devastating impact on human rights and the climate.
Deborah Doane, director of the World Development Movement said: "It's deeply concerning to learn that so much of our money is being used to provide finance for tar sands extraction. These investments have a devastating impact on the lives of Indigenous communities in Canada, while fuelling climate change, just to service the rich world's unquenchable thirsty for dirty energy.  The consequences of climate change are already hitting the world's poorest people the hardest, and this completely cancels out efforts we take nationally to prevent catastrophic climate change. This is a huge injustice and during our week of protest we will be demanding that investment of our money into this 'blood oil' be stopped immediately."
[1] Tar sands are a type of oil that is mixed up with a particulate matter that needs to separated. The process of obtaining the oil is around three times more carbon intensive than obtaining conventional oil. In addition the process creates enormous lakes of toxic byproducts that are leaking into water sources, and are being blamed by local communities for the abnormal rates of rare cancers they are experiencing.
[2] The full list of groups publishing the report is PLATFORM, the World Development Movement, People & Planet, the Indigenous Environmental Network, Friends of the Earth – Scotland, Friends of the Earth – England, Wales and Northern Ireland, Friends of the Earth – Europe, the New Internationalist, Indigenous Peoples Links, BankTrack and the Rainforest Action Network
[3] The meeting was hosted by the Royal Bank of Canada and was held at the RBC Plaza in Toronto Canada and attended by 41 banking executives from around the world, including Baba Abu, the RBS Head, Sustainable Business, Global Banking. The day included presentations by Jim Ellis, the Albertan Deputy Minister for the Environment, and Peter Watson, the Deputy Minister for Energy, and a presentation on 'Public Opinion on Canada's Oil Sands' by Bruse Anderson of  National Public Relations.
(3) Investments were scrutinized of 26 banks from across the world, including Barclays, RBS and HSBC. The report looks at looks at the finance that RBS, Barclays and HSBC have made to companies that (a) have an ownership stake in existing tar sands projects and projects under development; or (b) own, operate or are developing pipelines primarily being used to transport tar sands oil over a three year period from January 2007 through to December 2009 and has been collated using a Bloomberg terminal