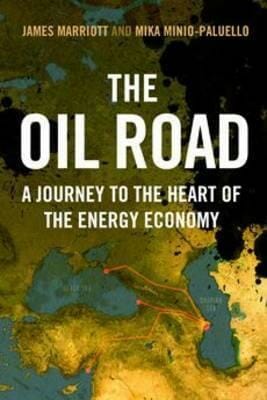 Platform has submitted a complete manuscript of "The Oil Road" to Verso; it's gone to the copy-editors now and will be published in May (with a different cover!).
But we're still trying to pick a sub-title – do you have any suggestions? Here's a blurb about the book, and we've copied some possible subtitles below.
Send us any new ideas or your favourites from the list below –  tweet us @platformlondon or email Mika. If you come up with the best suggestion, you get your subtitle on the cover of the book!
The Oil Road
A journey through space and time, from the deep waters of the Caspian along BP's Baku-Tbilisi-Ceyhan pipeline towards the refineries of Bavaria and offices of London.
This travelogue tracks the flow of crude as it is sucked from Azeri geology, then pumped and shipped across the Caucasus mountains, Anatolia, the Mediterranean Sea and the Alps. James Marriott and Mika Minio-Paluello have written both a narrative of journeys along two pipelines and a passage through the history and culture, empires and resistance of these regions. Through their exploration we meet Turkish fisherfolk, British bankers, Georgian villagers, Azeri secret police, Stalin, the Rothschilds and Marinetti.
The Oil Road takes us on a journey through the city streets of London and Baku, Trieste and Tbilisi, to investigate how oil has shaped war and politics, landscapes and borders across Europe for the past 140 years. It explores how this substance has underlain the social visions of Modernity, from Bolshevism to Fascism, Neoliberal economics to Social Democracy. This book unpicks how the financial, military & political power centred in London, Brussels and Washington ensures that the movement of oil & gas in the energy corridors is not disrupted. The Oil Road develops a critique of the oil economy while highlighting hidden struggles and social movements fighting for survival, democracy and ecological sustainability.
Developed through 12 years of close study and numerous journeys along the pipelines, the book shows the reader the often hidden violence of our energy past and present, whilst exploring the future possibilities of moving beyond the Oil Road.
Some possible ideas for subtitles for "The Oil Road":
A search for Europe's energy heart
A journey to the heart of Europe
A journey from the Caspian to the heart of Europe
Journeys along Europe's hidden networks
Journeys through Europe's hidden geography
Journeys through Europe's hidden terrain & history
Journeys along Europe's forgotten pipelines
Journeys from the Caspian to the North Sea
Journeys along Europe's 21st century trade routes
Journeys along Europe's modern trade routes
Journeys amongst power, corruption and resistance in Europe
A 21st century journey through Europe