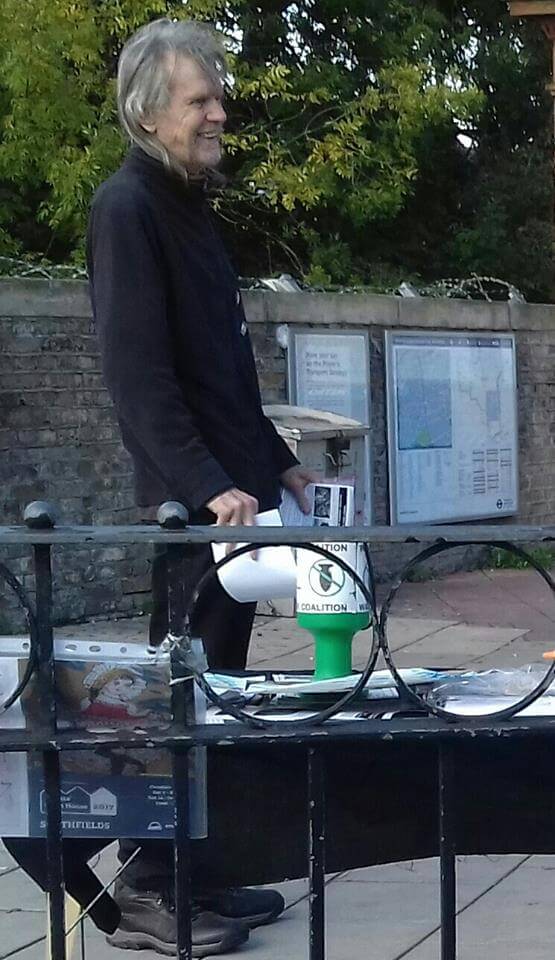 In the flurry of a Tuesday afternoon, I receive an unexpected e-mail from Vicki Carroll. The header has your name in it Bruce, and I know instinctively within an instant what the message holds. I hover a while and then open the text to read the inevitable.
You have stepped over, passed through the thin membrane that is stretched between this breathing life and that other space. I am not shocked by the news. Just calm and full of light. You always lived so close to that membrane that your passing does not come as a surprise. When I later talk with Vicki and share stories of you – we both loved you – I sense that she too is not surprised.
To feel full of light is just as you would wish me to feel. You yourself have always been a radiant being. Our paths intertwined for perhaps twenty-five years. It is strange to reflect that you were younger than me now when we met. You must have been in your late forties in 1992. Yet throughout quarter of a century it seemed that you remained true, and constant – the same figure, tall, thin, with long coat and big boots, a deep mellifluous voice and always so gentle.
We in Platform came into your orbit through our first work on the River Wandle. I never knew how long you had already lived in Wandsworth in those days, it felt that you had been there always. You were so benign and welcoming to us young, nervous, and at times abrasive, incomers. Alongside Steve Parry – that Superkings-smoking, Guinness-drinking hurricane of a community activist – you were a pillar of all that Platform tried to do in Wandsworth and Merton.
I remember you participating in our Tides & Tributes project with the eight-year old pupils of St Joseph's School – standing on a street corner, patiently allowing them to cross-question you as a 'Citizen of Wandsworth'.

I remember you in that upstairs room in The Crane pub on Armoury Way, a regular attender to the meetings of the Wandle Delta Network that Steve chaired in bearded majesty.
Without you, your delight and encouragement, we would never have been able to maintain the fifteen-year struggle to sing up the Wandle and call for the RENUE network of solar and wind-powered community buildings to be established along that South London valley. You were always calm and thoughtful, in endless planning meetings, in constant efforts to lobby Wandsworth Borough Council and Merton Borough Council, and in cajoling the Millennium Commission to support that pioneering vision. Alongside Vicki, Steve, Su Assinen, Gavin Killip and Tuija Halonen, you were central to that determined adventure.
And you were so much more. A pianist, a song writer, a performer in the pubs of Balham and Tooting. An utterly tireless campaigner for the Green Party, for Wandsworth Environment Forum, for the Miners' Support Network, for Wandsworth Anti-Austerity Campaign, Wandsworth Stand Up to Racism and Wandsworth Welcomes Refugees. You were pivotal to the local branch of the Stop the War Coalition, often to be seen on peace demonstrations in Westminster, and a campaigner for the release of Shaker Aamer from Guantanamo Bay prison.
I remember that you were there when, following in the wake of Steve and Ernest Rodker, we drove through the night to rural Northamptonshire and started digging up the lawn of Michael Heseltine MP, in protest at his Ministry's support of open cast coal mining.

 I remember you as central to 'The Land is Ours' action on the banks of the Thames in Wandsworth – the squatting and holding of the 'Pure Genius' site.
You were always committed to the same ideals, always constant in your loyalty to Wandsworth in spite of the stubborn recalcitrance of an unchanging bloc of Tory councillors. Whilst others – and Platform was among them – slowly drifted away from the Wandle Valley, you remained true to it.
As Vicki and I talk over our memories we realise that despite your pure and constant presence, you remained an enigma to us. We try and sketch out something of a biography – you were born in perhaps 1945 or 1947. It seems that, though you came from a Scots family, you did not grow up in those northern lands, nor in London. (I think now of your soft voice, and it is hard to place a trace of accent in it). We think that you once said you had lived and worked in Africa. Certainly from the early 1990s you were in the flat that you rented in Trinity Road, Wandsworth – living a life of powerful frugality, recycling all that you could, taking such care to consider your material impact on the world. As we jetted and trained around the globe, I only remember you travelling once or twice – and I think both of those were to Scotland. At some point you became a Buddhist, certainly in seemed that way, even if you were not formally 'of that faith'. Your annual cards at winter solstice – in careful and clear handwriting – shone with your burning desire for a more peaceful future.
As I write this, I miss you already. But you are not gone. You are still there just the other side of that thin membrane. We know that, like the rest of us, you are eagerly awaiting the outcome of the Stansted 15 trial. We know that you too are hoping that some future Red/Green government might defend the NHS and renounce nuclear defence. We know that you too are anxious about the seeming impossibility of averting climate chaos.
We should no more exile you to oblivion, than ban the entry of children into our lives. 'The dead only die when the living cease to remember them.' We keep your memory close because we need your calm assistance, as we try to maintain this carnival of resistance against destruction, and this celebration of the humane and all living beings.
Thank you Bruce for everything you've done with us all thus far. There will be more memories together.
(With thanks to Vicki Carroll and Pat Sheerin)