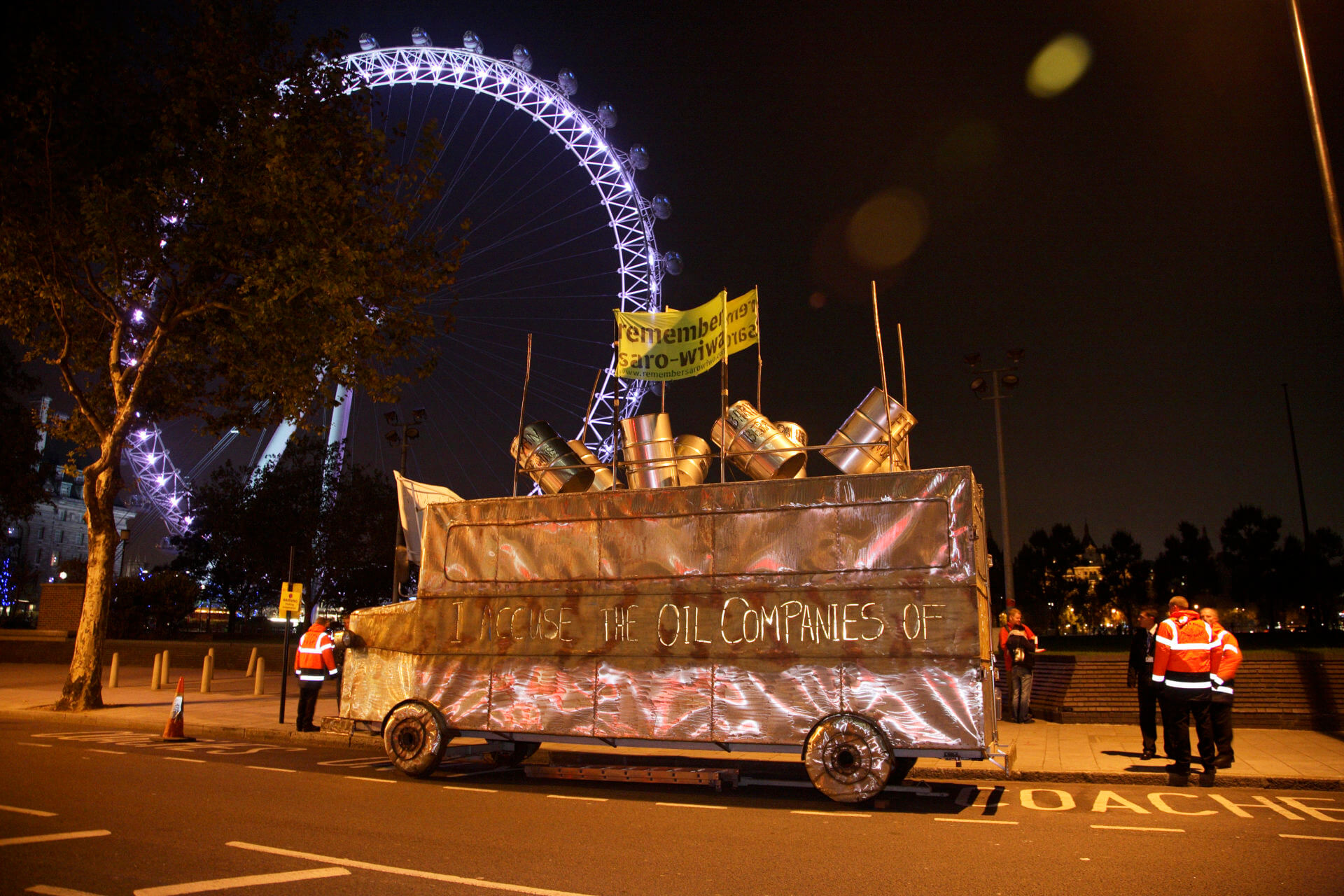 LAUNCH EVENT: Saturday 25 June, 12-2pm, Bernie Grant Arts Centre, Town Hall Approach Rd, London N15 4RX.
MAP: View Larger Map
A spectacular life-size steel bus, created as a memorial to Nigerian activist Ken Saro-Wiwa, will be officially welcomed to its new home in Tottenham as part of Civic Day celebrations on Saturday 25 June.
The event, to be held at the Bernie Grant Arts Centre from 12noon, will feature poetry and speeches from local campaigners as well as live music, dance and drumming, film screenings, a barbecue and stalls from local artists. It is being organised by the Centre in collaboration with Platform, a group of environmentalists, artists, human rights campaigners, educationalists and community activists, who commissioned the Bus as part of their campaigning on human rights and oil in Nigeria. The striking steel vehicle will be at the centre of the celebrations, with drummers performing from its roof and its inside used to screen short films. Musicians from all parts of the community will contribute to the day.

Ken Saro-Wiwa was executed by the Nigerian government in 1995, together with 8 other activists who had campaigned against the environmental and social damage caused by Shell's oil drilling activities in the Niger Delta. In 2005, on the Tenth anniversary of his execution, London-based acclaimed artist Sokari Douglas Camp CBE won the commission to create a spectacular steel Bus sculpture. Completed in 2006, the bus has toured the UK ever since, and will now be resident at the Bernie Grant Arts Centre, Town Hall Approach Road, where it will be the focus of a year of planned artistic and educational activities.
John Baraldi, Chief Executive of the Bernie Grant Arts Centre, said:
We are extremely happy that we will be the new home for Sokari Douglas Camp's incredible sculpture – and that we can use Tottenham Civic Day to officially welcome the artwork to the Centre and the community. Bernie Grant worked tirelessly to defend the rights of all sections of our society, and was a passionate advocate for social justice, so the fit between artwork and space could not be better. We hope to see the bus become the focus for a sculpture park here.
Jane Trowell, Platform's Education Coordinator, said:
The Bus is a people's vehicle – it draws people in to thinking about social and environmental justice in a unique way. It has local, national and international significance, and we hope it will provoke debate and inspire the people of Tottenham. Bernie Grant, like Ken Saro-Wiwa, would have approved of it.
Maria Saro-Wiwa (widow of Ken Saro-Wiwa) will be a special guest  at the launch event, and a statement from artist Sokari Douglas Camp written for the occasion will be read out.Visitors will also be able to take a tour behind the scenes at the Arts Centre and even watch films screened inside the bus itself. The event is free to all, and the official launch event will start at 1pm.
ENDS
Notes for Editors
This artwork and event presents a spectacular photo opportunity. If you would like to discuss photography on the day or in advance, or for any other information, please contact Dan Lines.
Confirmed speakers on the day will include:
John Baraldi, Chief Executive, BGAC
Jane Trowell, Platform
Zena Edwards – Poet with strong Tottenham connections, who has performed at WOMAD, The London Jazz Festival, Poetry International at the Royal Festival Hall, Glastonbury and many others.
Ben Amunwa, campaigner on oil and human rights in Nigeria, Platform
Other speakers tbc
About the Bernie Grant Arts Centre
The Bernie Grant Arts Centre is named for Bernie Grant MP (1944-200), one of Britain's first black MPs and a tireless campaigner for equality and cross-cultural understanding. Designed by award winning architect David Adjaye, and opened in 2007, the centre includes a a 274-seat auditorium, studio/rehearsal space, café/bar, multimedia workspaces and open spaces. The centre is committed to programming work that reflects and engages the full diversity of its community, and is home to award-winning dance company Tavaziva.
About Platform
Platform campaigns on issues of social and environmental justice, bringing together the skills of researchers, activists and artists. For the past 15 years the focus has been on oil and coal, climate change, and the financial systems that underpin it. Platform works in solidarity with affected communities abroad but looks at how to reduce London and the UK's negative impacts on those communities. In 2004, the project Remember Saro-Wiwa was initiated, funded by Arts Council England and Roddick Foundation, to create a Living Memorial to Ken Saro-Wiwa.
Press contacts:
Jane Trowell, Education Coordinator/Ben Amunwa, Nigeria oil and human rights campaigner (020 7403 3738)