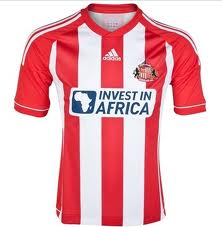 Last year we raised some concerns about a new sponsorship deal between Tullow Oil and Sunderland football club, aka Sunderland AFC. Only it wasn't actually Tullow that was doing the sponsoring, it was a strange body called Invest In Africa, that was all about promoting Africa (homogenous and undifferentiated continent that it is) as a good place in which to do business. What was strange was that despite being supposedly not being a front organisation for Tullow, at the time the deal was announced it only consisted of one member (Tullow), and a logo that used a similar font and colour scheme to that of Tullow, and was based out of the offices of, you guessed it, Tullow.
What felt particularly galling about the frame of 'Invest In Africa' was that according to the research we'd carried out, Tullow had tried to strike deals with the governments of Uganda and the Democratic Republic of Congo (DRC) that appeared to be very unfavourable to the peoples of those countries when compared to similar deals struck elsewhere. The potential revenue loss to the host countries was in the billions of dollars according to our contract analyses.  If Tullow was concerned about bringing developmental benefits to Africa through investment, it sure as hell had a funny way of showing it.
The Independent picked up the story, and football forums were full of people comparing the leaked Production Sharing Agreements and debating the fairness of the 'stabilisation clause'. Sort of.
Less than a year later, Sunderland has announced that the deal has ended after only one year out of what was supposed to be a two year contract. The news has come at a time when there's a great deal of controversy going on for both the club and the oil company. Sunderland appointed self-proclaimed fascist Paolo Di Canio as manager, and then club vice-chairman David Miliband resigned, ostensibly over Di Canio's loathsome politics.
Against this backdrop, Tullow is in court in London against another oil company Heritage, tussling over who should foot a $313 million tax bill in Uganda – we blogged about it here in 2011. During the court hearing in March this year, allegations were made that Tullow had bribed senior ministers in exchange for concessions in Uganda's oil fields. Heritage QC Khawar Qureshi referred in court to an email from Tullow's exploration director Angus McCoss, which appeared to insinuate that Tullow officials had considered bribing Ugandan president Yoweri Museveni. Tullow has denied these allegations as smears, but in Uganda yesterday the police opened an inquiry into the matter.
It would be a very serious matter for Tullow if the allegations were to be substantiated. With so much happening at the club at once, one can only speculate if some of the public scrutiny over Tullow's operations might also have played some role in Miliband's decsion to jump ship, with Di Canio providing a more convenient public motivation.
The Tullow-Sunderland experience is a classic example of how ill-chosen sponsorship arrangements can backfire in a blaze of bad publicity. No one wants to be linked to allegations of bribery and unsavoury business practices. BBC Look North featured the whole sorry affair as their lead story last night on TV, and interviewed us as part of it.  You can watch the clip below.