For immediate release – 22 May 2019
Platform / Argentina Solidarity Campaign / Reclaim the Power / Fossil Free London
Contact: Anna Markova +447942044472 [email protected]
Supplementary images available here
Protestors' statement in full: https://platformlondon.org/2019/05/22/statement-dont-frack-patagonia/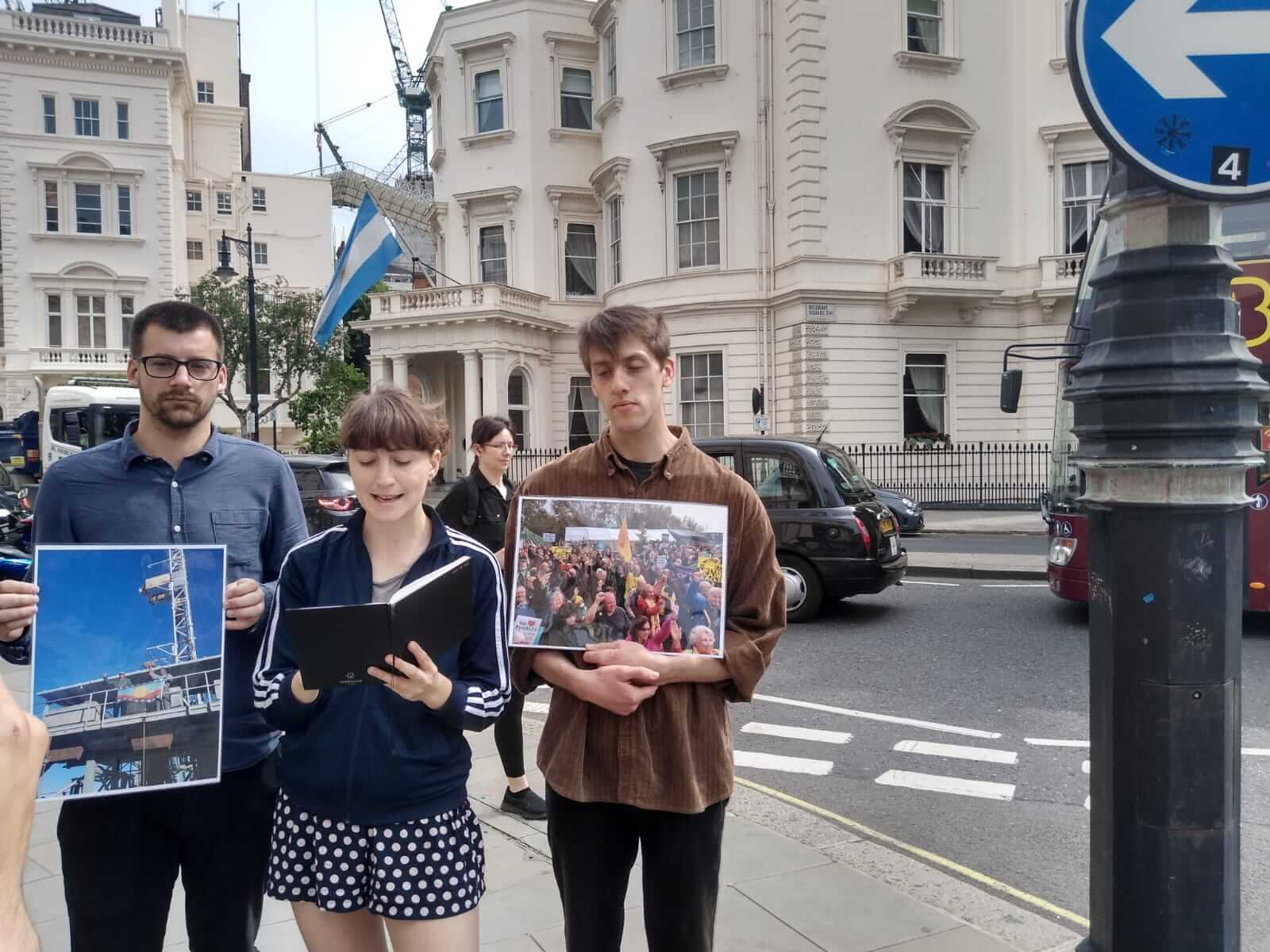 Talks between UK and Argentinian officials on investments in shale oil and gas became the target of a protest by climate activists and Argentinians living in the UK. Protestors confronted attendees and embassy staff with images of the dangerous impacts of fracking, and read out a statement saying:
From Lancashire to Sussex communities in the UK are already fighting the menace of fracking. … But Big Oil companies like BP and Shell prefer not to frack near home – "to avoid the wrong kind of attention", in the words of BP's CEO Bob Dudley. Instead, they're trying to exploit one of the world's biggest shale gas reserves, Vaca Muerta, in Argentinian Patagonia. Exploiting the gas and reaping the profits – while polluting farmland and taking over ancestral Indigenous lands.
Held at the Argentinian's ambassador's residence in Belgrave Square, London, the talks featured a delegation of up to 80 Argentinian officials and business leaders and UK business and government representatives. The delegations would be discussing UK business involvement in the Vaca Muerta mega-project – the world's second biggest shale gas reserve – and UK government's taxpayer-backed offer of £1 billion financing for business in Argentina through UK Export Finance, according to Argentinian press.[1]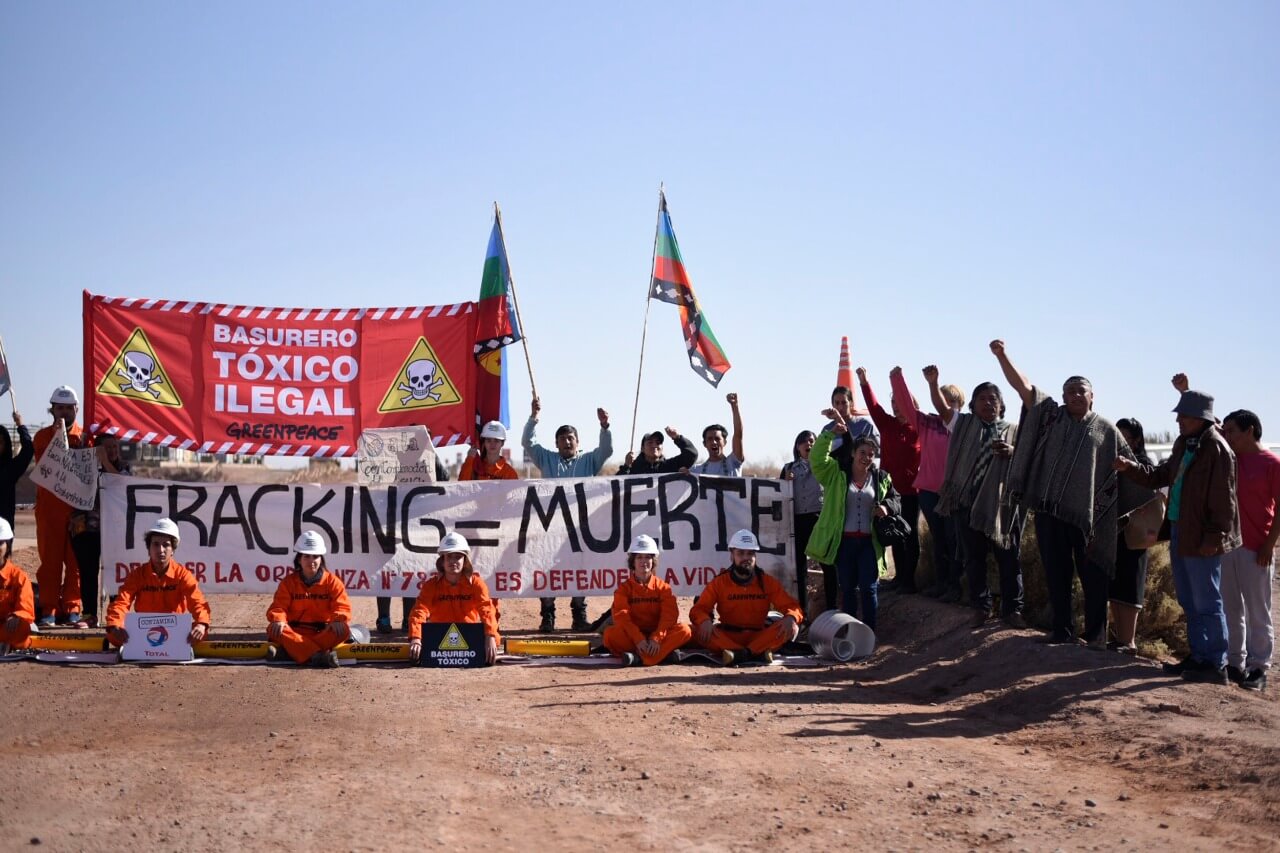 UK-headquartered companies BP and Shell are among the biggest oil companies operating in Patagonian shale gas. BP's flagship concession in Patagonia, Lindero Atravesado, where 23 wells were due to have been fracked in 2017, covers part of a farming town (Vista Alegre) that has passed a resolution to ban fracking, as well as a lake that provides drinking water to the provincial capital Neuquén.[2]
Protestors held up images of resistance to fracking in Patagonia, highlighting in their statement:
Indigenous and farming communities in north Patagonia like the municipality of Vista Alegre and the Mapuche community Campo Maripe are organising to stop fracking in their land. Their resistance to fracking highlights the threat to local ecosystems and livelihoods, and upholds indigenous land rights and the defense of human and non-human life. We are gathered in solidarity with Patagonian communities who are fighting fracking on their land. We are gathered to say NO to UK companies fracking in Patagonia and NO to UK government financing this exploitation.
In a statement of solidarity, Lancashire anti-fracking campaigner Tina Louise Rothery said,
To the Patagonian community Vista Alegre and the Indigenous mapuche community Campo Maripe, the UK Nanas send you our thanks, our solidarity and our love for all that you are doing in the face of such a powerful and driven opponent that is the energy sector. We will do all we can to target our corrupted and inept government as well as the dangerous UK companies that are doing this to you – please know that this is not what we believe our country is about… we want international co-operation to ensure our shared air, water and oceans are safe for all earth inhabitants.
NOTES
[1] https://www.energiaspatagonicas.com/empresas/inversiones-empresarios-funcionarios-y-un-viaje-a-londres-en-busca-de-1000-millones-de-libras/
[2] https://platformlondon.org/p-publications/bp-fracking-argentina/