Contact: Eliana Harrigan, Fossil Free London, +44 7541507517. Anna Markova, Platform,

[email protected]

, +447942044472
Images available, credit Alban Grosdidier.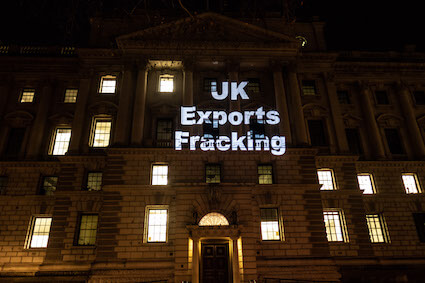 As G20 governments gear up for their summit in Buenos Aires, Argentina, and the climate talks are set to get underway in Katowice, the UK's export finance department (UKEF) was hit by protests yesterday over its financing of oil and gas deals. Climate and solidarity activists erected a ten-foot 'fracking rig' on the steps of its offices in the morning, and projection artist FeralX "decorated" the headquarters with the words "UK Exports Fracking" in the evening (see images). The actions called on UKEF to stop financing oil, gas, and coal projects, starting with the new £1bn credit line to UK business in Argentina.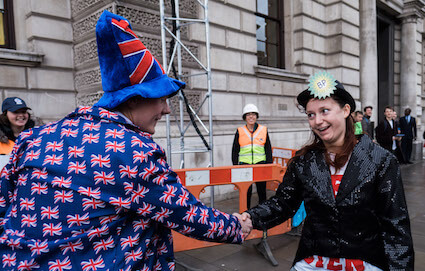 Campaigners positioned the fracking rig outside the entrance of the building at 8am and addressed civil servants entering the building with a comical accolade from "Ms Frack" for the support the oil and gas industry receives from the export finance body. A leaflet addressed to employees read:
"With one hand, the UK government fights climate change. With the other, it uses taxpayer money to fund fossil fuel projects worldwide which will lock those countries into high-carbon infrastructure and undermines the UK's commitment to the Paris Agreement. UKEF cannot go on acting as if climate change doesn't exist." .
According to research by CAFOD and ODI, 99.4% of UKEF financing for energy projects went to fossil fuels in the last measurable period.[1] These investments include support for drilling in dangerous, controversial new oil and gas frontiers, such as Brazil deepwater.
In March 2017 Chancellor Philip Hammond invited British companies operating in Argentina to a meeting to promote a new £1 billion credit line to them.[2] Despite assurances from Minister Greg Hands that "the UK's expertise in areas like infrastructure, green energy and healthcare" would form the basis of the UK-Argentina trading relationship,[3] such firms did not attend the meeting hosted by Philip Hammond – but oil companies BP (via its subsidiary Pan American Energy Group) and Shell did.[4] BP and Shell's main business interest in Argentina is the Vaca Muerta shale deposit: the second biggest shale gas deposit in the world.
If fully exploited, Argentina's shale gas reserves would consume up to 15 percent of the entire global carbon budget for achieving the 1.5-degree Celsius Paris Agreement target [5]. Existing work to extract oil and gas in the region has also already caused land conflicts with indigenous Mapuche communities which reject the projects on their ancestral land,[6] as well as causing nearly 1000 spills in the first ten months of 2018 alone.[7]
Jorge Nawel, coordinator of Mapuche Confederation of Neuquen that represents Indigenous communities affected by the oil and gas project, commented on their situation as follows:
"The development of Vaca Muerta, the exploitation of land and, crucially, water, is a permanent threat for the Mapuche people. Our communities do not have recognized territory, legal status, and the right to free, prior, informed consent. All of this to offer better deals to oil multinationals. The communities live in constant fear that their territory will be taken over by this criminal industry."
Eliana Harrigan, spokesperson for Fossil Free London said, "The UK government is playing a cynical game, talking up its climate credentials while aggressively promoting fossil fuel projects abroad using public money. With scientists advising that we have 12 years to cut fossil fuels and limit climate change to 1.5 degrees, the UK should end to UKEF's support for fossil fuel projects, starting with Argentina. As a global centre for fossil fuel finance, London has a historical responsibility for the current ecological crisis. As residents of the city we stand with communities in Argentina and call on our public and private institutions to stop providing social, political and economic cover to this destructive industry.""
Marina Almagro, spokesperson for Argentina Solidarity Campaign said, "UK Export Finance's support of fracking in Argentina means more backing for an extractive project that violates the rights of Mapuche indigenous communities in the area, pollutes major water sources, and is already having drastic consequences on regional agricultural economies. The UK's financing of fracking also poses important questions about energy sovereignty, and the need for Argentina to move towards an energy model that is cleaner and more democratic."
NOTES
[1] https://cafod.org.uk/News/Press-centre/Press-releases/Fossil-fuel-v-renewables-spend
[2] Notes released by Foreign Office in response to a Freedom Of Information request.
[3] https://www.gov.uk/government/news/uk-minister-of-state-for-trade-and-investment-announces-1-billion-export-credit-support-for-trade-with-argentina
[4] https://www.gov.uk/government/uploads/system/uploads/attachment_data/file/668642/transparency_treasury_ministers_July-September_2017_meetings.csv/preview
[5]https://priceofoil.org/content/uploads/2018/06/debunked_vaca_muerta_eng_04_fin_web.pdf
[6] https://territorioindigena.com.ar/Casos?id_conflicto=168
[7] https://www.pagina12.com.ar/156412-los-derrames-de-vaca-muerta