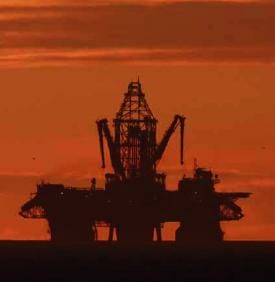 This is the frightening reality of oil extraction in the UK North Sea. Video footage and documents leaked to the the Scottish Sunday Express shows that Shell's oil rigs are ready to collapse.
RUSTING RIGS SPARK FEARS OF OIL TRAGEDY

SHOCKING footage has emerged showing the dire state of Britain's rust- ing oil rigs, amid fears some could be close to collapse.
An offshore worker can be seen in the video, which was filmed on an undisclosed rig last month, hammering a hole through the floor of one of the platforms, sending chunks of the metal frame tumbling into the sea below.
The Sunday Express also obtained a damning letter from the Health and Safety Executive to Shell, after finding a "significant maintenance backlog" exceeding 15,000 hours during an inspection of the Brent C platform in July.
It warned "areas of the installation were suffering from severe corrosion" and there was a danger of some of the structure falling down "as the integrity worsens".
Safety officials called for immediate assurances the firm was not putting lives at risk.
They also pointed out "redundant plant and equipment did not appear to be inspected or maintained and there is a risk some aspects may pose a dropped object threat as the integrity worsens."
Shell whistleblower Bill Campbell said:
"The useful life of a mechanical structure can only be reached if it is maintained and inspected throughout its life, but the dominant failure for offshore installations is age-related. The footage testing gratings shows what we already know."

He added he believed many of the workers on rigs are "blissfully unaware of the risks they are taking".

More than 23 years have passed since 168 men died in an explosion on the Piper Alpha platform. Mr Campbell said it was only a matter of time before another major tragedy occurred in the North Sea. He said data showed there were 85 gas releases and 443 dangerous occurrences last year. "The probability of an undesirable event is extremely high," he said.
Last month Royal Dutch Shell battled a leak 120 miles from Aberdeen that saw 200 tonnes of oil spill into the sea.
For more on Platform's research into the systemic risks of offshore oil extraction in the North Sea and beyond, see our report, Off the deep end.