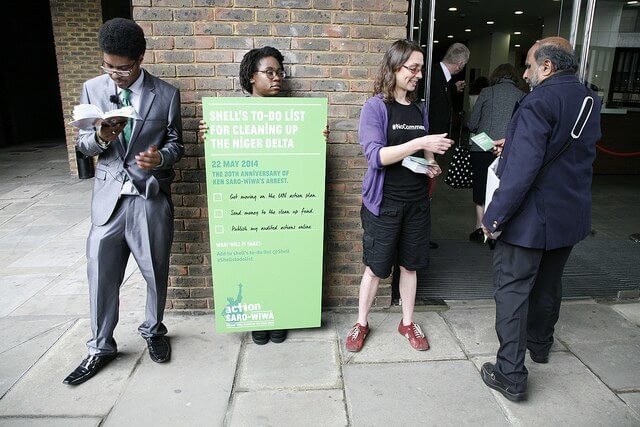 When we launched our Action Saro-Wiwa campaign back in May we had no idea how many of you would get involved and  we could never have imagined that  a breakthrough could happen so soon. After all, communities have suffered the deadly effects of widespread pollution in the Niger Delta for over 50 years. But your pressure has worked. It forced Shell to take steps towards cleaning up its mess.
On 22 May, we launched our Polluted Promises report, exposing continued oil spills on the 20th anniversary of Ken Saro-Wiwa's arrest and building on the momentum of peaceful resistance by communities in the Niger Delta. Many of you signed our petition to Shell's new CEO and we confronted him in person at his first UK shareholders' meeting as CEO, demanding he clean up the region in line with a 2011 United Nations Environment Programme (UNEP) report. Since then, we have been working with international and Nigerian organisations and movements to turn the heat up on Shell and the Nigerian Government. In August, we released No Progress, showing that action to clean up Ogoniland had stalled,  prompting an editorial piece in the New York Times. Peaceful protests by communities in the Niger Delta followed this.
Shortly after, an announcement by the Nigerian Government confirmed reports that oil companies and the government had together pledged $1 billion to kickstart the clean-up. In October, the first multi-stakeholder meetings to take forward the clean-up happened in Abuja, followed by another in Geneva this week, facilitated by the UNEP.
This is a big breakthrough but it is still too early to know if it will lead to lasting change. Communities have yet to experience any tangible benefits. People are still dying, sick, can't feed themselves and have no clean water because Shell destroyed their environment by drilling for oil. This week, we released a statement with a coalition of Nigerian groups demanding that the new process involve front-line communities, be fully transparent, be independent from the oil industry and lead to urgent action.
Together, we've started something. We need to keep up the momentum and make sure it leads to concrete improvements in people's lives. We would love to hear your ideas. We also have some big plans for 2015, to mark the 20th anniversary of the execution of Ken Saro-Wiwa and the other Ogoni 8. But they won't happen without your support. Watch out for an announcement next week. And, thanks to you all!