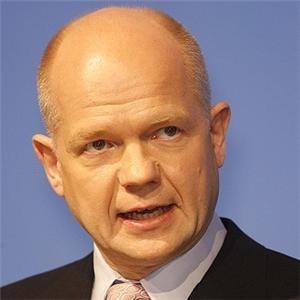 Today Foreign Secretary William Hague will be one of the first European politicians to visit Azerbaijan after Ilham Aliyev's internationally condemned re-election as President.  Hague will be there to attend the ceremony for the signing of a pipeline agreement that will see two trillion cubic meters of gas pumped from Azerbaijan to Europe.
Hague will be attending a signing ceremony in Baku for the Trans-Adriatic Pipeline (TAP) as the BP-led Shah Deniz consortium finalises the investment agreement. This is a key part of the Euro-Caspian Mega Pipeline, which would move 16bn cubic meters per year of offshore gas from the coast of Azerbaijan to Southern Italy.  The huge pipeline network would cross six countries and go under the Adriatic Sea. Azerbaijan's oil production peaked at 800,000 barrels per day in 2009 and has now declined to 660,000, so this new gas extraction will play a key role in maintaining Aliyev's rule.
This ceremony will make Europe the primary consumer of Azerbaijani gas for at least the next 35 years and the pipeline infrastructure may continue to be used even after Azerbaijan's gas deposits are depleted. It was recently announced that the Transcaspian Pipeline, which would move gas under the Caspian Sea from Turkmenistan to Europe, is on the list of European Energy Projects of Common Interest that will "will benefit from faster and more efficient permit granting procedures and improved regulatory treatment". These projects are earmarked to receive €5.85 billion between them.
Hague's trip has been criticised, coming so soon after the internationally condemned Azerbaijani Presidential elections. The vote descended into farce when a government phone app appeared to release the election results the day before polls opened. In addition several videos showing ballot-box stuffing and carousel voting emerged. The observation mission of the OSCE Office for Democratic Institutions and Human Rights (ODIHR) found there were widespread violations during the election and concluded it fell far short of international standards.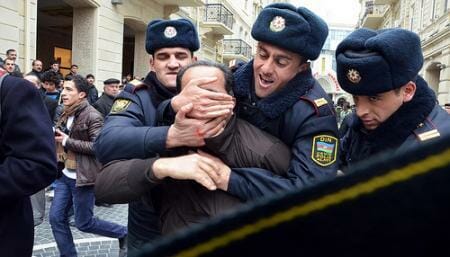 In the eighteen months running up to the election the Azeri authorities conducted what Human Rights Watch called "a deliberate, abusive strategy to limit dissent". There are now 142 political prisoners in the country two of whom were expected to be election candidates until their incarceration forced them to withdraw, according to the Human Rights Club of Baku, who have conducted extensive research. The Azerbaijan authorities have used false charges to arrest many of these prisoners, including possession of narcotics and weapons, as well as hooliganism.
Azerbaijani activists have taken to twitter to call for William Hague not to put energy deals before human rights, while a letter from UK and Azerbaijani campaigners and journalists has been sent to William Hague calling on him not to attend the TAP signing ceremony and instead to spend his time talking to Azerbaijani civil society.
An international coalition of affected communities and human rights and environmental organisations is opposing the Euro-Caspian Mega Pipeline. The infrastructure will lock Europe into fossil fuel dependency for at least the next 30 years and put over a billion tonnes of CO2 into the atmosphere by 2048. It will also lead to the creation of militarised zones created along vast sections of the route. Last week a session at the Italian Parliament ended in chaos as the 5 Stars Movement attempted to postpone voting on the ratification of the pipeline agreement, arguing the pipeline would harm the economy and environment of the coastal region of Puglia.
Emma Hughes from Platform was quoted in today's Independent on the visit: ""Hague's trip follows hot on the heels of another undemocratic election in Azerbaijan. Making energy deals with this corrupt dictatorship means that the UK's 'dash for gas' is contributing significantly to the political repression of democracy activists in Azerbaijan."
You can also read a guest blog on the Euractiv site on this subject by Emma Hughes from Platform and Elena Gerebizza, Energy and Climate Campaigner, from Counter Balance.
@WilliamJHague As a former prisoner of conscience I wonder if you will talk with Aliyev @presidentaz only about oil/gas deals? I expect more

— Emin Milli (@eminmilli) December 15, 2013
@WilliamJHague, In 2005, 2 months before the first oil pumped through the BTC pipeline, #Azerbaijani journo Elmar Huseynov was shot dead.

— IRFS Azerbaijan (@IRFS_Azerbaijan) December 16, 2013
#Azerbaijan: Hague must raise human rights concerns during gas pipe deal visit #BP https://t.co/eunhz4ov31

— Amnesty UK (@AmnestyUK) December 17, 2013

The full letter to William Hague can be read here: