This blog post first appeared in the Comment Factory on 12 November 2010.
World remembers Saro-Wiwa hangings
by Ben Amunwa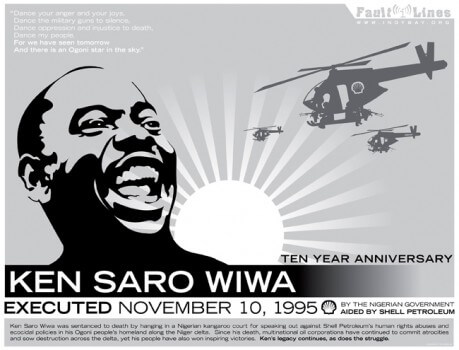 Fifteen years ago, Ken Saro-Wiwa and eight others were executed by the Nigerian military government, in collaboration with Shell Nigeria. The oil giant is under fresh scrutiny after secret documents revealed in The Guardian expose how Shell tried to cover up oil spill data and manipulated the media and NGOs in the wake of the executions.
Dividing NGOs into friends and foes, Shell emphasised the need to "work with [and] sway 'middle of the road' activists". The Body Shop, Greenpeace and Friends of the Earth were seen as unlikely to change their position. One suggested tactic to counter these organisations was to "challenge [the] basis on which they continue their campaign against Shell in order to make it more difficult for them to sustain it". Human rights organisations such as Amnesty International and Human Rights Watch were seen as more easily persuaded. The document suggests building relationships with the organisations and encouraging "buy-in to the complexity of the issue".
Elsewhere, events across the world (from Ogoniland to the capitals of Europe) have received an unprecedented level of support calling for justice for the Ogoni, and demanding that Shell cleans up their mess in the Niger Delta. In Nigeria's oil hub of Port Harcourt, twelve people were reported injured after a candle-lit vigil by Ogoni demonstrators was disrupted by armed police who began shooting and beating unarmed civilians with rifle butts and horsewhips.
To mark the 15th anniversary since the Saro-Wiwa killings, artist/activists Platform are launching an new series of downloadable podcasts, "Fifteen Years On". PLATFORM visited the Niger Delta this autumn to meet with some of the frontline activists who are keeping alive the struggle for social and environmental justice, and who face the combined oppression of multinational oil giants like Shell and government security forces.