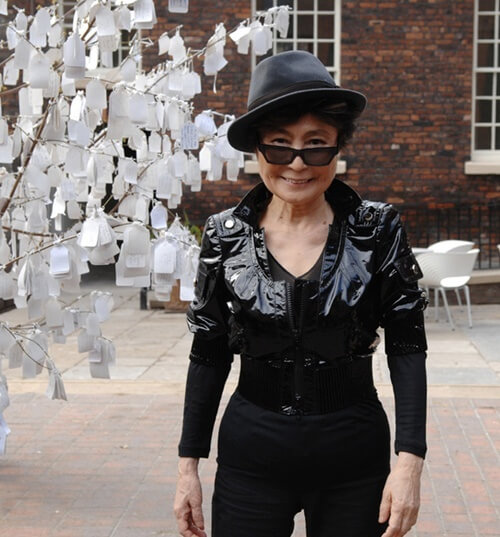 I ♥ Yoko Ono.
I ♥ her effortless blurring of the boundaries between pop music and conceptual and visual art.
I ♥ her constant stream of leftfield creativity in all sorts of projects.
I ♥ her 'disco not disco' opus Walking on Thin Ice.
I ♥ her strength and dignity in the face of the torrent of racist bullshit she endured from the White, patriarchal rock hegemony for daring to be with John Lennon.
I ♥ her long-standing involvement in all sorts of causes, including same sex marriages, peace and most recently, anti-fracking. Earlier this year, Yoko Ono and Sean Ono Lennon launched "Artists Against Fracking". When they didn't receive any response from NY gov. Andrew Cuomo to their request to meet and talk about the idea of a ban of fracking in New York, they erected a billboard alongside a road that he often takes with the legend, "Governor Cuomo: Imagine there's no fracking."
I'm much less keen on Shell. No hearticons at all for Shell.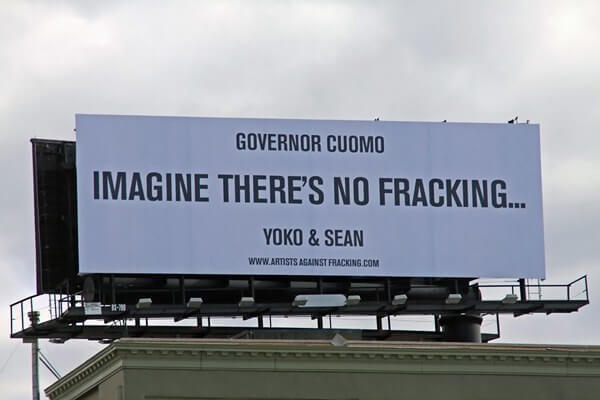 Apart from the long standing environmental and human rights devastation in the Niger Delta, their push into the Arctic and their tar sands activities in Canada, Shell are also into fracking big time. Just a sample of their activities: we recently documented some of Shell's fracking plans in Egypt, they've been called "the largest and most forceful proponent of natural gas extraction in South Africa," they're investing $1 billion a year in China in "shale gas strategy". In 2011, they were cleared to drill deep into a unique geological formation near the Spanish Peaks, in southern Colorado, to explore new natural gas resources, and they're active in a numerous other sites across North America.
So it was interesting to hear this morning that Yoko Ono was going to be curating the Meltdown Festival at the Southbank Centre in 2013. Musically speaking it's a great choice and I have no doubt that the festival will be crammed with all manner of talented, challenging acts, but I wonder how Yoko Ono feels about Shell's longstanding sponsorship of the Southbank Centre, the Meltdown venue. This relationship has made the Southbank Centre the target of a number of interventions by environmentalists for a number of years.  In April this year, the Royal Festival Hall was visited by a number of Shell Grim Reapers, while musicians recently initiated an open letter to the SBC CEO Alan Bishop over Shell sponsorship of a series of classical music concerts.
For Yoko Ono the issue could be as much about how it fits with her long-standing peace campaigning as her concerns over fossil fuels. We've recently published work on how Shell (and Chevron) have funded armed militant groups in the volatile Niger Delta region of Nigeria since at least 2003 and paid 'protection' money to other hostile groups for decades.
Some artists might rationalise the involvement of a company like Shell in venues like the Southbank Centre by thinking, "oh well, at least SOME good is coming out of the suffering and destruction caused by the oil industry in the form of arts and culture being shared with a wider audience." But the fact is that these sponsorship arrangements are an integral part of the business plans of these oil companies that allow them to keep carrying out controversial operations in other parts of the world. And like it or not, to some extent, Yoko Ono as an artist, and myself as an occasional Southbank patron, are made complicit in the atrocities carried out by Shell through the sponsorship relationship.
So Yoko, if you happen to be reading this. Firstly, a minor fanboy quiver on my part at the thought of that actually happening. Secondly, I'm really hoping that you might be able to connect the dots between Meltdown and the horrors of fracking, and that you might be able to creatively disrupt the cosiness of the Shell/Southbank Centre relationship in some way through your engagement with the festival.
All we are saying, is give Southbank Centre a chance to find sponsorship that doesn't involve trashing the planet and destroying communities.