Long-term struggles need new creative energy to stay nourished. So today we launch a stunning new print artwork – a collaboration between the internationally acclaimed political artist Alfredo Jaar and designer Jon Daniel. Platform commissioned it mark the 20th anniversary of the executions of writer and campaigner Ken Saro-Wiwa and 8 Ogoni colleagues. Below, see how you can help the campaign and get your hard copy. Come to the Day of Action events, London, November 10th
The artists who made it – Alfredo Jaar, Jon Daniel, Sai Murray, Sokari Douglas Camp
Platform commissioned Jaar to respond to the 20th anniversary, honouring his long-term commitment to the issue. In 2005, we were delighted that Jaar was one of the Judging Panel in the selection of our Living Memorial for Ken Saro-Wiwa.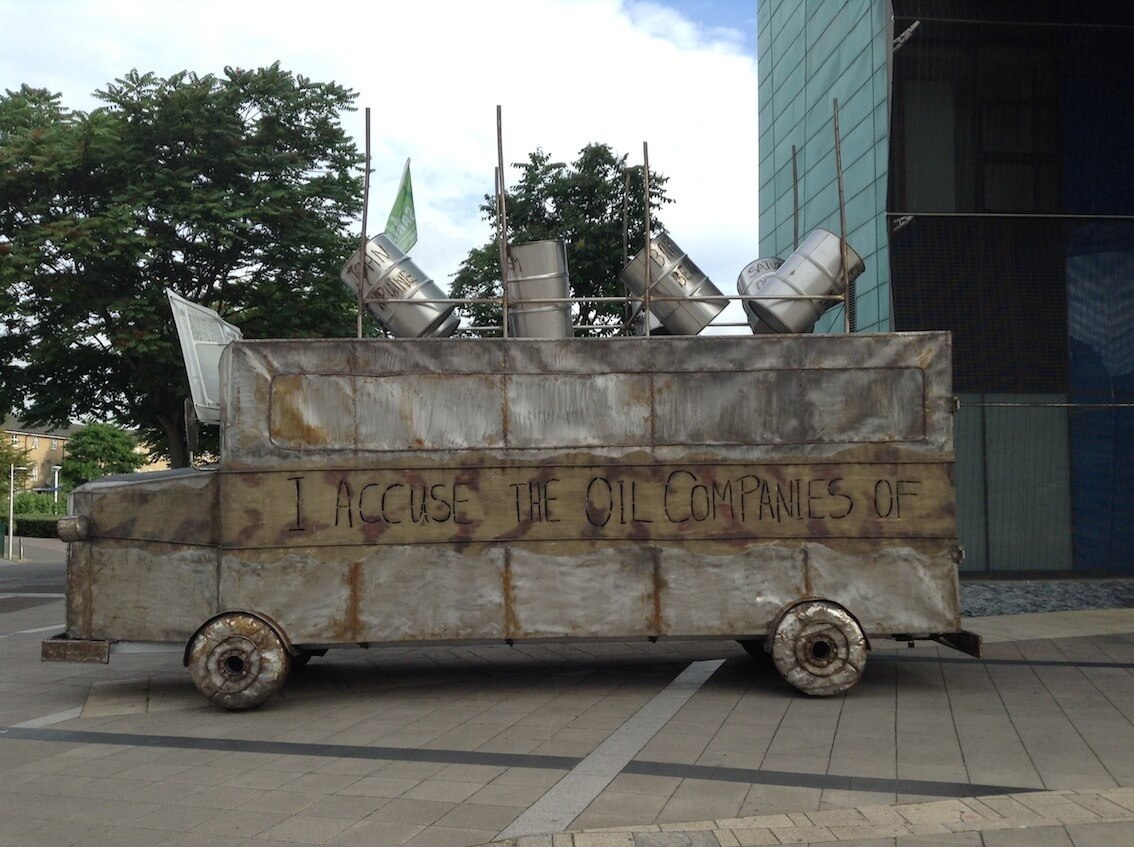 The chosen piece was the spectacular life-size 'Battle Bus' by Sokari Douglas Camp, which is currently in Nigeria, still waiting to be released from customs before going to its permanent home in Ogoniland.
We also approached Jon Daniel who is famed for his cool Afro Supa Hero graphics and award-winning typography. Together, inspired by the inscription of Ken's words on the Bus memorial and the Bus's surface textures, they created the poster piece for which Jon created a new Bus-inspired typeface. His work has already got critical acclaim in Creative Review.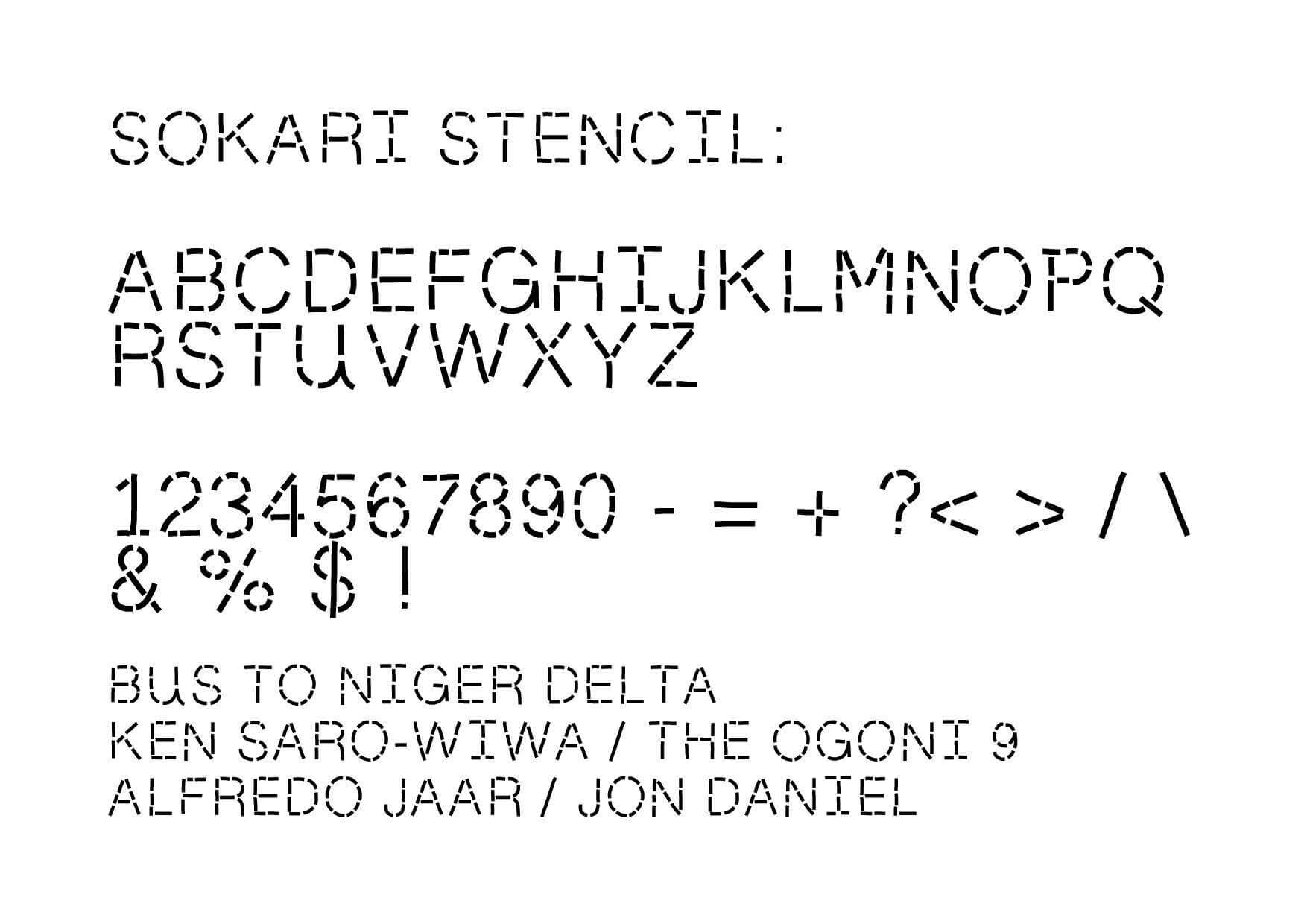 Platform also commissioned a new poem from writer and spoken word artist Sai Murray about the Bus's epic journey. Sai's poem 'Return' links the Ogoni struggle to wider struggles for justice where the Bus has been a central symbol. The poem features in the print artwork, alongside extracts from the 1990 Ogoni Bill of Rights. These powerful demands remind us how groundbreaking the Ogoni struggle was and still is. Video of live performance coming soon.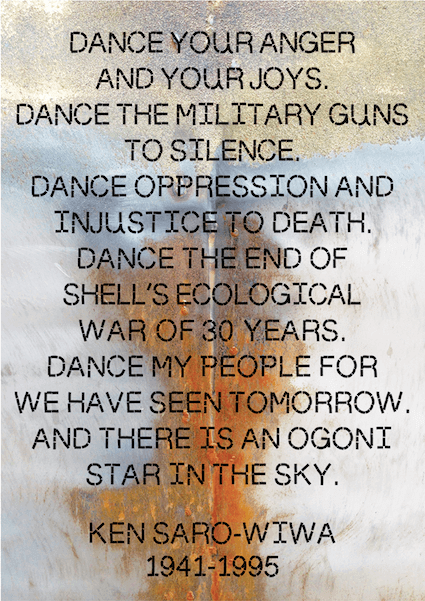 How to get your paper copy?
London – Join the Day of Action 10th November 2015, London. The Vigil is in the morning 8-10.30am outside Shell. In the evening, celebrate at Dance the Guns to Silence II at Rich Mix, Bethnal Green, 7 til late. We'll be distributing…
Pick up a copy at Peckham Platform's current tribute exhibition by Michael McMillan 'Doing Nothing is Not an Option', in memory of Ken Saro-Wiwa.
By Post: Send us an A5 stamped self-addressed envelope and we'll return some to you.
Supporting the campaign: Become a Platform Sustainer. (For £10 per month or more, get this piece of print and you'll also receive our latest publications)
Making a donation – and in thanks we'll send you some copies!
This commission was supported by Arts Council England and other funders.