Tower Hamlets food justice movement stands in solidarity with the cause of Palestinian liberation.
Authors: Radhika Jani, Ameen Kamlana, Nambi Kiyira, and Lauriem Mompelat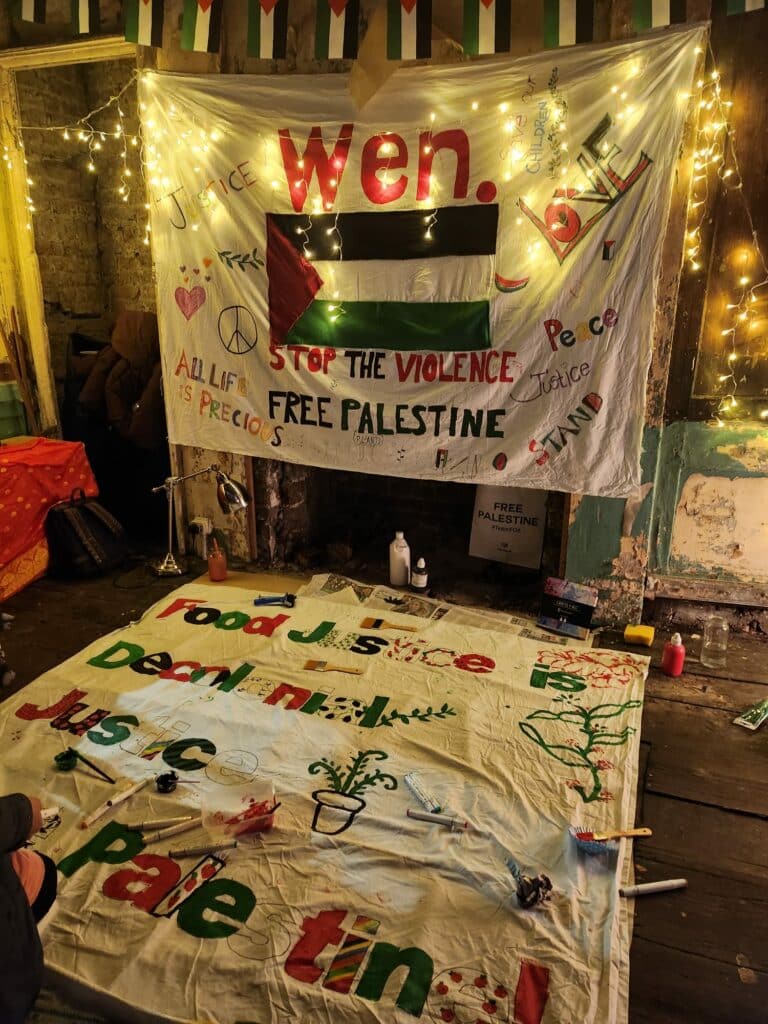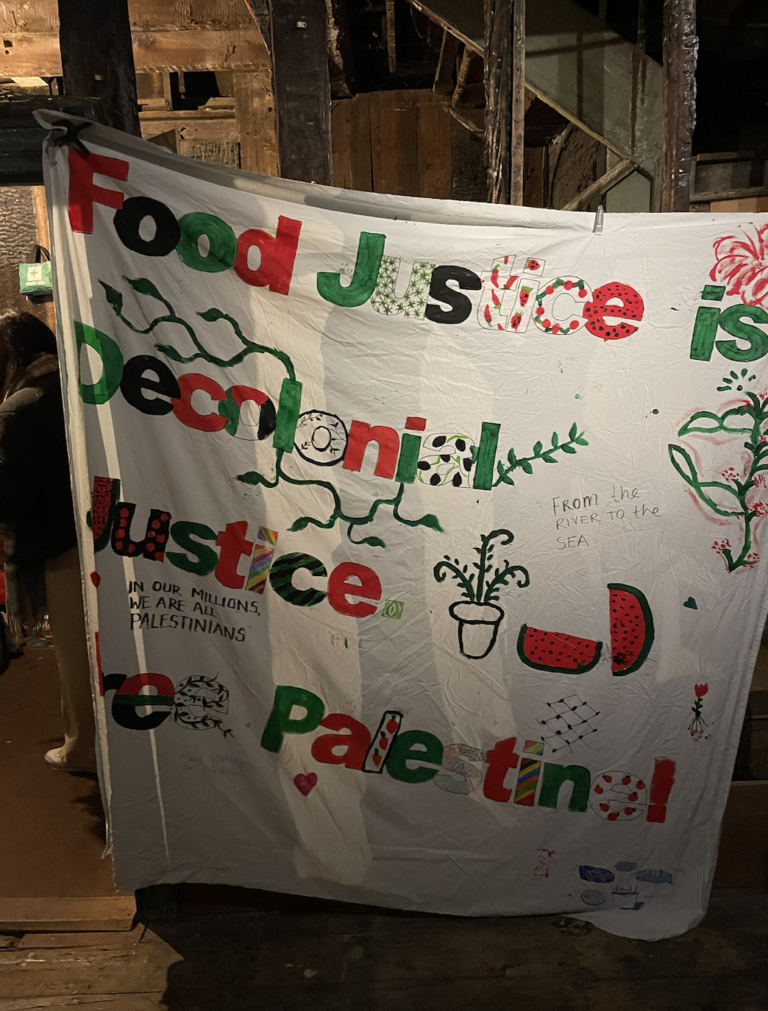 "This is our memory. It is the history. It is the land. it is the sky."
– Fadia's Tree (2022)
"If the olive trees knew the hands that planted them, their oil would become tears."
– Mahmoud Darwish
Uprooted
October and November are celebrated as olive harvesting season in Palestine. This is usually a joyous time when Palestinians return to the trees that have provided sustenance to their family for generations. But these months are now being marked with a calamitous and all-encompassing grief as bombs rain down. The land is not fruiting, it is bleeding.
No stranger to difficulty, the olive tree grows under harsh conditions: it is drought resistant and has become a symbol for Palestinian belonging, resilience and hope under Israeli occupation. Olive trees have an average lifespan of 500 years, and many on Palestinian land predate the Israeli occupation by centuries. These are trees that have been lovingly tended to and are the primary source of income for about 800,000 families.
Approximately one million olive trees have been illegally uprooted by the Israeli authorities since 1967. Over 9,000 were removed in August 2021, and in March 2022, 2,000 olive trees were uprooted in the village of Marda in the West Bank, where Israeli forces also 'sprayed chemical pesticides over olive, grape and almond saplings'.
Saad Dagher, a Palestinian agronomist from Mazari En-Nubani, says that Palestinian farming has always been "polycultural, meaning that different crops can and should grow side by side on one piece of land. Israeli agriculture has imposed monocultures, which go against the natural biodiversity and self-sustainability of Palestinian land". Farmland and crops owned by Palestinians present a barrier to annexing more land for Israeli settlements, so the desecration of olive trees both facilitates the process of colonisation and helps destroy Palestinian history, morale and collective memory.
Land justice and colonisation
In the last few weeks, the streets of Tower Hamlets have been lined with Palestinian flags – from Bethnal Green Road to Watney Market. In with the spirit of our borough, many of us in the Just Food and Climate Transition (Just FACT) movement in Tower Hamlets care deeply about the Palestinian liberation struggle. Land justice in response to colonisation is at the heart of our aspiration for sustainable food systems in Britain, and freedom from occupation in Palestine.
On Sunday 12th November, a man accosted Greta Thunberg on stage to protest her expression of Palestinian solidarity. He said: "I have come here for a climate demonstration, not a political view". With these words, we were reminded of the limits of mainstream environment activism. There can be no climate justice without an embodied scrutiny of settler colonialism, white supremacy and Western capitalism.
Our publication Recipes for a Revolution details the colonial underpinnings of the global food system. For those who hold a history of colonisation and land exploitation in their lineage, we know that the bodies of colonised people suffer colonial violence hand in hand with the land. There is no separation. There is no food justice without land justice, as Palestine makes clear.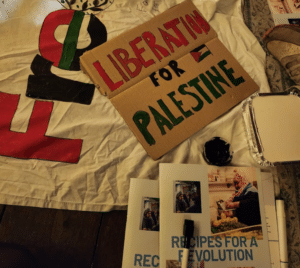 Long before the current aggression, the Israeli occupation has systematically denied food sovereignty to people in Palestine. Held in open-air captivity, 63% of people in Gaza endure chronic food insecurity, Palestinian olive trees and water pipes are destroyed, and crushing restrictions are imposed on fishing boats, limiting their yields.
Israel's decision to block all commercial food imports into Gaza on 9th October 2023, in combination with their indiscriminate bombing, represents a major escalation in their long-standing collective punishment of the Palestinians in Gaza.
People are waiting for hours in line for bread and bakeries are being bombed. If the weaponisation of mass hunger wasn't dire enough, Israel's use of white phosphorus gas, a notoriously incendiary weapon, will cause irrevocable damage not just to the Gazans who survive its usage, but to the flora, fauna and waterways of the land itself. We agree with climate and racial justice collective Land In Our Names, who label this as Ecocide. Mass starvation of a colonised population as a weapon of war is absolutely unconscionable.
Solidarity
Many people are only now waking up to the atrocities unfolding in Palestine. But we are witnessing the culmination of decades of military oppression.
Ameen Kamlana, a Blueprint Architect and GP from East London, shares his experience visiting Palestine:
We may feel overwhelmed by the challenges, and despair at the historic plight of Palestinians, but we must never lose hope.
The Palestinians in Gaza and Palestinians in the diaspora deserve to live long lives on their rightful land, and to know that their loved ones are safe. They deserve to live in freedom, dignity and self-determination. All of those forcibly displaced – not only over the last month but since the very first Nakba – deserve the right to return home, should they wish. Our call for a ceasefire is necessarily coupled with a call to end the illegal and unjust occupation of Palestine.
Planting seeds
Today, as ever, we are asking questions.
What is the role of legal and judicial systems in perpetuating land injustice? How can Just FACT facilitate discussions around political education, direct action and BDS in responsible ways that do not put marginalised members of our community at greater risk of harm? How can we act in solidarity with and learn from Jews seeking to end Israel's occupation and apartheid, who also face isolation and hatred for standing up for Palestinian rights?
In the Islamic tradition, there is a prophetic wisdom that states: "If the Final Hour approaches whilst one of you has a seedling in your hand, if you still have time then plant it." From the roots of the olive trees laying deep in the ground to the clouds that guard the skies, we at Platform and members of Just FACT fight for food and land sovereignty in a free Palestine.
---
Suggestions for further exploration
Afikra interview Viven Sansour, founder of the Palestine Heirloom Seed Library for the Matbakh Podcast. They talk about the politics of environmentalism, her work through the Palestine Heirloom Seed Library, and the link between anxiety and agriculture. They also speak about the importance of indigenous wisdom in farming, changing landscapes in the Middle East, and Vivien's work in preserving bio-cultural heritage.
Curate-It is hosting a month-long online fundraiser screening featuring a collection of six films by Palestinian filmmakers, one of which is Foragers. Foragers (2022) by Jumana Manna depicts the joy and knowledge around the practice of foraging for wild edible plants in Palestine/Israel and raises questions around the politics of extinction, namely who determines what is made extinct and what gets to live on: